Short Holiday, Lots of Karma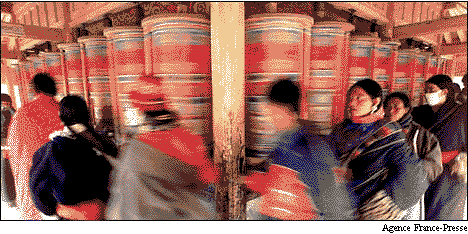 Turning the 1,174 prayer wheels at the Labrang Monastery in Xiahe,China
We had worried about meals, given our kids' unadventuous tastes, but Xiahe had numerous cafes that offered simple noodles and rice dishes along with such Tibetan treats as momos, boiled or fried dumplings stuffed with spiced lamb or vegetables. And a few restaurants have embraced the global "Lonely Planet"menu and offered banana pancakes and French toast.
Adventuous travelers stay at inexpensive lodges in town. To get a private Western bathroom and shower, though,we close a more conventional hotel on a river outside town, the Labrang Guest House. Even there, the hot water is turned on only in mornings and evenings, but the facilities were clean and decent.
There, we met an English-speaking man whooffered to take us up to the famed grasslands,thewinter grazing grounds for yak herds that spendthe summer at higher elevations.
Most commonly visited is a site called Sangke, which is less than half an hour's drive and even reachable by bicycle. A standard destination for those tour buses, it has fenced-in corrals where one can ride horses, and curio hawkers in tents.
The alternative, which we chose, was still only a 45-minutes drive over nearby mountains. Ganjia was devoid of facilities but, our guide promised, offered wonderful vistas.
He was right. By early fall, the grass-covered hills were the color of cut hay and sprinkled with edelweiss. In summer, he said, the hills are bright green and dotted with wildflowers. They offered us a few hours of glorious hiking that was, at10,500 feet, breathtaking.
We left Xiahe in the afternoon of our third day there because we had a plane to catch the next afternoon, and didn't want to rushed drive. Halfway back, in Linxia, we stayed in what our driver claimed was the city's best hotel - the Hehai Mansion, a white-tile place that appeared to be the wedding center for the city's Chinese elite. For $60, we got the luxury suite, two rooms decked out in bordello red. We knew we were back in mainstream China.
Visitor Information


Visitors to China need to obtain a visa ($30 for 90 days); contact the Embassy of the People's Republic of China, 2201 Wisconsin Avenue NW, Suite 110, Washington D.C., 2007; (202) 338-6688
Getting There


Flights to Lanzhou from Beijing cost $295 round trip, at 8.45 yuan to the dollar, on Air China or China Northwest Airlines, through China-based travel agencies.

From Lanzhou, Xiahe is reachable by bus (about $9), but many foreign visitors hire a car or van with driver, for about $120 to $150 each way. These can be arranged through such hotels as the Lanzhou Legend, (86-931) 888-2876, or local agencies including Gansu Travel, (86-931) 880-5227. But neither the agents nor the drivers tend to speak English.
Where to Stay


The most popular of many small lodges in Xiahe is the Tara Guest House, (86-941) 712-1274, in the thick if things and with an English-speaking proprietor. The several double rooms are about $7 a night, with share bath.
The top hotel,far from luxurious but clan and agreeable,is the Labrang guset House,(86-94)712-1849,fax(86-9410712-1328,on a river
outside town,It has dozens of rooms with private bath for $40.
Tours


Those unseasoned in remote Chinese travel may do best with a tour agency and a guide. A tour to the wintertime Monlam Festival, accompanied by an English-speaking Tibetan expert, is offered by WideChina, 70 Dongsi Qitiao, Dongcheng District, Beijing, This adventure-travel agancy is run by a Chinese woman with a Harvard M. B. A., Mei Zhang. Next year's festival is Feb. 2 to 4 and the weeklong tour will leave Lanzhou on Jan, 31, costing $1,240 a person, which includes meals.
Another large, reliable Chinese agency, is Warrior Tours, www.warriortours.com. based in Xian. A four-day tour from Lanzhou to Xiahe and back, with English-speaking guide, costs $357 a person for groups of two to five. E-mail inquiries to tours@travelchinaguide.com.


ERIC ECKHOLM is chief of the Beijing bureau of The Times.

<<Previous 1 | 2 | 3


---
Home| Back to Travel| Search| Corrections| Help| Back to Top


Copyright 2003 The New York Times Company| Privacy Policy