Top Beijing Attractions
More Things to Do
Top 10 City Tours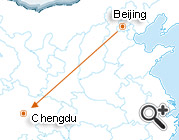 BJ50: 3 Days Private Chengdu Tour from Beijing
From
$307
per person
Free Inquiry


Antique Jinli Street, Chengdu
In the morning, you will make your own way to the Beijing airport and take the flight to Chengdu by yourself. On landing, you will meet our Chengdu guide waiting to pick you up in the arrival hall. After a warm greeting, we will escort you to your own booked hotel and leave you some time for a short break. Then your 3 days Beijing Chengdu tour will start with a visit to
Wuhou Temple
, an ancient temple dedicated to Zhuge Liang, the famous politician, strategist and inventor of the Three Kingdoms Period in the 3rd century. Liu Bei, Shuhan's emperor whom Zhuge Liang served, is also buried here, which is rare because kings barely set his tomb in the ancestral shrine of his minister. Visiting this complex with your guide, you will see lots of sculptures and steles in memory of this great general and his lord, as learn about the interesting history of that period.
Afterwards, we will take a leisurely stroll along the
Jinli Street
, a busy walking street packed with buildings in the architectural style of the late Qing Dynasty. The traditional handicrafts like Shu Embroidery and Sichuan Lacquer War as well as the authentic local snacks covering bobo chicken and tofu pudding will fill your ramble with endless joy.
Leshan Giant Buddha
After breakfast, our Beijing Chengdu 3 days tour will take you to
Leshan Giant Buddha
. Your guide will pick you up at the appointed time and escort you there by a 2.5-3 hours' drive. Located on the cliff of Lingyun Mountain, this giant Buddha sculpture, is a prominent inscription work completed by the Tang Dynasty in the 9th century. Facing the confluence of three majestic rivers, the massive Buddha smiles peacefully, watching the vicissitudes of life beings in a leisurely sitting position. To appreciate it, you will first be escorted to a cruise for a distant view and then take a walk to enjoy its grandness.
After learning about the Chinese Buddhism, we will drive for about 2 hours to visit the over 1,700-year-old
Huang Longxi ancient town
, whose architectures date back to the Ming (1368 - 1662) and Qing (1636 - 1912) dynasties. Roaming on the green flagstone roads and passing by the meandering creeks, you will soak in the peaceful ambience and enjoy the beauty of this traditional town. At last, we will drive you back to your hotel, which will take about 1 to 1.5 hours.

Friendly Tips
Visitors need to climb the plank roads of Lingyun Mountain for a close look of the giant Buddha. A certain amount of physical strength is required as there are many steps. Besides, during the peak season, queueing up becomes very common. You can choose whether to climb up or not according to your time and strength.
Day 3
Departure from Chengdu
Cute giant pandas
After breakfast, you will check out from your hotel and then be taken to the last stop of your 3 days Beijing Chengdu tour -
Chengdu Research Base of Giant Panda Breeding
, a large breeding center where giant pandas live free in a suitable natural habitat. The giant pandas are more active in the morning, and their feeding time is around 08:30 to 09:00. Eating bamboos or lying in a lazy posture, this lovely creature will touch the soft part of your heart. Afterwards, we will escort you to the airport or the railway station and see you off. Your Beijing Chengdu 3 days tour ends here. We wish you a nice trip!
Prices (US$ Per Person)
1 person

$698

2 persons

$395

3 persons

$395

4 persons

$307

5 persons

$307

6 persons

$260

7 persons

$260

8 persons

$260

9 persons

$260

10+

$189
Remarks: We can also assist you to book the hotel and offer you a preferential price.

Price Includes
Private English-speaking guide
Private driver & air-conditioned vehicle
Entrance fees to tourist sites
Price Excludes
Any airfare or train fare
Hotel accommodation with breakfasts
Lunches and dinners
Tips or gratuities for guide and driver
Itineraries you may also like:
The above routes do not meet your requirements? Please click
Tailor My Trip