Top Beijing Attractions
More Things to Do
Top 10 City Tours
BJ-FT02: Half Day Beijing Cooking Class
Beijing Local Market Tour & Cooking Class
Free Cancellation

24-hour Before

At the appointed time in the morning, your guide will pick you up at your hotel and take you to a local vegetable market by subway or bus, where you can choose the fresh ingredients and make preparations for the following cooking class.
The first step of your Beijing cooking class is to know the raw materials and condiments the Chinese cuisines need. The meat usually includes pork, beef, mutton, fish, seafood, etc; vegetables contain a wide varieties such as potatoes, beans, cauliflowers, cabbages, carrots, celery, mushrooms, shiitake and so on; and the bean products cover bean curd, dried tofu, skin of bean curd, etc. There are also various necessary condiments like soy sauce, light soy sauce, dark soy sauce, cooking wine, mature vinegar, rice vinegar, oyster sauce, Sichuan pepper and black pepper. Each of them has a particular flavor that can be used to cook dishes with different tastes.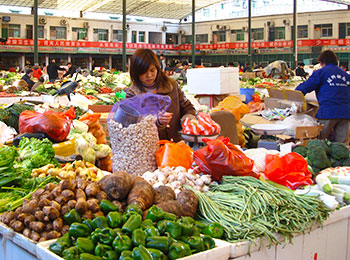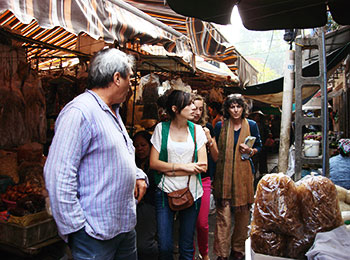 Choose your prefered ingredients
After about an hour, we will head to a professional cooking class school in hutong. The chef is from a family of cook whose father and grandfather are also chefs having their own restaurants. He has studied cooking when he was 13 years old and has ever learned it in a culinary school. So he is professional enough and a master of various kinds of Chinese cuisines. He is also good at English, so there is no need to worry that you can't understand the class.
As for the menus of the Beijing cooking class, there are about 50 dishes covering cuisines from Sichuan, Beijing, Guangdong and Hunan. The famous dishes are the Kung Pao Chicken, Mapo Tofu and Spicy Crispy Chicken from Sichuan, the Braised Chicken with Shiitake Mushrooms and Steamed Fish with Ginger and Spring Onion in Cantonese Cuisine, the Red Braised Pork and Braised Duck with Soy Sauce and Spices from Beijing, and the Stir-fried Beef with Celery, Chilis and Coriander from Hunan. There are also menus for the characteristic Chinese dumplings, noodles and dim sums.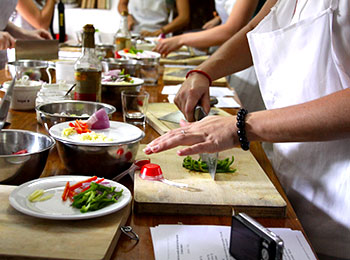 Make preparation for cooking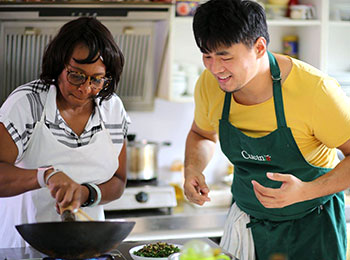 Learn to cook dishes from chef
In the hutong Beijing cooking class, you will spend about 3 hours to learn three dishes and one dessert. The chef will explain the Chinese cooking techniques, introduce the common ingredients in Chinese dishes, and teach you how to use the Chinese kitchen knife. At first, the chef will show you the cooking method of a big dish. To make everyone have a good master of it, he will explain every procedure in detail from the basic chopping of vegetables, marinating meat, to preparing the special sauce to stir-fry.
The left 3 dishes will be up to you. You can choose according to the raw materials having prepared. Then everyone will do the dishes with their own kitchen wares: a knife, a chopping board and stove. Under the guide of the professional chef, there is definitely no problem for you to cook a delicious Chinese dish. After that, you can enjoy your own dishes as lunch. The class provides take-home recipes, so there is also no need to be afraid of forgetting the cooking procedures.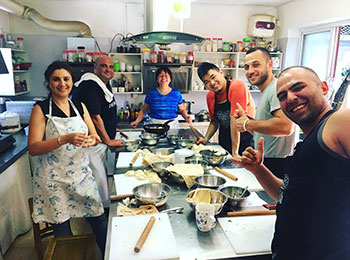 Have fun at the cooking class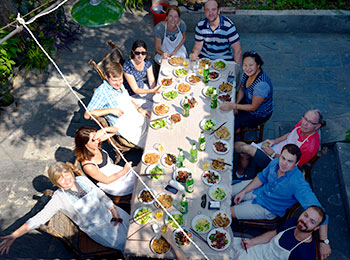 Enjoy the meals with your partners
At around 14:00, the half day tour of the hutong Beijing cooking class will come to an end. Your guide will take you to the nearest subway station and you can go to your next destination by yourself. If you want to hail a taxi, your guide will be glad to offer help.
Meals: Lunch
Prices (US$ Per Person)
1 person

$135

2 persons

$102

3 persons

$93

4 persons

$83

5 persons

$80

6 persons

$70

7 persons

$70

8 persons

$68

9 persons

$68

10+

$66

Price Includes
Hotel pick-up
Private English-speaking guide
Lunch at cooking class
Price Excludes
Tips or gratuities for guide
Itineraries you may also like:
The above routes do not meet your requirements? Please click
Tailor My Trip