Top Beijing Attractions
More Things to Do
Top 10 City Tours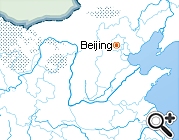 BJ42: 2 Days Private Beijing Foodie Tour
From
$192
per person
Free Inquiry


Our clients at Tiananmen Square
Your Beijing food tour starts after the hotel pick-up. In the morning, your guide will lead you to
Tiananmen Square
at first, which is the landmark of Beijing, witnessing the revolutions and other historical events. Walking through Tiananmen, you will see grand
Forbidden City
, the former imperial palace in the Ming and Qing Dynasties with extraordinary architectural achievements and precious relics.
After a 3-hour walking tour, you must be hungry. We recommend you try the famous
Peking Roast Duck
. It is a unique local food, which is fat but not greasy, with a bright red color, tender meat, and mellow taste. Besides, there are many other Chinese dishes including chicken, lamb, beef, various vegetables, etc. Your guide will accompany you to the restaurant and help you order dishes according to your preference. Now it is your dining time.
After lunch, we will visit the
Temple of Heaven
, the holy place for the Chinese emperors in ancient times to worship heaven to pray for a harvest. Then, we will go to
Shichahai Park
, walk along the Houhai to Yinding Bridge, Yandaixie Street, Bell and Drum Towers, and finally get to
Nanluoguxiang
(South Gong and Drum Lane). It may take 40-60 minutes. You can decide the walking time according to your physical strength.
After that, you may choose to stay for a further exploration or return to the hotel. There are many bars in Shichahai and Nanluoguxiang. Taking a bar-hopping tour to sip delicious cocktails, communicating with like-minded people can be the best way to experience the Beijing night life as locals. If you feel tired, we will escort you back to your hotel directly.

Friendly Tips
Three ways to eat Peking Roast Duck:
Way 1: Eat the crispy duck skin after dipping white granulated sugar. It was invented by the ladies in rich families in old times and today is still a very popular eating method among ladies and children.
Way 2: Spread some sweet flour sauce on lotus leave-shaped pancake, and roll the pancake with roast duck slices, shallot shreds, cucumber shreds and radish shreds inside. It is really delicious.
Way 3: Dip garlic paste and sweet flour sauce or roll them in a lotus leave shaped pancake. Garlic paste can help to neutralize greasy duck meat, and you can taste sweet with a little spicy as garlic paste and sweet flour sauce are mixed together. Many people prefer this way.
Recommended Beijing Snacks:
Noodles with Minced Pork, Fried Chop Rice Cake (Rolling Donkey), Stewed Liver, Quick-fried Tripe, Pea Cake, Wheaten Cake Boiled in Meat Broth, Sugar-Coated Haws on a Stick, Sweet Walnut Cake...
Mutianyu Great Wall
After breakfast, we will continue your Beijing food tours to the
Mutianyu Great Wall
with a 1.5-hour drive. Mutianyu was always a military fortress in ancient times, the Great Wall today is reconstructed in the Ming Dynasty (1368 - 1644 AD) with watch towers. It is the longest and most representative section of the Great Wall in China. The crenels are unique for they were set on both sides. The scenery surrounded is fantastic, too. The cable car is not included so that you can choose your preferred way of visiting. You may hike the Great Wall on foot, or take chairlift and luge as you like. Your guide will offer suggestion and help.
After the visit, you can have a simple lunch under the Great Wall. There is no upscale restaurant around Mutianyu, but the daily meals of Chinese and Western fast food are available, such as Noodles with Minced Pork and dumplings. Then we will drive back to downtown and visit
Summer Palace
, the supreme imperial garden in the classical style with beautiful lake and landscapes.
At last, we would recommend the Instant-boiled Mutton in Copper Pot to you. As clear soup base make sure mostly the mutton rolls and mutton slices have a fresh flavor, the mutton dipping with sauce is tender and tasty. You can also quick-boil beef, cabbages, vermicelli, frozen tofu and other vegetables in the hot pot. The fee for dinner is at your own expense.
Your driver will leave after sending you to the restaurant, but the guide will help you order dishes and tell you how to eat. Your Beijing food tour comes to an end after you finish your meal. Please get back to your hotel by yourself and your guide will help you hail a taxi.

Friendly Tips
·
Recommended foods in the itinerary are only for reference. If you have any requests about the food, please let us know freely. For example, if you need vegetarian or halal foods, we will recommend proper restaurants for you.
·
All the fees for meals are not included. You can pay the restaurants directly. You are suggested to prepare enough Chinese cash as oversea credit cards and dollars cannot be used in many restaurants in China.
Prices (US$ Per Person)
1 person

$493

2 persons

$283

3 persons

$243

4 persons

$192

5 persons

$177

6 persons

$150

7 persons

$148

8 persons

$141

9 persons

$133

10+

$123
Remarks: We can also assist you to book the hotel and offer you a preferential price.

Price Includes
Private English-speaking guide
Private driver & air-conditioned vehicle
Entrance fees to tourist sites
Price Excludes
Hotel accommodation with breakfasts
Lunches and dinners
Tips or gratuities for guide and driver
Itineraries you may also like:
The above routes do not meet your requirements? Please click
Tailor My Trip