Top Beijing Attractions
More Things to Do
Top 10 City Tours
BJ-HT01: Half Day Hutong Life Tour
Hutong Rickshaw with Dumpling Making and Lunch
Free Cancellation

24-hour Before

In the morning, your guide will pick you up at your hotel lobby at the designated time which has been confirmed with you one night before. Under the companion of the guide, you will be led to the Hutong area by subway or bus. Upon arrival, we will take a rickshaw to enjoy our hutong life tour. The Yandaixie Street, Yinding Bridge and Shichahai Park here are all the must-see attractions for visitors. Shichahai is the only public scenic spot with open water in Beijing inner city. There are quite a lot Hutongs and old courtyards around. Also there are some ancient historic architectures like the Prince Gong's Mansion, the Former Residence of Song Qingling, and the Former Residence of Mei Lanfang.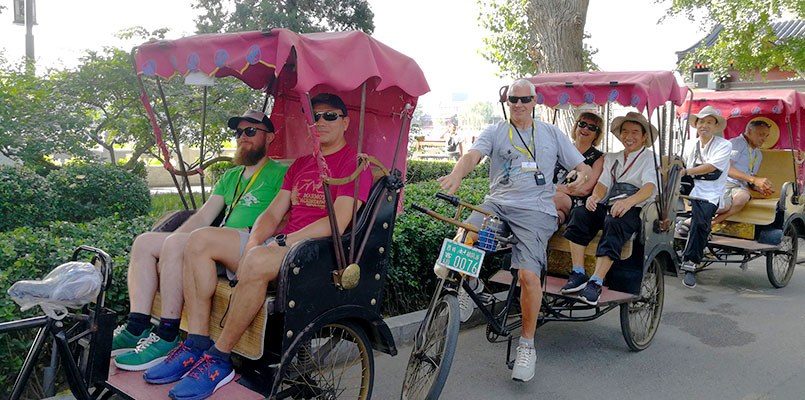 Experience a unique rickshaw tour through Hutongs
Then we will have a stopover at the Bell Tower and Drum Tower, where you can take some photos. The Bell and Drum Towers are the largest with highest standard among all the city bells. It has been a representative architecture of ancient Beijing. Walk 10 minutes to pay a visit to a courtyard in an old Hutong. The host will show you around to introduce briefly the layout of the courtyard at first. Then he/she will teach you how to make dumplings which will also be your lunch. After that, your hutong life tour comes to an end. Your guide will escort you to the nearest subway station, so that you can go to the next destination or go back to your hotel by yourself.
Meals: Dumpling lunch
Hutong
Hutong, the main scenic spot in your hutong tour Beijing rickshaw, is the cultural representative of Beijing. There are more than 7,000 hutongs in Beijing which were built in the Yuan (1271 - 1368), Ming (1368 - 1644) and Qing Dynasties (1644 - 1911). Most are in east-west direction with the traditional courtyards standing by. Though their outlooks seem to be similar, they have distinct inner features. Most of them are located near the noisy streets, but the atmosphere there is really quiet. Wondering along the Hutongs, you will feel like experiencing the original local life. The famous Yandaixie Street is in front of the Drum Tower. It is a 232-meter long (253-yard) oblique street shaped like a pipe. It is one of the most ancient business streets in Beijing where sells pouches, clothing, antique, jade wares, etc. Also, tourists can taste the local snacks there. Yinding Bridge is a stone bridge connecting the Qianhai and Houhai Lakes of Shichahai Park. Standing on it, you are able to see the West Hill in the suburb area.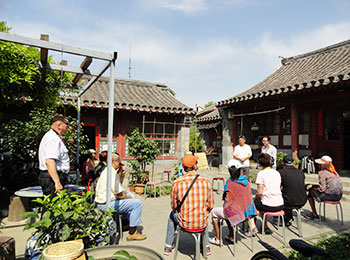 Visit a traditional family courtyard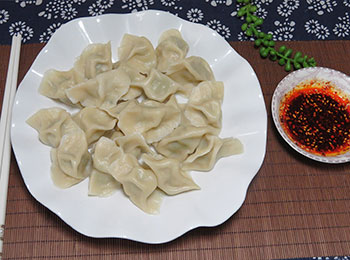 Taste delicious dumplings
Dumplings
Dumplings are the traditional Chinese food invented by the medicine sage Zhang Zhongjing in the Eastern Han Dynasty (25 - 220) 1,800 years ago. Now, it has been one of the popular staple foods in China. On some festivals like the Chinese New Year, New Year's Eve and Winter Solstice, eating dumplings has been a tradition. A dumpling is like a shoe-shaped silver ingot, which means good fortune and success. Filings for dumplings also have different meanings. Celery, read as Qin Cai in Chinese, means the blessing of diligence, pragmatism and fortune. Chives, Jiu Cai in Chinese, means long-term happiness. Except the vegetables, there is also meat in it like pork, mutton, and beef. The main cooking methods include boiling, steaming, frying, etc. When eating, there is always dipping sauce combining vinegar, soy sauce and chili oil to improve its flavor.
Prices (US$ Per Person)
1 person

$112

2 persons

$78

3 persons

$70

4 persons

$58

5 persons

$56

6 persons

$47

7 persons

$47

8 persons

$45

9 persons

$45

10+

$41

Price Includes
Hotel pick-up
Private English-speaking guide
Entrance fees to tourist sites
Home-cooked dumpling lunch
Price Excludes
Tips or gratuities for guide
Itineraries you may also like:
The above routes do not meet your requirements? Please click
Tailor My Trip