Top Beijing Attractions
More Things to Do
Top 10 City Tours
Code: BJ-HT07
Beijing Houhai Hutong Tour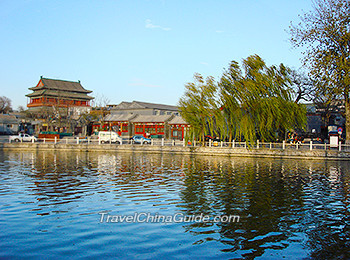 Shichahai Lake
Houhai
is a peaceful water area stretching for miles with Qianhai Lake to the southeast and Xihai Lake to the northwest.
Along the lakefront, there are many old
hutongs
and
courtyards
, making it a wonderful place to feel the local Beijingers' life. Alongside, there are also many modern cafes, bars and restaurants, where you can take a break, have a cup of drink or taste some local delicacies.
You may finish the whole exploration on foot to immerse in the cultural atmosphere step by step. There are also rickshaws, which have been a traditional transportation means for hundreds of years. If you don't feel like walking for a long distance and think the rickshaw ride expensive, self-bicycling is the best way for you.
A Recommended Route for Houhai Hutong Tour
Prince Gong's Mansion
Yandaixie Street
(Skewed Tobacco Pouch Street) - Ya'er Hutong - Guanghua Temple - Houhai Beiyan - Yinding Bridge - Houhai Nanyan -
Prince Gong's Mansion
- Houhai Bar Street
Take
subway line 8
to Shichahai Station and use Exit A2; walk northwards for 200 meters to find the eastern entrance of Yandaixie Street (Skewed Tobacco Pouch Street) and start your Houhai hutong tour from there. The Skewed Tobacco Pouch Street is one of the most characteristic old hutongs in Beijing, with a history of around 800 years.
Walk to the west end of the busy Skewed Tobacco Pouch Street, you may continue to go west to enter Ya'er Hutong. Hike 300 meters west, you will find the Guanghua Temple on your right.
After visiting the temple, you may walk backwards for a few meters to find a narrow alley. Walk southwards along the lane leading to Houhai Beiyan Street on the north bank of the Houhai Lake. You may enjoy the quiet and elegant scenery of the lake. Boating on the lake is also a good recreation.
Then, go eastwards along the bank for a couple minutes and you will see the Silver Ingot Bridge (Yinding Bridge).
Go across the bridge and turn west to follow the Houhai Nanyan Street on the south bank of Houhai Lake for 800 meters to a fork and then, head south along Liuyin Street for 300 meters to reach the Prince Gong's Mansion. It is the largest and best preserved Qing-dynasty princely residence in Beijing and a fine example of ancient Chinese architecture comprised of traditional courtyards and gardens. To visit it, you need to buy a ticket with the passport and the fee is CNY40.
After visiting this princely mansion, you may either stroll around the surrounding hutongs to make a further exploration, or backtrack to Houhai Bar Street to the west of Yandaixie Street, which brims with various restaurants, tea houses, and bars. You may pamper your stomach there while enjoying the peaceful scenery of the Houhai Lake. At night, this place will become a prosperous bazaar and reveal a different charm. You are advised to stay there until the evening to experience the local night life.
Finally, you may go back to Shichahai Subway Station to take subway back to your hotel. If it's too late and the subway stops service, hail a taxi directly.
Kind Reminders
This is also a popular hutong bike tour itinerary. You may rent a public bicycle or a shared bicycle after getting out of the Shichahai Subway Station and then start the visit by bike.
See more about
Beijing Bicycle Rental

More Beijing Hutong Tours:
Shichahai Tour: explore alleys from Lotus Market to Bell and Drum Towers.
Dashilar and Qianmen: old lanes with time-honored brands like Quanjude Roast Duck and Ruifuxiang Silk Store.
Old Beijing City: visit hutongs near the center of the old imperial city.