Top Guilin Attractions
More Things to Do
Top 10 City Tours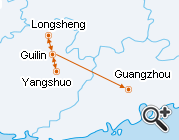 GL13: 6 Days Private Guilin & Guangzhou Tour
From
$839
per person
Free Inquiry


Sincere greetings & airport pick-up. Reed Flute Cave.
Guilin is renowned as one of the most beautiful cities in China. The majestic mountains there are in various shapes, and the Li River as clean as a mirror twists and turns in the city. In addition, the unique folk customs and culture of more than 10 minority nationalities like Zhuang, Yao, Miao and Dong add more charm to this city.
After exiting the airport, you will meet your guide holding a sign with your name. Then, we will begin our Guilin Guangzhou tour with
Reed Flute Cave
to see the spectacular karst landforms and mural paintings. In the end, the guide will transfer you to the hotel and help you to deal with the check-in.
Day 2
Guilin - Longsheng - Guilin
Guilin-Longsheng transfer. Longji Rice Terraces, Villages of Zhuang Minority. Drive back to Guilin. (B)
Longji Rice Terraces, Longsheng
After breakfast, we are going to
Longji Rice Terraces
in Longsheng by 1.5 hours' driving. There are 15,862 pieces of rice terraces in different sizes, among which the largest one covers about 0.65 mu (0.1 acres) while the smallest can plant only three seedlings, which reflects the diligence and wisdom of the local people. After reaching the mountain foot, we will walk to the No.2 viewing platform to overlook the whole scenic area. If your physical strength allows, you can also continue walking to the No.1 viewing platform and appreciate the rice terraces in a different perspective. On the way back, the guide will lead you to tour a Zhuang Village. The village is established at the end of Qing Dynasty (1644 - 1911) and the beginning of the Republic of China (1912 - 1949). Now, it still maintains the special costumes of Zhuang Nationality and the simple ancient lifestyle. All the architectures are the stilted buildings constructed against the mountain with a history of more than 100 years. Finally, we will return to Guilin.
Meals: Western buffet breakfast
Day 3
Guilin - Yangshuo - Guilin
Li River cruise to Yangshuo, Countryside trip. Drive back to Guilin. (B+L)
Li River cruise
Today, a cruise along
Li River
is arranged in our Guilin Guangzhou tour. We will appreciate the scenery during the way and disembark at Yangshuo. The Millstone Hill Wharf is 26 kilometers (16 miles) away from downtown Guilin and usually can be reached in about 1 hour. And the departure time of the cruise is 08:30 - 09:00, so it is advised to get up early and have a big breakfast in the hotel. The voyage lasts about 4 to 5 hours and will pass the Nine-horse Fresco Hill, Yellow Cloth Shoal and the scenic spot of the background pattern on CNY 20 note.
After getting off, we'll take a vehicle to go sightseeing Yangshuo and pay a visit to a local family. If you are enthusiastic about outdoor activities, you can also tour the village by bike. Please inform your guide in advance if you decide to ride a bike. In the end, drive back to the hotel in Guilin.
Meals: Western buffet breakfast, Lunch

Friendly Tips
The cruise offers only simple lunch, so it would be better to enjoy a big breakfast or take some snacks onboard.
A high speed train to Guangzhou. Yuexiu Park, Shamian Island. (B)
Guangzhou Yuexiu Park
After breakfast, the guide and the driver will transfer you from hotel to the train station. Then you will take the high speed train for 3 hours to Guangzhou. Upon arrival, the local guide and the driver will greet you warmly and lead you to visit
Yuexiu Park
and
Shamian Island
. Yuexiu Park with a long history is composed of seven hills and three lakes. Here, you can see the ancient trees and historic remains of different dynasties such as Shenhai Tower, Ming Dynasty City Wall and Square Cannon Site. Also, it has constructed Five-Ram Yard, Bamboo Forests Leisure Area, swimming pool etc. Shamian Island with an area of only 0.3 square kilometers (0.1 square miles) is surrounded by water and planted with luxuriant trees. There are more than 150 European architectures in Baroque or Neoclassical style. Afterwards, we will head to the hotel and check in.
Meals: Western buffet breakfast
Ancestral Temple of Chen Family, Museum of the Western Han Dynasty Mausoleum of the Nanyue King, Temple of the Six Banyan Trees, Flower City Square to see Canton Tower and Guangdong Museum from outside. (B)
Ancestral Temple of Chen Family
In today's Guilin Guangzhou tour, the guide will accompany you to the
Ancestral Temple of Chen Family
first. It is the largest and well-preserved traditional ancestral temple in Guangdong Province, composed of 19 architectures. The temple is famous for delicate decorations and magnificence. So you will see abundant carvings of wood, brick and stone, sculptures of lime & clay, cooper and iron castings, and colored paintings. Followed by is
Museum of the Western Han Dynasty Mausoleum of the Nanyue King
. With a history of more than 2,000 years, it is a stone tomb with colored paintings of the second emperor Zhao Mie of Nanyue State. Over 1,000 pieces of various culture relics have been unearthed there, including gold and silver ware, bronze ware, iron ware, ceramics, jades, and seals.
Then we are going to
Temple of the Six Banyan Trees
, one of the four Buddhist temples in Guangzhou. It is a world-famous historic temple with lofty towers, lush trees and rich cultural relics. The Six Banyan Pagoda looks like a flower pillar, thus also called Flowery Pagoda. Climbing to the top, visitors can enjoy a panoramic view of the temple. Finally, proceed to the Flower City Square where we can see the
Canton Tower
and
Guangdong Museum
from outside.
Meals: Western buffet breakfast
Day 6
Departure from Guangzhou
Morning is free for you. Drive to airport & see you off. Wish you a nice journey! (B)
In the morning, you can spend the free time as you like. According to your flight time, the driver will pick you up from the hotel at the appointed time and escort you to the airport. Wish you a smooth journey home!

Meals: Western buffet breakfast
B-- Breakfast
L-- Lunch
D-- Dinner
Tour Prices
With Luxury Hotels
2-3 travelers
4-5 travelers
6-9 travelers

$1239

$1079

$889
With Standard Hotels
2-3 travelers
4-5 travelers
6-9 travelers

$1009

$839

$649
Prices are per person in US Dollars based on double occupancy.
Any part of the itinerary e.g. tour length, activities & hotels can be tailored to your individual interests.

Price Includes
Train fare of Guilin/Guangzhou
Hotel accommodation with western buffet breakfasts
Lunch on the cruise
Private English-speaking guides
Private drivers & air-conditioned vehicle
Entrance fees to tourist sites
Price Excludes
Airfares of arrival and departure
Lunches and dinners not specified
Entry visa fees
Tips or gratuities for guides and drivers
Itineraries you may also like: