Departure: Tue/Thu/Sat
We Promise
No Shopping Arrangement
A Maximum of 6 Travelers
Expert Guide and Driver
One-on-one Customer Service
Departures with even one person
One Day Mini Group Tour to Longji Rice Terraced Fields and Minority Villages
No Shopping, Max. 6 persons
Have a spectacular view of Longji Rice Terraced Fields circled by overlapping mountains
Walk into the minority villages to have a close contact with local ethnic people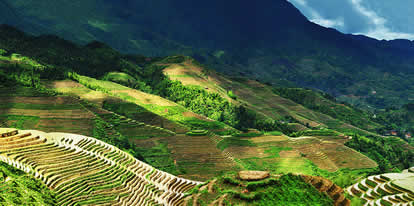 8:00-8:30 Hotel Pick-up & Drive to Longji Ancient Zhuang Village
This mini group tour has two options of pick-up location: one is Guilin city and the other is Yangshuo town. That means whether you stay in Guilin or Yangshuo, you can join this tour. The guide will contact you one day in advance before 21:00 (9:00 PM) to confirm the meeting time. Generally, for group members staying in Guilin, our tour guide and driver will pick you up from your hotel at 08:00 or so to reach Longji Zhuang Village in 2 hours; if departing from Yangshuo, our driver will meet you at your hotel one hour earlier at around 07:00 and drive around 2.5 hours.
After greeting all the group members at Longji Zhuang Village, you will be accompanied by our guide to start this Longji Rice Terrace group tour. You will have at most five companions in this group.
Zhuang people in the village of Longji
Local residence of Zhuang Nationality
10:30-12:00 Visit Longji Ancient Zhuang Village
Longji Terraces, also known as Dragon's Backbone Rice Terraces, have a long history of around 2,000 years. They stretch over a region that covers six ancient minorities' villages. Our sightseeing tour will start with the Ancient Zhuang Village. After hiking for 15 minutes from the entrance, we will arrive at an old house with a one-hundred-year history. Here you can get to know the distinctive ethnic culture of the Zhuang people and have a glimpse of their unique wooden stilt houses.
Next we will take a battery car to the hillside and then hike to the Slender Ditch at the top of a mountain. There you will have a full view of the Longji Zhuang Village terraces.
12:00-13:00 Hike from Longji Ancient Zhuang Village to Ping'an Village
After another one-hour hike, we will reach the famous Ping'an Village, the other destination for you to learn about customs of the Zhuang nationality.
13:00-14:00 Lunch of Bamboo Rice at a Local Family Restaurant
Lunch will be served at a local farmhouse for you to have a taste of authentic local cuisines, among which the most characteristic one is bamboo rice.
Our clients at Longji Terraced Fields
Long Hair Yao Ethnic Minority
14:00-15:00 Visit the "Seven Stars with the Moon" Viewing Point
After lunch, we will continue our Longji Rice Terrace group tour to the "Seven Stars with the Moon", a viewing point offering the best scenery of Ping'an Zhuang Village Terraces. There you can see seven hillocks resembling seven stars surrounding a large paddy field glowing silver in the sun.
Next, you will be accompanied to communicate with two women of the Yao nationality to learn about their distinctive clothes and culture. You will see that Yao women all wear extremely long hair, and they only cut their hair once in their life. It has been a tradition passed down for generations.
15:00-16:00 Visit Nine Dragons & Five Tigers Viewing Point
We continue hiking for about 30 minutes and we will arrive at the Nine Dragons & Five Tigers Viewing Point, which provides the most magnificent view of the Longji Terraces Scenic Area. There you can see nine ridges like nine dragons stretching out to the horizon alongside five hillocks resembling five tigers guarding this place. The terraces are like ribbons coiling around the hills from the bottom to the top.
Admire the beautiful scenery of the terraced fields dotted with wooden stilt houses
16:00-18:00 Transfer Back to Guilin or Yangshuo
After having a great time at the Nine Dragons & Five Tigers Viewing Point, we will take a battery car downhill to the parking lot. Here you will transfer to our private vehicle for a ride back to your hotel in Guilin or Yangshuo, and our group Longsheng Rice Terrace tour will end at this point.
Tour Price (US$ Per Person)

Departure: Tue/Thu/Sat
Adult(>11 years old)

$115

Child(2-11 years old)

$105

Note: If you start the tour from Yangshuo, the price will be $10 per person higher.
Price Includes
Pick-up & drop-off from the hotel in Guilin or Yangshuo
Bamboo rice lunch at a local family restaurant
Entrance fees as indicated above
Professional English speaking guide
Experienced driver & air conditioned vehicle
Free mineral water is provided
Price Excludes
Hotels
Gratuities
Personal expenses
What makes this tour different?
Sight-see two minorities' villages - Longji Ancient Zhuang Village and Ping'an Village, and have an all-round view of Longji Terraces at three viewing points.
Sample authentic local dish - Bamboo Rice.
Chat with women of Yao group who wear extremely long hair to gain a better understanding of the minority culture.
Free transfer from Guilin or Yangshuo, leaving you no worry about the transit.
Maximum 6 members in a group.
Booking Policy
Pick-up Service: The hotel pick-up and drop-off will be within the urban areas of Guilin and Yangshuo. Most of the major hotels are located within the pick-up range, like the Sheraton Hotel, Shangri-la Hotel, Li River Waterfall Hotel, Guilin Bravo Hotel etc. in Guilin and the Green Lotus Hotel and most Boutique hotels in Yangshuo. For further distances, we suggest you take a taxi to the appointed hotel and your tour guide will discuss with you about it the day before the trip.
Infant Price: for an infant under 2 years old, this tour is free of charge.
Confirmation: Upon receiving your booking request, confirmation will be sent within 24 hours. We guarantee departures even with 1 person.
Payment: Full payment is required at least two days prior to the day trip. We accept payment by PayPal, Credit Card, Alipay, Wechat and Bank Transfer.
Cancellation: Free cancellation for up to 7 days in advance of the day trip; for cancellations 4 to 7 days before the trip there is a 10% cancellation fee. There is no refund if you cancel within 3 days of the trip. Once the day trip begins, any unused portion is non-refundable.
Itineraries you may also like: