Top Xian Attractions
More Things to Do
Top 10 City Tours
XA01-03: Terracotta Warriors Day Tour from Shanghai
Airport Pick-up - Terracotta Army - City Wall - Muslim Quarter - Airport See-off
Free Cancellation

24-hour Before

There are frequent flights, high speed trains and overnight trains between Shanghai and Xi'an, making a Xi'an day trip from Shanghai quite easy and convenient. Whether you plan to travel by air or rail for your Shanghai to Xi'an tour, you are expected to arrive in Xi'an before 09:00 am. For travelers who decide to take a plane, flight MU2335 0640/0920 is a good choice. For those who plan to take an overnight train, Z216 1836/0940+1 or D310 2244/0939+1 are recommended.
According to your schedule, your English-speaking guide and experienced driver will pick you up from the airport, railway station or your own booked hotel in Xi'an on time and take you to the Terracotta Army Museum, which takes around 1 hour on the way. Following your guide, you will not only take a close look at the more than 8,000 life-sized terracotta warriors and horses, but also learn the legendary stories of Qin Shi Huang, the first emperor of ancient China. After 2.5 hours' sightseeing, you will enjoy a hearty lunch on your own at a nearby restaurant. Your guide will offer recommendations and help.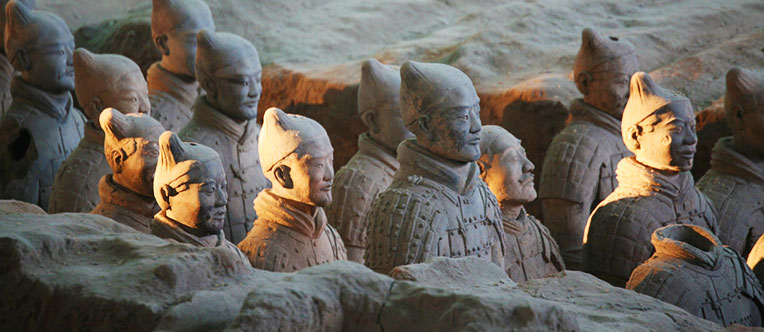 Marvel at the spectacular Terracotta Warriors of 2,000 years ago
After a short break, you will be transferred back to downtown Xi'an to pay a visit to China's largest and best-preserved City Wall. With a total length of 14 kilometers (9 miles), the rectangular City Wall was built about 600 years ago to encircle the city center for defensive purposes. A relaxing walk on the wall is a must-do for leisure travelers. Moreover, you can also choose to ride a bike or take a battery car at your own expense to sightsee on the wall. Then this Terracotta Warrior tour from Shanghai will continue to the bustling Muslim Quarter, where you could experience the vibrant market life of Xi'an. A variety of snack stands, restaurants and handicraft shops are lined along the lanes of the block, waiting for your discovery.
Your Xi'an tour from Shanghai will conclude here. Your guide and driver will escort you back to your own booked hotel in Xi'an. If you are going to leave Xi'an the same day, a comfortable ride will take you to the airport or train station on time. Please kindly note that a flight departing after 20:00 or a train after 19:00 is advised. To get back to Shanghai, you are suggested to take flight MU2169 2010/2225 which arrives at Hongqiao Airport or MU2336 2100/2320 which arrives at Pudong Airport. You can also choose the train Z166 20:44/11:51+1, D312 2023/0626+1 or T118 2025/1330+1 for your return journey.
Attention: For this day trip, flights or trains to and out of Xi'an are not included in our quoted prices. If you need us to book it for you, please remark when you fill in the tour inquiry or tell your travel consultant freely via email. Thank you.
Terracotta Army Museum
Reputed as the Eighth Wonder of the World, the Terracotta Army was the greatest archaeological discovery of the 20th century. It was discovered accidentally by a few peasants when they dug a well, and then after years of hard work by the archaeologists, it was open to the public. The Terracotta Army Museum was built over the site to protect the national treasures. More than 8,000 life-sized pottery figures were arranged in battle formations in the three pits to guard the great emperor Qin Shihuang in his afterlife. You can judge the soldiers' ranks by their hairstyles and uniforms and all of them have different facial expressions. There are also bronze chariots and horses, as well as various weapons excavated along with the warriors, which are still in good shape after more than 2,000 years' erosion.
Terracotta Army Museum
A kneeling warrior displayed in the museum
City Wall
Xi'an City Wall, the largest and best-preserved ancient City Wall in China, is a historical monument built in 1370 which has stood intact for over 600 years to protect the central part of this ancient capital. In addition to a leisurely stroll on the wall, visitors could also tour by bike or a more energy-saving way, the battery car. Both are available near the four City Gates and the rental expense is on your own.
Enjoy cycling on the City Wall
See locals playing Tai-chi near the wall
Prices (US$ Per Person)
1 person

$268

2 persons

$161

3 persons

$130

4 persons

$113

5 persons

$101

6 persons

$90

7 persons

$89

8 persons

$83

9 persons

$78

10+

$73

Price Includes
Private English-speaking guide
Private driver & air-conditioned vehicle
Entrance fees to tourist sites
Price Excludes
Flights or trains to and out of Xian
Hotel accommodation with breakfasts
Lunches and dinners
Tips or gratuities for guide and driver
The above routes do not meet your requirements? Please click
Tailor My Trip