Taiwan Discovery
TWN04: 8 Days Taipei - Sun Moon Lake - Tainan - Kaohsiung - Kenting - Taitung - Hualien - Taipei
Tour Type:
Private Tour, any parts of the itinerary can be customized
Guide:
English-speaking guide, experienced and knowledgeable
Driver:
Private driver with a spacious air-conditioned car
Accommodation:
3 to 4-star handpicked hotels
Meals:
Authentic local cuisines and western-style food for your choice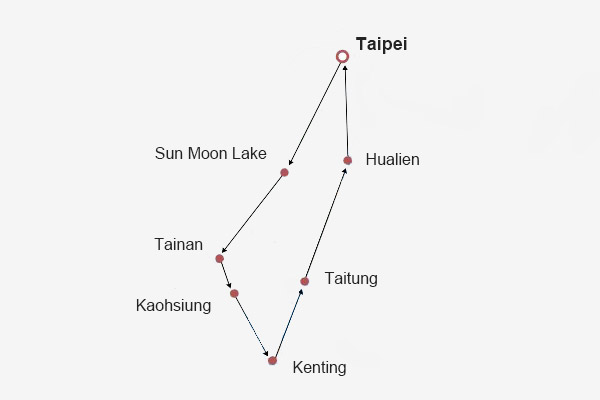 Welcome to beautiful Taiwan. Your flight will land in the Taoyuan International Airport and after passing through customs, our guide will greet you with a warm smiling face holding a sign with your name on it. Then we will transfer you to the hotel. The remainder of the day is free for you.
Today we will find Taipei highlights. Our first destination is the famous National Palace Museum. This museum and the Palace Museum in the Forbidden City in Beijing are derived from the same institution, which has been divided into two due to the Chinese Civil War. There are more than 696,000 pieces of ancient Chinese imperial artifacts and artworks, spanning many dynasties. The items on display change every 3 months. Then we will visit the Martyr's Shrine seeing Taiwan's changing of the guards and the Taiwan Democracy Memorial Hall which is an important landmark of Taiwan. Lunch will be arranged at the well-known Taipei 101 Building. Following the morning activities, we will go to the old Lungshan Temple, which enjoys a history of more than 270 years. The temple has been destroyed by numerous earthquakes and man-made disasters and has been restored several times. It is one of the must-see sights for any Taipei tours. In the evening, we will go to the nearby Huashi Street Night Market where we will find authentic local foods and a variety of antique shops.
Meals: Breakfast, Lunch
National Palace Museum, Taipei
Liberty Square, Taipei
Day 3
Taipei - Sun Moon Lake
Today we will enjoy the beauty of Sun Moon Lake. Our guide will pick you up from the hotel and head south to Sun Moon Lake. On the way, we will stop at Puli Town, having a short visit to the Puli winery, where the famous Shaoxing wine is produced. Proceeding to the Lake, when we arrive we take a boat trip on the sparkling water. We visit the famous sights around the lake like Ci En Pagoda, Wen Wu Temple and La Lu Island. The rest of the day is free for you to enjoy the beauty of the peaceful Lake. You may wander around, cycle or have a pot of tea/coffee in a sidewalk café for total relaxation.

Meals: Breakfast, Lunch
Day 4
Sun Moon Lake - Tainan - Kaohsiung
We depart for Tainan this morning. After around 2.5 hours driving, we will reach Tainan. Lunch will be offered at a local restaurant. Following lunch, we will visit Koxinga Shrine, Chihkan Tower and Chi Mei Museum, a private comprehensive art museum. Koxinga Shrine was first built in 1663 to worship Koxinga who was a leader in the Qing Dynasty defeating the Dutch to claim Taiwan. Chihkan Tower is the most important historic site in Tainan and is a good place to learn about Taiwanese history. Later, driving for around 1.5 hours, we arrive in Kaohsiung, the second largest city in Taiwan and check in at a local hotel. In the evening, we will see Love River in the lights and wander around the bustling Lio Ho Night Market.
Meals: Breakfast, Lunch
Kaohsiung Temple
Kenting
Day 5
Kaohsiung - Kenting
Today we will have a full day tour to Kenting National Park, which is 90 kilometers away from Kaohsiung. With a total area of 466.8 hectares, it is the first national park in Taiwan and one of the most popular destinations for any Taiwan tours. The Park is home to beautiful beaches, hot springs, tropical forests and varied wildlife. Pay a special visit to Oluanbi Lighthouse and Maobitou Park, which are famous spots in the National Park. Stay overnight in Kenting.

Meals: Breakfast, Lunch
After breakfast, we will head north toward to Hualian along the famous East Coast, which stretches 170 kilometers. En route, we visit Siaoyeliou, Sansientai, the Stone Steps and the Caves of the Eight Immortals. Enjoy the stunning coastal view and find a unique part of Taiwan. In the late afternoon, we will reach Hualien and check in at a local hotel.
Meals: Breakfast, Lunch
Fishing Port
Taroko National Park
Today we will have a full day exploration of Taroko National Park which is famous for its spectacular mountains and marble canyons. "Taroko" means "magnificent and beautiful" in the Truku language of the Tarokoindigenous tribe. We trek the landmark gorge of the park and continue our journey to the Tunnel of Nine Turns, Eternal Spring Shrine, Swallow Caves, Tienshiang Lodge and Chi Hsing Beach. Transfer to Taipei and check in at the hotel.

Meals: Breakfast, Lunch
Day 8
Departure from Taipei
Your pleasant Taiwan journey is completed as we escort you to the airport and help you board the flight back home.

Meals: Breakfast
This trip can be customized to meet your individual needs!