Classic Puerto Rico Tour
TPR104: 5 Days Private Tour of San Juan - Fajardo - El Yunque - Culebra Island - San Juan
Tour Type:
Customized private tour, professional guide and driver
Accommodation:
Selected 4-star comfortable hotel
Highlights:
Stroll in old San Juan, visit ancient castles & sunbathe on Condado Beach.
Experience the fascinating Biobay kayak adventure.
Bathe in natural pools, and hike along trails in EI Yunque National Rainforest.
Enjoy a catamaran trip to Culebra Island, with water activities.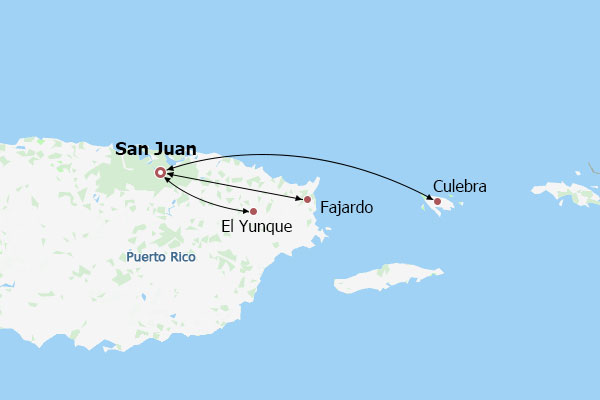 Day 1
Arrival in San Juan, Airport pick-up
Upon arrival at San Juan Luis Munoz Marin International Airport, you will be friendly met by our driver and transferred to the hotel for check-in. After you refresh at the hotel, it would be nice to relax on the nearby Condado Beach, where you can take a sunbath, make a sand castle, or just sip drinks under umbrellas.
Accommodation: La Concha Renaissance Resort




Day 2
Visit the old San Juan, Take a Biobay kayak adventure
After enjoying breakfast at the hotel, you will visit the old San Juan in the morning. San Juan Old Town is a well-preserved ancient town full of European exotic customs in the Caribbean region, as well as a popular and romantic leisure resort. Strolling through the blue-brick or cobblestone streets of the old town and seeing those colorful buildings, you may feel a sense of the exotic Spanish scene. After visiting the city, you can walk to the old castles of Castillo San Cristobal and El Morro. There is a very large lawn outside of El Morro, and most people take it as a leisure area to walk or fly kites. You can climb the fort to overlook the Caribbean Sea and downtown San Juan.
Finishing the old San Juan trip, you will have free lunchtime before we continue to visit the Bio Bay, where you will have opportunities to see glowing microscopic planktons. After around one-hour car ride, we will reach Fajardo. You need to kayak through a low mangrove forest, and then come to an open water area to wait until the sky is dark. Put your hand in the water, and you will see the amazing things - fluorescent spots. Finally, you will be transferred back to the hotel.
Meals: Breakfast
Accommodation: La Concha Renaissance Resort




Day 3
Explore El Yunque and relax at Luquillo beach
Our guide and driver will pick you up from the hotel in the morning. Today you will proceed to explore the enchanting El Yunque National Rainforest, also called Skylark Rainforest. It has a diverse ecosystem, hosting hundreds of unique plant and animal species. You can follow hiking trails, climb rugged mountains, and immerse yourself into the beautiful waterfall and natural waterslide. You will be able to enjoy a natural water pool along with a waterslide in the rainforest. What's more, there is also an opportunity to climb Yokahu Observation Tower for panoramic views of the East China Sea coastline including Luquillo and Fajardo. Take photos to capture this memorable moment.
After your happy time in the Rainforest, walking and swimming in the pristine waterways, it's time to head to the popular Luquillo Beach. Enjoy free time to sunbathe, or take a dip in the Atlantic Ocean. Rest and relax in this picturesque place as the sun starts to set on such a beautiful day.
Meals: Breakfast
Accommodation: La Concha Renaissance Resort




Day 4
Take a join-in catamaran trip to Culebra via Fajardo
In the morning, you will be picked up from your hotel at the appointed time and driven around one hour to reach the Ceiba port, Fajardo. Board a high-speed catamaran for Culebra with other group members. During this 45-minute cruise, you can relax on the deck, enjoy drinks at the bar and enjoy stunning views of the Cordillera Islands. Paradise awaits you!
Culebra Island is a snorkeler's paradise, boasting clear waters, white sand beaches and a wide variety of sea life. Please prepare the towels and sunblock in advance. Set out in a kayak on the beach, go to the designated sea surface with snorkeling gear, follow the guide's guidance, then you may swim with turtles, see the colorful corals on the sea floor, as if you were in the scene of "Finding Nemo". After snorkeling, head to Flamenco beach, one of the island's most famous beaches. After some water activities, return to the boat for a simple lunch.
From there, you will continue to Culebra beach or Little Culebrita beach for afternoon swimming, sunbathing or snorkeling (snorkeling gear is excluded) before returning to take the catamaran back to Fajardo. Get back to San Juan finally.
Meals: Breakfast, Lunch
Accommodation: La Concha Renaissance Resort




Day 5
Airport drop-off, Say goodbye
According to your departure flight schedule, our driver will transfer you to the airport and say goodbye. Wish you a pleasant trip home!

Meals: Breakfast
This trip can be customized to meet your individual needs!
Itineraries you may also like: