San Juan Weekend Trip
TPR103: 3 Days Private Tour of San Juan - EI Yunque - Fajardo - San Juan
Tour Type:
Customized private tour, professional guide and driver
Accommodation:
Selected 4-star comfortable hotel
Highlights:
Must-see sight in San Juan - EI Yunque National Rainforest.
Evening kayaking through the Mangrove Forest to see the glowing Bio bay.
Enjoy the beautiful sunset on the sandy beach of the Caribbean Sea.
Discover colorful houses in old San Juan & visit the historical castles.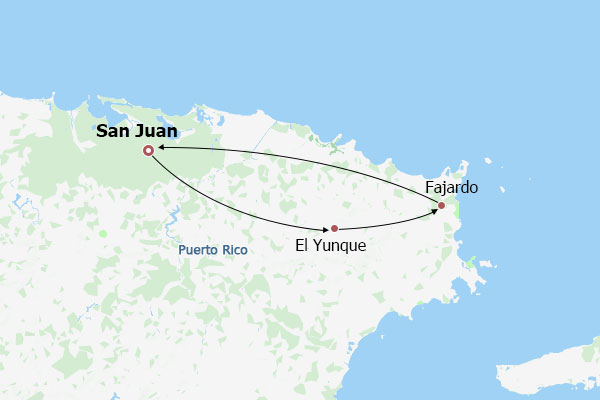 Day 1
Arrival in San Juan, Airport pick-up
Welcome to San Juan, the capital as well as the largest city of Puerto Rico. Upon your arrival at San Juan Luis Munoz Marin International Airport, you will be picked up and transferred to the hotel for check-in. Relax and enjoy the beautiful sunset on the beach nearby. There is also a popular residential and commercial area close to the beach for you to explore.
Accommodation: La Concha Renaissance Resort




Day 2
Explore EI Yunque Rainforest & Take a nighttime Bio Bay kayak adventure
Your day will start from a tasty breakfast at the hotel, then we will meet you and drive around one hour to the EI Yunque National rainforest. As Puerto Rico's greatest natural wonder, EI Yunque is the only tropical rainforest in the United States National Forest System. It is the most biologically diverse forest, hosting hundreds of plants and animals, and some can only be found here in Puerto Rico! Let's explore the lush rainforests and stunning waterfalls. You can swim in the natural pools, refresh in the waterfalls, slide down an exhilarating waterslide, ride a rope swing into the river and jump from different rock formations.
After the hike, you will stop for lunch of your own expense at a local restaurant. Afterwards, we will drive around 30 minutes to take a nighttime Bio Bay kayak adventure at Laguna Grande Reserve in Fajardo Bio Bay. You will load up in the kayak and head toward the Red Mangrove Forest with an amazing view of the sunset. The Mangrove Forest is part of Las Cabezas de San Juan Nature Reserve. You will kayak about 30 minutes to get to Laguna Grande. When it gets dark, you may see glowing microscopic planktons. Putting your hands in water and seeing the water light up. How magic it is! Explore these amazing organisms up close as our professional eco-guide takes you to discover all its secrets. You will learn how this unique and fragile ecosystem maintains a perfect balance of life and how our human beings protect such special area. Drive back to the hotel in the end.
Meals: Breakfast
Accommodation: La Concha Renaissance Resort




Day 3
Enjoy walking through old San Juan, Airport drop-off
After breakfast, you will have a guided walking trip to Old San Juan, where you will get to know its history and culture by visiting the sights. Old San Juan is a colorful city surrounded by mountains and sea, where Puerto Rico's first settlers settled. The city is paved with blue brick roads flanked by colorful Caribbean style buildings, which is a classic island town that looks like a fairytale. Here, you can slow down and take a leisurely stroll with the company of our expert guide. Each mural has its own story. Take photos, hunt for delicate handicrafts, sit in a roadside dessert shop, and relieve yourself from the summer heat. The expert guide will also give you vivid introduction about the neighborhood, architecture and local culture, as well as the powerful colonial influence on this Island.

In the afternoon, we will see you off at San Juan Luis Munoz Marin International Airport. Wish you have enjoyed a great vacation!

Meals: Breakfast
This trip can be customized to meet your individual needs!
Itineraries you may also like: