Best Transylvania Tour
TRM101: 7 Days Private Tour of Bucharest - Transfagarasan Road - Sibiu - Corvin Castle - Cluj Napoca - Sighisoara - Brasov - Bucharest
Tour Type:
Private Tour, any parts of the itinerary can be customized
Guide:
English-speaking driver guide, experienced and knowledgeable
Vehicle:
Air-conditioned car, spacious and comfortable
Accommodation:
4-star handpicked hotels, also be open to your own choice
Meals:
Authentic local cuisines and western-style food for your choice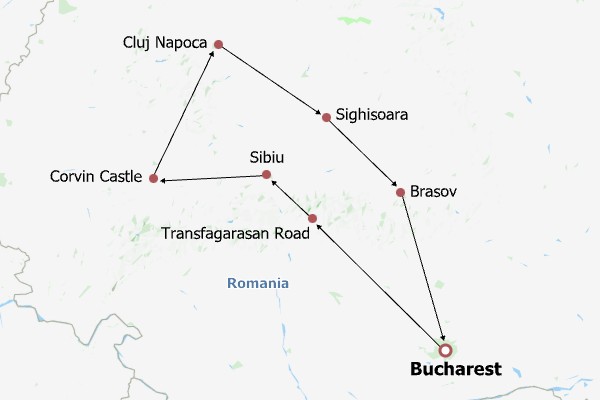 Day 1
Arrival in Bucharest, Airport pick-up
Welcome to Romania and thanks for joining our Romania 7 days tour! After you arrive at Bucharest OTP airport, you will see our driver guide waiting for you there, who will later transfer you to the hotel for check-in. After a short rest, we will start today's 1h escorted walking tour in the famous Revolution Square or the Old Town.
Accommodation: Capitol Hotel




Day 2
Transfagarasan road experience, Sibiu walking tour
The first attraction we will visit today is the Curtea de Arges Monastery, where the former Romania Kings are buried. Next we will move on to the Vidraru Dam, and the driver guide will accompany you to climb 1,480 steps to the Poienari Fortress to overlook the magnificent Arges River and valley. Then the driver guide will escort you to Transfagarasan Road, which has been hailed as the best road in the world by Top Gear. It is only open from July to October each year. Finally, we'll look around Sibiu Highlights, such as the Large Square, the Small Square, the Liars' Bridge, and the Orthodox Cathedral. You can also admire the view of the whole city while standing on the Council Tower.
Meals: Breakfast
Accommodation: Hotel Republique





Friendly Tips
If Transfagarasan road is closed, we will change our way to Sibiu, and visit the Cozia Monastery midway.
Day 3
Corvin Castle & Turda Salt Mine discovery, Arrival in Cluj Napoca
After breakfast we will drive 1.5 hours to Corvin Castle, one of the Seven Wonders of Romania. Located on a rock above River Zlasti, the building is accessed by a wooden bridge. Then we'll visit the Alba Iulia Citadel, which is over 300 years old, and the special underground theme park Turda Salt Mine. Continue today's itinerary, we are going to take a 30-min drive to Cluj Napoca, where we will stay overnight. Upon arrival we will have a short walk in the Union Square and the Museum Central Square to finish today's trip.
Meals: Breakfast
Accommodation: Golden Tulip Ana Dome Hotel




Day 4
Taste Transylvania Fortified Churches, Sighisoara city tour
Today we will explore the beautiful Saxon Villages, Biertan and Malancrav. The Biertan Fortified Church was inscribed as a World Heritage Site in 1993. There is a wine village named Richis near Biertan. If you want to sample the wine and traditional lunch there, just tell the driver guide and he or she will arrange it for you but you need to pay on the site. If you are interested in the textile handicraft products, we can go to a local family workshop in Malancrav to learn about the weaving techniques of tablecloths, curtains, rugs, etc. Finally, we will head to Sighisoara, where the driver guide will show you around the old district, to see the Medieval Citadel and its Square, Tailor's Bastion and many other tourist spots. Tonight, stay in Sighisoara.
Meals: Breakfast
Accommodation: Hotel Central Park Sighisoara




Day 5
Viscri & Bran Castle excursion, Brasov walking trip
In the morning we will drive about 1 hour to Viscri Village, a World Heritage Site, to pay a visit to the traditional blacksmith shop and enjoy a horse-drawn carriage tour around the village. Then we'll go to visit Bran Castle, which was built in 1377 and is said to be a vampire home base. Finally we will drive to Brasov with a short stop on the mountain top to have a bird's view of the city. When arrive, take a walk around Council Square and check in at a local hotel.
Meals: Breakfast
Accommodation: Grand Hotel Belvedere




Day 6
Bear Sanctuary & Peles Castle expedition, Arrival in Bucharest
The driver guide will first lead you to Brasov's landmark, Black Church. Next we will go to the Bear Sanctuary in Zarnesti, where a licensed guide will accompany you to enjoy an 1 hour walking so you can get a close look at the daily activities of the brown bears. After the hike, you will be transferred to visit the Rasnov Fortress and the former royal residence Peles Castle. Finally, drive 2 hours back to the capital city of Bucharest.
Meals: Breakfast
Accommodation: Capitol Hotel





Friendly Tips
The interior areas of Peles Castle are closed every Monday and Tuesday from November to next March, but the courtyard is always open to the public.
Day 7
Bucharest sightseeing, Airport see-off
We will visit the famous attraction the Palace of Parliament and the Village Museum in Bucharest. After, the driver guide will send you to the airport. Wish you have enjoyed the 7 days itinerary with us!

Meals: Breakfast
This trip can be customized to meet your individual needs!
Itineraries you may also like: