Is it safe to travel in China now?
Since the COVID-19 is under control in China now, the domestic travel in China has started to resume. With the lifting of travel restrictions, many people are making their travel plans again. All hotels and sightseeing spots are in good managements to receive the tourists. As long as we take precautions, traveling in China is safe.

There is no doubt that your safety is always our top priority, especially after such a severe global epidemic. We do all we could for the prevention works, and make sure everyone who travels with TravelChinaGuide will have a safe and worry-free journey.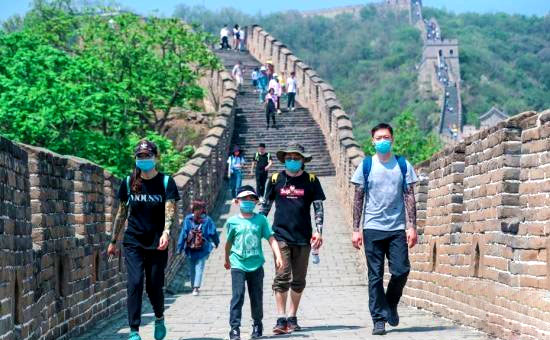 What measures are we taking to ensure you a safe tour?
Your guides and drivers are safe from Covid-19.

As for your tour guides and drivers, we pay great attention to their health conditions every day to ensure that they are in good health while working. They need to wear masks, have their body temperature monitored daily and receive nucleic acid detection regularly. You do not need to worry about the close contact with them.

Your vehicles will be cleaned and disinfected every day.

Normally, we provide spacious licensed vehicles with comfortable seats and air conditioning. Drivers are required to clean the vehicles on daily basis. For current situations, drivers are required to clean and disinfect the vehicles thoroughly at least twice in a day, including doorknobs, seats, armrests, safety belts, and any other places you might touch.
Medical masks, 75% alcohol,

hand sanitizer are provided for free use.

During your tour, there will be 75% alcohol disinfectant and hand sanitizers prepared in the car for free use. And each day, we will provide every guest two free medical masks. These prevention products can also be easily purchased in the pharmacies. If you want to buy more, your guides will be glad to offer help.

Nice hotels assure you a safe and enjoyable stay.

Most hotels we use in our package tours are international brand hotels, and some are good local ones. They are all well-managed and care for their guests' health and safety than anything else. They do good prevention works too, such as increasing the frequency of cleaning all hotel areas, especially the reception, hotel public areas and some high-touch items.
Nice restaurants with high

quality food are selected for you.

For meals included in tours, we always choose reliable restaurants with elegant environment and great atmosphere in the city. Restaurants have a strict food hygiene rules and the staff are well trained to serve the guests in good manners. You don't need to worry about their sanitation. For meals that are not included, your guides will be able to recommend you good local restaurants.

We will ensure you a pleasant travel experience.

Although the epidemic has been under control in China, we still need to be cautious. Your tour guides have rich experiences on how to avoid the crowds, what to do in an emergency, what to recommend for your free time and so on. We will also offer suggestions on how to take flight and train. In any case, you can count on us for a carefree trip in China.