Tanzania Holiday Packages
TTZ03: 9 Days Private Tour of Arusha - Tarangire - Ngorongoro - Serengeti - Lake Eyasi - Lake Manyara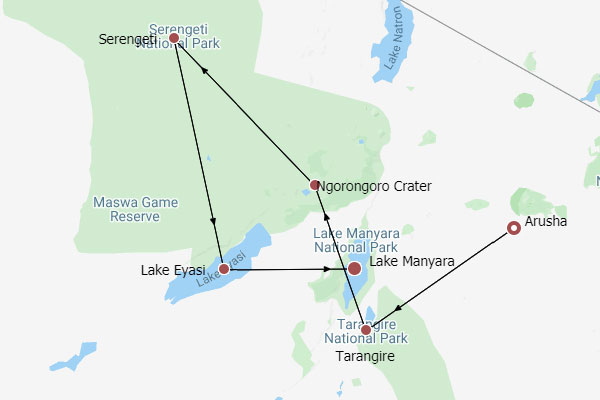 Tour Type:
Private Tour, any parts of the itinerary can be customized
Guide:
English-speaking driver guide, experienced and knowledgeable
Vehicle:
Air-conditioned car, spacious and comfortable
Accommodation:
4-star handpicked hotels & featured lodges
Meals:
Authentic local cuisines and western-style food for your choice
Day 1
Arrival at Kilimanjaro International Airport, Drive to Arusha
Welcome to attend the Tanzania holiday packages! Upon your arrival, our driver guide will pick you up at Kilimanjaro International Airport with a welcome board and then escort you to the Arusha Hotel, which is 55km and one hour away. If time permits, we will give you a pre-safari briefing.
Accommodation: Arusha Serena Hotel, Resort & Spa




Day 2
Arusha - Tarangire National Park
After breakfast, we will drive southward for 2.5-3 hours and arrive at Tarangire National Park at noon. After enjoying a picnic lunch, our driver guide will bring you for an exciting game drive in the afternoon. The Tarangire National Park is the second largest wildlife habitat in Tanzania, only after the Serengeti we are going to visit later. While visiting, you will find that so many wild animals and vegetation come into sight, like herds of elephants and countless baobab trees. The game viewing will end at dusk and we are going to check in the local lodge and have dinner.

Meals: Breakfast, Lunch, Dinner
Accommodation: Tarangire Sopa Lodge
Day 3
Full day at Tarangire National Park
We arrange walking safari for you on this morning. Our driver guide and park ranger will accompany to hike through the bushes. Through the walking safari, you can learn a lot about wild animals and plants such as how to identify animals from footprints and feces. After having picnic lunch, we continue to explore the Tarangire National Park further by car. The changeable terrains as well as the woodlands and grasslands are amazing. The Tarangire River provides shelter for a wide variety of animals in this area during the dry season. There are currently 550 birds on record. In the end, we will return to the lodge and have dinner.

Meals: Breakfast, Lunch, Dinner
Accommodation: Tarangire Sopa Lodge
Day 4
Tarangire National Park - Ngorongoro Crater Safari
Today we will drive to Ngorogoro Conservation Area after breakfast. You are kindly recommend to grasp every minute to enjoy the beautiful views of Tarangire National Park along the way. We will arrive at our destination in 4.5 hours and then check-in the local lodge. After lunch, follow the driver guide to have a deep Ngorongoro Crater safari by car. Known as the African Eden, the Ngorongoro Crater is home to a large number of animals including 120 lions, 15,000 wildebeests, more than 9,000 zebras and 50 black rhinos. Beautiful flamingos can often be seen on Lake Magadi. After finishing visit we will come back to the lodge and have dinner.

Meals: Breakfast, Lunch, Dinner
Accommodation: Ngorongoro Serena Lodge
Day 5
Ngorongoro Conservation Area - Serengeti National Park
After breakfast, we will set off for the next destination - Serengeti National Park which is 145 kilometers (90 miles) away and supposed to be the most highlights of any Tanzania packages. It take about 3.5 hours to arrive at the park. Upon arrival, enjoy your picnic lunch in the designated area of the park. Then our driver guide will take you go on a game viewing. It is awe-inspiring when the expansive plain unveil in front of your eyes. And the fascinating park landscape is undoubtedly an unparalleled miracle in Tanzania.

Meals: Breakfast, Lunch, Dinner
Accommodation: Serengeti Serena Lodge
Day 6
Central Serengeti National Park Safari
Today the driver guide accompany you to have an in-depth safari all day at Central Serengeti. Serengeti National Park preserves the largest wildlife ecosystem on earth. There are numerous animals from wildebeests to zebras, Thomson gazelles, giraffes, lions, elephants, buffaloes and cheetahs as well as over 300 kinds of birds. And Seronera River is the most concentration area for wild animals. You will have unforgettable experiences through finding the footprints of wild animals and getting close to animals. Also, you may witness how the cheetahs, leopards and lions catch their preys at the border between the forest zone and the grassland. The safari will end in the evening. Then we will return to the lodge and enjoy dinner.

Meals: Breakfast, Lunch, Dinner
Accommodation: Serengeti Serena Lodge
Day 7
Central Serengeti - Datoga Tribe - Lake Eyasi
Continue to go on a game drive at Central Serengeti in the morning. Or we can visit Serengeti Visitor Centre to have a better understanding of the park's conservation history and ecosystem if you are interested. After lunch, we will drive south for about 4.5 hours to Lake Eyasi, the next stop of this Tanzania packages. Tanzania not only is rich in wildlife resources, but also has splendid human civilization. We will visit Datoga tribe to learn about the local villages and traditional customs. Datoga is a nomadic tribe in central Tanzania. Datoga people used to live on hunting but now their means of livelihood has changed into animal husbandry and making handicrafts after moving into the plain.
Meals: Breakfast, Lunch, Dinner
Accommodation: Ziwani Lodge

Friendly Tips
The excursions in Lake Eyasi are best visited during the dry season from June to October when there is less rain and the roads are passable, hence this itinerary is only suitable for visiting during dry season.
Day 8
Lake Eyasi - Lake Manyara National Park
After breakfast, we will visit the oldest and last hunting tribe in the world - Hatzabe, which lives in the vicinity of Lake Eyasi. The total population of the tribe is less than one thousand. Their men are responsible for hunting while women gather fruits and look after the young and old. Then, we will get to Lake Manyara after about 2-hour drive. After lunch, go on a game viewing at the Lake Manyara which owns abundant vegetation and wild animals accompanied by our driver guide.

Meals: Breakfast, Lunch, Dinner
Accommodation: Lake Manyara Serena Lodge
Day 9
Lake Manyara National Park - Kilimanjaro International Airport, See off
After breakfast, the driver guide and park ranger will accompany you to have walking Safari. While hiking through the bushes, you may find small animals that may not be discovered by car safari, come across giraffes who are stretching necks to reach high leaves and see elephants playing or eating. You can even taste the desert date that monkeys like. All of these unique experiences will make wonderful and unforgettable memories. After lunch, we will drive 3.5 hours to Kilimanjaro International Airport which is 175 kilometers (109 miles) far away for your departure flight. Your Tanzania holiday packages comes to an end. If you book a flight leaving the next day, we will also be happy to assist you in booking a hotel and send you there for check-in.

Meals: Breakfast, Lunch

B-- Breakfast
L-- Lunch
D-- Dinner
Tour Prices
| Travelers | 2-3 travelers | 4-5 travelers |
| --- | --- | --- |
| Jul-Oct | $5139 | $4419 |
| Jun | $4889 | $4179 |
Prices are per person in US Dollars based on double occupancy.
Any parts of the itinerary e.g. tour length, activities & hotels can be tailored to your individual interests.
Price Includes
Accommodation with daily breakfast at selected hotels
Service of English speaking driver guide as itinerary specifices
Private transfer in air-conditioned vehicles
Well-maintained 4x4 safari vehicles in all safari game drives
Entrance fees for mentioned sights visited
Meals as mentioned in the itinerary
Unlimited bottled water, soft drinks, coffee and tea during game drives
All government taxes
Price Excludes
International flights into and out Tanzania
Personal expenses (such as laundry, telephone, drinks, etc.)
Tips for the driver guide, hotel, lodge or camp
Personal travel insurance
Tanzania visa fees
Itineraries you may also like: