Top Xian Attractions
More Things to Do
Top 10 City Tours
XA01-08: Terracotta Army Tour from Beijing
Airport Pick-up - Terracotta Army Museum - Airport See-off
Free Cancellation

24-hour Before

Today you are going to Xi'an to enjoy this 1-day private Terracotta Army tour from Beijing. When you arrive in Xi'an, your professional guide and experienced driver will pick you up at the airport or railway station on time. There are many flights and high speed trains in service every day, which takes about 2 hours and 4.5 hours respectively. You can contact your exclusive travel consultant to help you book the air or high speed train ticket if you need.
After picking you up successfully, we will take the highway directly heading to the Terracotta Army Museum, which takes around 1 hour on the way. Upon arrival, your Terracotta Army tour begins. You will have at least 2.5 hours to view this world wonder at a slow pace and your guide will provide full explanations on its history and culture. At the end of the terracotta soldiers tour, your guide and driver will escort you back to the airport or railway station for your onward journey.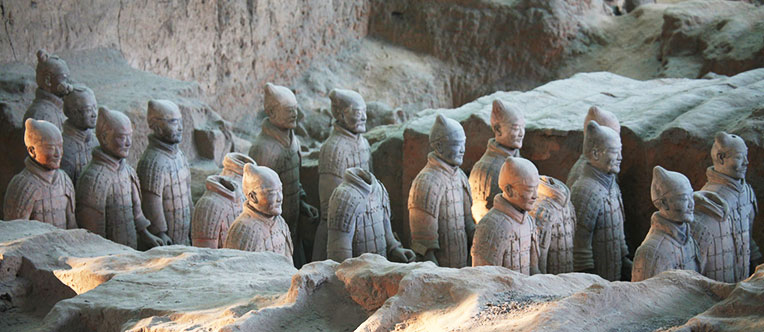 Take your time to enjoy the magnificent Terracotta Warriors
If you plan to extend your tour to other places, you may contact your travel consultant for further information at any time. We wish you have a wonderful time in China.
Terracotta Army Museum
As a must-see hot spot in China, the Terracotta Army Museum attracts millions of tourists from all over the world every year. This large underground army with more than 8,000 terracotta warriors, 600 horses as well as 100 chariots has guarded the mausoleum of Emperor Qin Shi Huang (259 BC–210 BC) for over 2,200 years. Each of the terracotta warriors has different countenance, which is amazing and interesting. Besides, the warriors also have different hair styles, postures and weapons, from which you can judge their ranks and roles. The Terracotta Army Museum is not only a treasure house of ancient sculptural art but also an invaluable historical and cultural relic for studying the military, politics and economy of the Qin Dynasty (BC221-BC207).
The Terracotta Army Museum, the largest ancient military museum in China, is based on the original site of the Terracotta Army and mainly contains three pits and an exhibition hall. The first pit, including 6,000 clay infantries as well as several chariots, is the main force of this powerful army. The second pit, with many arms such as cavalries, crossbowmen and chariots, is a multi-arms special troop with complicated arrangements. While the third pit, the only one that had not been burned, is the headquarters of this ancient army, with many colorful painted terracotta warriors. The Bronze Chariot and Horse Exhibition Hall displays the largest and most complicated bronze chariots and horses in the world. Looking down from the long corridor around the pits, you can feel the magnificent momentum of the period when Qin Shi Huang unified the six kingdoms into one centralized multi-ethnic state and set the basic political system which has influenced the following dynasties for 2,200 years. In a word, it is definitely a place worth visiting in one's life.
Our clients visiting the museum
Bronze Chariots and Horses
Prices (US$ Per Person)
1 person

$240

2 persons

$142

3 persons

$113

4 persons

$97

5 persons

$88

6 persons

$75

7 persons

$72

8 persons

$68

9 persons

$65

10+

$58

Price Includes
Private English-speaking guide
Private driver & air-conditioned vehicle
Entrance fees to tourist sites
Price Excludes
Flights or trains to and out of Xian
Hotel accommodation with breakfasts
Lunches and dinners
Tips or gratuities for guide and driver
Itineraries you may also like:
The above routes do not meet your requirements? Please click
Tailor My Trip