Private Itineraries
Unique Services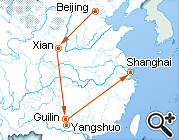 China Islamic Heritage
MT02:
11 Days China Tours from Houston US to Beijing

Xian

Guilin

Shanghai
Houston and Beijing are two vibrant cities with abundant culture relics and tourism interests. The daily regular direct flight between these two cities creates a convenient way for people taking China tours from Houston or even the southern region of USA. It is a 14 hours & 50 minutes' flying from Houston to Beijing and the flight number is CA996 0100/0450+1 of Air China. United Airlines flight UA7602 has been code-shared with Air China. Travelers who start the tour from Austin of Texas, San Antonio of Texas, Albuquerque of New Mexico, Oklahoma City of Oklahoma, New Orleans of Louisiana or Nashville of Tennessee can connect a flight to Beijing through Houston. Since you will arrive at Beijing in the early morning the second day, we will try our best to arrange early check in for you, but if it is not available, you are suggested to store your luggage at the reception of the hotel to walk around or have a short rest at the lobby of the hotel.
Salam Alaikum! We will have an enthusiastic guide greet you outside the baggage claim at the Capital Airport based on your flight information. You will be taken straight to the hotel and rest up for the remainder of the day.
Meals: No meals, advice freely available
Accommodation: Pentahotel Beijing




Our guests at the Badaling Great Wall
Following breakfast at your hotel, let's get to the most frequently visited
Tiananmen Square
and
Forbidden City
to start your private Beijing tour from Houston. The two sites are located at the very heart of the city, and you can touch both old and modern elements when visiting them. Being the sovereign power center from 1420 to 1912, Forbidden City harbors the world's largest ancient building complex and a great collection of cultural treasures. You will then have an a la carte lunch (valued at CNY150.00 per person and included in our price) at an elegantly decorated Islamic Restaurant.
Set out to the city's largest and oldest mosque,
Ox Street Mosque
in the early afternoon. Although the construction of this mosque adopted traditional Chinese timber structures, its details were of Arabian style decorations in the Islamic architecture. You can perform Salat at the mosque if time suits. Its neighboring area is the largest Muslim inhabit district in Beijing. Since there is no Islamic restaurant close to the Great Wall, lunch is not arranged for tomorrow. You may buy some halal food as supply at a big Islamic superstore if necessary. The day will be concluded after your visiting to the
Temple of Heaven
, which is absolutely a unique masterpiece of ancient architecture group. You can ask the guide about where to have dinner. Instead of sending you back to the hotel, your guide is also glad to take you to an Islamic restaurant and help you order the menu. After that, you can return to the hotel by catching a taxi on your own.
Meals: Breakfast, A la carte Islamic Lunch
Forbidden City
In the morning we will drive about 60 kilometers to reach
Badaling Great Wall
, which is the best section of the Ming Dynasty Great Wall. It's majestic and stunning sight never fails to win people's great admiration. The afternoon is devoted to Madian Mosque. In contrast to those busy streets in short distance, the mosque built in traditional Chinese courtyards produces a feeling of ethereal serenity to visitors. Imams here can speak good Arabic and it is quite usual to see Muslims coming from foreign countries conduct prayers. It also has a prayer hall in the north of the main hall exclusively catering to female Muslim who wants to listen to the imam's sermons and perform Salat.
Meals: Breakfast
Forest of Stone Steles Museum, Xian
Your first stop today is the
Summer Palace
, a renowned Imperial Garden built about 250 years ago in the Qing Dynasty. It is mainly divided into three areas: stately political activity area, luxury living district and agreeable scenic resort. After having an a la carte lunch (valued at CNY150.00 per person and included in our price) at an Islamic Restaurant, you will head to Xian by a high speed train. Upon arrival, another guide will meet you at the railway station and lead you to the hotel.
Meals: Breakfast, A la carte Islamic Lunch
Accommodation:
Holiday Inn Xian Big Goose Pagoda




Terracotta army, Xian
The number one item on the agenda for anybody coming to Xian is to visit the
Terracotta Warriors and Horses Museum
, which is built on the accessory pits of the first Emperor Qin's Mausoleum. Your guide will have the whole morning to show you this great site. You will find it really lives up to its fame of being the 'eighth wonder of the world'. A la carte lunch (valued at CNY120.00 per person and included in our price) is served for you at a distinctive Islamic restaurant in downtown area. Afterwards,
Forest of Stone Steles Museum
is scheduled for you. It is a great place for one to appreciate valuable stone steles, epigraphs and stone sculpture from ancient times.
For the rest time of the afternoon, you will spend it at the 1250 years old
Great Mosque
and its nearby Muslim Bazaar. The most unique feature of this mosque is that it was entirely built in the traditional Chinese architecture style rather than Islamic style. You will see pavilions with carved beams, painted columns and flying eaves instead of Islamic domes and minarets. It is an important mosque for local Muslims to perform the five daily prayers and the Friday Jumah prayer. You can join in them at Maghrib around 17:40 if schedule allows. Various halal food and snacks can be found in the Muslim Bazaar, so you may choose some for dinner.
Meals: Breakfast, A la carte Islamic Lunch
Vendor is selling Osmanthus Persimmon Cakes in the Muslim Street
As the capital of thirteen Dynasties, Xian city's age and respectable past can even be seen in the bricks of its city wall. This morning, we will take you to climb China's most complete ancient
City Wall
. Walking and biking on the wall are preferred by many people. Bicycle rental service is available, so you can ask for help from your guide and pay the cost on the spot. Next the
Shaanxi Provincial History Museum
is waiting for your presence. It is a comprehensive museum with more than 370,000 rare articles and antiquities from different times are on display. After having an a la carte lunch (valued at CNY120.00 per person and included in our price) at an Islamic restaurant, you will be escorted to the airport for flight to Guilin, where our guide awaits you. Transfer to the hotel and have a good rest.
Meals: Breakfast, A la carte Islamic Lunch
Accommodation: Grand Link Hotel




Day 8
Guilin - Yangshuo - Guilin
Li River cruise
Your sightseeing in Guilin begins with the spellbinding
Li River
cruise. There is no denying that the Li River pools all the natural beauties and deserves much appreciation. After arriving at Yangshuo, you will take a pleasant scenic drive through the countryside to touch the local's bucolic life. Return to Guilin in the late afternoon.
Tips: Since the simple box lunch provided by the cruise is not up to TCG's serving standard, you may consider having a hearty breakfast at the hotel this morning.
Meals: Breakfast, Lunch
Elephant Trunk Hill, Guilin
Today you will first go to the
Reed Flute Cave
, which boasts abundant karst formations of stone columns, stalactites and stalagmites with interesting names, such as Crystal Palace, Dragon Pagoda and Virgin Forest. After having lunch at an Islamic restaurant, let's proceed to the
Elephant Truck Hill
. It is a huge rock resembling an elephant drinking water at the riverside with its trunk, hence the name. The last stop is Chongshan Street Mosque, which is the best preserved mosque with the largest scale in Guilin. Your guide will accompany to the airport to board flight to Shanghai, where you will be met on time. Once finishing the check-in procedure, you can retreat to the room for a good night's rest.
Meals: Breakfast, Islamic Lunch
Accommodation:
Ocean Hotel Shanghai




Huangpu River scenery
The first site of your Shanghai tour from Houston today is
Shanghai Museum
, which is a great museum mainly famous for the ancient Chinese art. Have a view of the noted People's Square from a distance. Then visit the
Yuyuan Garden
that fully reflects the style of ancient and classic gardens. A farewell a la carte lunch (valued at CNY150.00 per person and included in our price) will be served at a classy Islamic restaurant, where you can watch the dance of Xinjiang girls when munching on Xinjiang food heavy on roasted skewers of mutton and heady with liberal use of cumin. After that, head to the Mosque at Xiaotaoyuan Street. As the most famous mosque in Shanghai, it has a west Asian Islamic style architecture featuring four domes. The grand prayer hall has two stories, which can accommodate one thousand people at a time. The day will draw to an end after you experience a leisurely stroll on
the Bund
area. You will be driven to your hotel at completion of the visiting.
Meals: Breakfast, A la carte Islamic Lunch
Day 11
Shanghai - Houston
Your private China Muslim tour from US ends today. The guide and driver will escort you to the airport according to your departure flight schedule. Also, they will help you handle the check-in and finally say goodbye at the correct security gate.

There is no airline company offer the direct flight service from Shanghai to Houston at present. We would like to recommend that you fly from Shanghai to Beijing first by flight CA1858 0755/1010 or CA1590 0855/1110 and then connect to flight CA995 1500/1540 back to Houston. You will have a layover of 4 hours & 50 minutes at Beijing Airport for first option and 3 hours & 50 minutes if you opt for the latter option. The whole journey takes around 20 hours to 21 hours. Besides Beijing, travelers can also choose to make the transit at one of the cities in US like New York, Chicago, San Francisco, Los Angeles, Dallas or Detroit. Wish you a good journey home!

Meals: Breakfast

Related Itineraries: