Highlights
Mini group with 1 to 6 guests; guarantee the most attentive tour service for you!
Visit the water town in the morning, avoiding crowds in the afternoon.
Take a traditional sculling boat in the river to tour around the town.
Complimentary bottled drinking water with unlimited supplies.
No commissioned-based shopping stops and detours.
Detailed Itinerary
8:00 - 9:00 Hotel Pick-up
In the morning, your guide and driver will greet you at your hotel lobby. You will be informed of the meeting time no later than 20:00 on the night before. Your Shanghai half day tour to Zhujiajiao starts here.
9:00 - 12:00 Drive to Visit Zhujiajiao Water Town
It takes about one hour to drive to Zhujiajiao Water Town. In the morning we can avoid the peak time and enjoy a peaceful town. The town has a history of more than 1,700 years, with unique old bridges, flowing rivers, traditional residential houses with courtyards. You will enjoy a more relaxing travel experience there.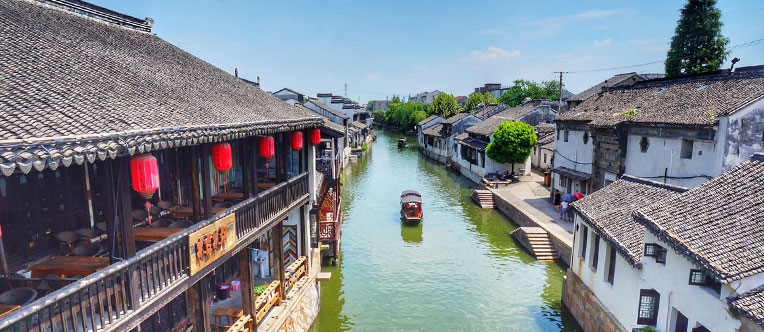 Avoid the crowds and enjoy a tranquil water town in the morning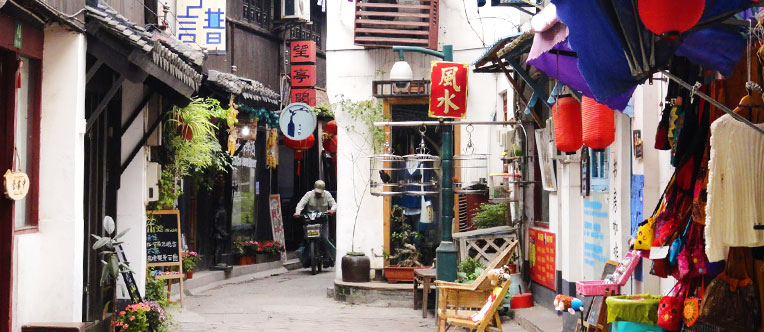 Explore the local residential area in the old town
The three places in the water town deserve your visit: Kezhi Garden, Qing Dynasty Post Office and Fangsheng Bridge. Your tour guide will accompany you to visit these.
Kezhi Garden was built in 1912 and contains various pavilions and buildings, lotus pond, stele corridors, bridge of nine turnings and different kinds of plants. You can see the calligraphy inscription of the literati in Ming Dynasty (1368 - 1644 AD) with high value of art in the stele corridor.
In Qing Dynasty Post Office, you can see the precious old postcard and letters in Qing Dynasty (1644 - 1911 AD) and there is a post box with a carved dragon on it which is still in use today.
Fangsheng Bridge, built in Ming Dynasty, is the largest and longest stone arch bridge in Shanghai with five arches.
You will take a local featured wooden boat from Kezhi Garden and go ashore at North Street. The left time is for you to have a free visit to wander around the ancient streets.
You will have an opportunity to get in close touch with the local people and their life.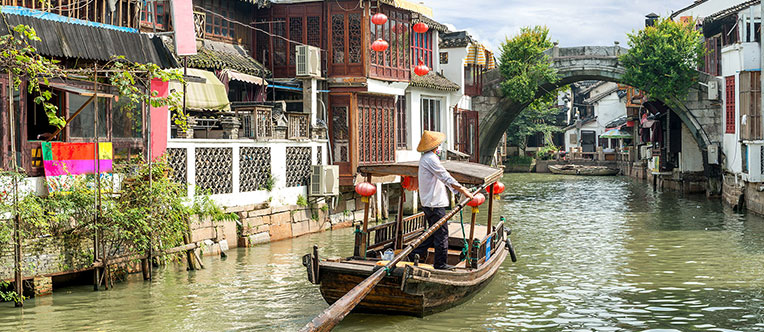 Sightsee the town by taking a featured sculling wooden boat
12:00 - 13:00 Free Time for Lunch in Zhujiajiao
The lunch is on your arrangement. You can choose a local restaurant in the town according to your own preference, and at your own expense. There are many food choices from local snacks to fine restaurants and the prices are fair.
Local people
Our happy guest with her guide
13:00 Drive Back to Downtown Shanghai
We will drive back to Shanghai after visiting the town. Since it is a join-in group tour, we will stop at the nearest subway at Yu Garden, where you will get off the car and return to the hotel by yourself. Your guide will offer you directions according to your hotel location. Or, if you are interested in the old street close by the Yu Garden, you can explore it at your own leisurely pace. Our Shanghai half day tour ends here. Thank you for having chosen us!
Tour Price (US$ Per Person)

Departure: Tue/Thu/Sat/Sun
Adult(>11 years old)

$109

Child(3-11 years old)

$99

Price Includes
Pick-up from the hotel
Entrance fees as indicated above
Professional English speaking guide
Experienced driver & air conditioned vehicle
Unlimited bottles of drinking water for free
Price Excludes
Meals, advice freely available
Tips or gratuities for guide and driver
Drop-off at the hotel
WeChat QR Code

For last minute booking within 24 hours, please feel free to contact us to check the availability or ask questions.

+86-18629541315

inquiry@travelchinaguide.com

WeChat: 18909182319
Booking Policy
Pick-up Service: Shanghai is a large city. To make sure the morning pick-ups run smoothly, we recommend you stay at a hotel in the downtown area, within the Middle Ring Road of the city. There might be an additional transfer fee if your hotel is beyond the pick-up range. If you are not sure about the pick-up issues, your travel consultant is ready to help.
Infant Price: for an infant under 3 years old, this tour is free of charge.
Confirmation: Upon receiving your booking request, confirmation will be sent within 12 hours.
Payment: Full payment is required at least two days prior to the day trip. We accept payment by PayPal, Credit Card, Alipay, Wechat and Bank Transfer.
Cancellation:

Your payment is fully refundable if you cancel more than 24 hours prior to the trip.

Cancellation within 24 hours or any unused portion after the day trip begins is non-refundable.
Departures are guaranteed with two persons.
Guests under the age of 80 can participate in this mini group tour.
Itineraries you may also like: