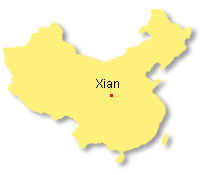 Code: XA04
Tang Imperial Temple & Mt. Huashan

4 Days Luxury & Standard Xian - Famen Temple (or Mt. Huashan)
Starting from
$459
per person!
Day by Day Itinerary
Departure: Daily
Full Itinerary
Price Details
Day 01Arrival in Xian

When the flight touches down in Xian, your professional English-speaking guide will meet you outside the baggage claim area of the airport and provide you a comfortable airport-hotel transfer. Tonight you will check in the hotel for a 3-night stay.

Meals: No meals


Terracotta warriors

Day 02Xian

This morning, you will take a world wonder trip to the Terracotta Warriors and Horses Museum. The orderly arranged warriors and horses, finely-made bronze weapons and Bronze Chariots and Horses will show you the mighty forces and advanced manufacture of the Qin Dynasty (about 2,200 years ago). From the hairstyle and clothing, you can also have a glimpse of the custom of that period. Then drop by a Pottery-making Factory. To avoid the cheap tourist food near the site, we will serve you an a la carte lunch at the best local restaurant. In the afternoon, you will visit the Big Wild Goose Pagoda. Located in the south of the city, the Big Wild Goose Pagoda has witnessed the development of Xian since it was built in the Tang Dynasty, more than 1,300 years ago. Then continue to the ancient City Wall, which was onstructed about 600 years ago during the Ming Dynasty. If time permits, you can travel around on the wall and have a panoramic view of the city.

For dinner tonight, you will enjoy the local specialty Dumpling Dinner and Tang Dynasty Music and Dance Show at Shaanxi Opera Theatre (Addr: No. 165, Wenyi Road).

Meals: Western buffet breakfast, A la carte lunch, Dumpling dinner


Famen Temple

Day 03Xian - Famen Temple (or Mt. Huashan)

After breakfast, we will arrange you a day trip to Qianling Museum and the famous Famen Temple. Qianling Museum is the joint mausoleum of Wu Zetian (624 - 705), the only female emperor in Chinese history, and her husband Tang Gaozong, one emperor of the Tang Dynasty. There you will see the famous Blank Tablet of Wu Zetian, which is still a mystery that no words were carved on it to describe her achievements as an emperor. Besides, the precious historical items exhibited in the museum will show you the glorious past of the Tang Dynasty. Famen Temple, an imperial temple of the Tang Dynasty (618 - 907), is a famous Buddhist holy land in China for keeping the remains of Sakyamuni. You will see the 47-meter high pagoda which houses the remains of Sakyamuni, cluster of Tang-dynasty style buildings as well as a great number of cultural relics, among which the gold and silver relics in delicate patterns and designs are the most representative and precious treasures from the Tang Dynasty. Late in the afternoon, we will drive you back to Xian.

Meals: Western buffet breakfast, Lunch

Option: If you are not interested in the above day trip, we can also arrange you to visit Huashan Mountain instead, 120 kilometers away from Xian City. As one of the five most famous mountains in China, Huashan Mountain is famous for its natural vistas of steep and narrow paths, precipitous crags, lofty peaks and a high mountain range. It takes two hours to reach the foot of Huashan Mountain. Then you will take the cable car to the North Peak with a high altitude of 1614 meters. You will be impressed by the majesty of Huashan Mountain and also its supernatural atmosphere. Afterwards, you will take the cable car back to the foot of mountain and we will transfer you back to your hotel.


Mt. Huashan

Day 04Departure from Xian

In the morning, you will visit the Shaanxi History Museum. There is a galaxy of fine artistic and cultural articles collected in the museum. Among the vast array of the antiquities, it contains exquisitely bronze wares of the Shang and Zhou dynasties, vivid pottery figurines of various postures in different dynasties, rare gold and silver wares of Han and Tang dynasties and peculiar mural paintings in Tang tombs, all of which are the finest part that can never be missed. Around noon, a family visit with home cooked a la carte lunch is specially arranged for you to learn about the locals' life and taste the authentic homely Chinese dishes. Our Chinese food cooking class in the family visit will provide you a perfect chance to learn to cook Chinese dishes for free. Then, you will be transferred to Xian Airport for your homeward flight. Wish you have a pleasant trip home!

Meals: Western buffet breakfast, Home-cooked a la carte lunch




Mt. Huashan Hiking: If you prefer to take the Mt. Huashan climbing by yourself, please refer to our Mt. Huashan Hiking for the detailed information and tips.
Prices are in U.S. dollars and based on per person
Grade
Luxury
Standard
Season Group Size
2-5 travelers
6-9 travelers
10 travelers
& above
2-5 travelers
6-9 travelers
10 travelers
& above
High Season
Double Occupancy

$699

$539

$449

$639

$479

$379

Single Room Supplement

$199

$199

$179

$109

$109

$109

Shoulder Season
Double Occupancy

$649

$489

$379

$619

$459

$349

Single Room Supplement

$149

$149

$109

$89

$89

$79
High Season - March to November Shoulder Season - January, February, December


For our quotation inclusions & exclusions, booking and cancellation terms, please read Terms and Conditions.

More Related Packages:
Ancient Captials
: 5 days Standard to Shaolin Temple.
Luoyang Train Itinerary
: One-day express train to Luoyang to visit Longmen Caves and Shaolin Temple
Heritage of Ancient City
: 2 days Luxury, Big Wild Goose Pagoda, Terracotta Warriors and Horses Museum