4.9

out of 5
Home
/ China Tours /

We are never beaten on price and quality! Should another operator offer an identical itinerary at lower cost please contact our Sales Director and we will match it.
Join one of our authentic Small Group packages and savor the true essence of this vast land at an inclusive price that you can afford. With only 6-18 people to each group, you can meet and travel with like-minded people from USA, Canada, UK, Australia, Germany, Spain, France…, enjoy our unique and highly valued service that includes a la carte meals.
2014 & 2015
Small Groups

Private Itineraries
The top 10 best itineraries especially selected here are based on our experience and former customers' recommendations, and provide an ideal guidance for your vacation.

Tailor-made private packages designed by our operators to visit the most classic cities including: the capital Beijing, metropolitan Shanghai, ancient Xian, and scenic Guilin.

As you enjoy the shipboard comfort of the Yangtze cruise, you will savor the majestic beauty of the world-renowned Three Gorges and see at first-hand the amazing Dam Project.

Tibet has many outstanding sites - Mt. Everest, the Potala Palace and now the Tibet railway. Why not let us enlighten you by whisking you away to this mysterious land?

Comprehensive packages to every corner of Beijing: including the Great Wall, Forbidden City, Temple of Heaven, Hutong by rickshaw and the new ultra-modern Bird's Nest.

Xian is a living history book recording great events from the country's past. The Terracotta Warriors and the ancient City Wall are truly highlights for your vacation.

From Shanghai Museum, to Yuyuan Garden, then to the thriving Bund area and lively Nanjing Road, you will get a sense of the vigor and prosperity of this city. A short cruise trip on the Huangpu River is a fantastic addition.

Enjoy the imposing desert scenery while taking a camel ride, appreciate the ancient and well-preserved Mogao Grottoes and hunt souvenirs in the famous Sunday Bazaar. Truly, it is sure to be the journey of a lifetime!

East or west, Guilin scenery is the best! So the saying goes, never miss Guilin during your visit to our country. Our Guilin routes and high quality service are sure to meet your needs.

Come to Yunnan and find a place to celebrate life! Spring city Kunming, a tranquil old town Dali, the romantic atmosphere of Lijiang, Shangri-La - 'heaven on earth', all will captivate you during your visit.

As a primary region where several ethnic groups coexist, Guizhou has unique things to offer. The traditional wooden houses will be the first to capture your attention.

Book discount tours to enjoy the cheapest price! Great travel options to select from at up to 10% off! Customized itineraries and top quality service available.
Travel China Guide, a professional tour operator, employs leading experts to design a host of packages to the remarkable 'must-see' destinations and offers the best quality services. Our goal is to be the best China tour company. We warmly invite you to join us to spend a memorable vacation.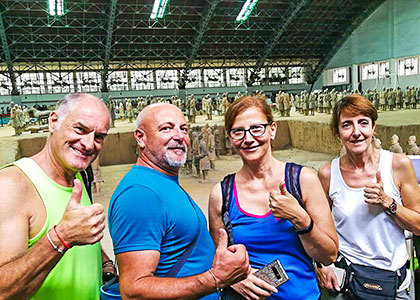 Are you the sort of person who enjoys the flexibility, challenge and fun of travelling independently? Here we offer 30+ itineraries covering the major tourist cities as well as some off-the-beaten-track places, with detailed instructions of how to get around by public transport or taxi. There is sure an itinerary that fits your schedule to discover the real China!
International Flights to China