Private Itineraries
Unique Services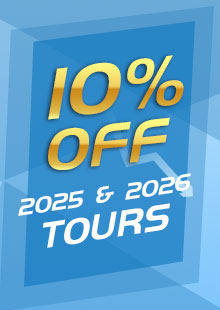 How to Book?
Inquiry
Get a quote
Free changes
Payment
Confirmation
Endorsed by
New York Times
The New York Times Travel Supplement has named our company as being in their opinion a large and reliable Chinese travel agency. Details...
Travel Restrictions Due to the Sep. 3rd Military Parade
Published: Aug. 12, 2015

On Sep. 3, a memorial military parade will be held in Tiananmen Square to celebrate the 70th anniversary of the end of World War II. A three-day holiday will start from Sep. 3 to 5. Due to the parade, Tiananmen Tower is closed from August 1 to September 7. The Forbidden City will not open to public from Aug. 22 to Sep. 3. Martial law will be imposed around Tiananmen Square on Aug. 22 and 23 as well as Sep. 2 and 3. What's more, Beijing Capital Airport and Nanyuan Airport will also be closed for three hours on Sep. 3.
Join one of our authentic Small Group packages and savor the true essence of this vast land at an inclusive price that you can afford. With only 6-18 people to each group, you can meet and travel with like-minded people from USA, Canada, UK, Australia, Germany, Spain, France and many others.
News: The Forbidden City in Beijing will be closed from Aug 22 to Sep 03, due to the Military Parade at Tiananmen Square on September 03 to commemorate the 70th anniversary of the victory in World Anti-Fascist War as well as Chinese Counter-Japanese War.
Private Itineraries
Travel China Guide, a professional tour operator, employs leading experts to design a host of packages to the remarkable 'must-see' destinations and offers the best quality services. Our goal is to be the best China tour company. We warmly invite you to join us to spend a memorable vacation.

Are you the sort of person who enjoys the flexibility, challenge and fun of travelling independently? Here we offer 30+ itineraries covering the major tourist cities as well as some off-the-beaten-track places, with detailed instructions of how to get around by public transport or taxi. There is sure an itinerary that fits your schedule to discover the real China!
International Flights to China