China Train Schedule & Tickets Booking
Follow us on:



4.9

out of 5
Travel China Guide - a leading China-based tour operator provides an up-to-date schedule, and a ticket booking service for most Chinese cities.

Best service guaranteed
No hidden fees
No long queues
No language barrier
100% refund if tickets are unavailable
We are very satisfied with the service received from TravelChinaGuide and the Chinese railways. We travelled in the comfortable soft sleeper cabins as a family of 4 for 4 nights and trains were clean and on time. We ...
Details
Mr.Nardone Antonio from Italy, Aug. 25, 2014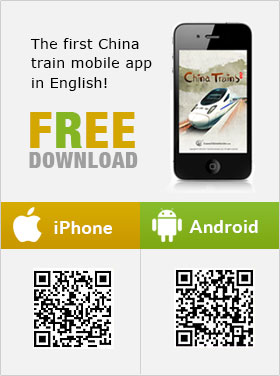 Quick Guide on China Train
See schedule of major Chinese cities:

What's On

Trains from Lhasa to Shigatse to Open on August 16, 2014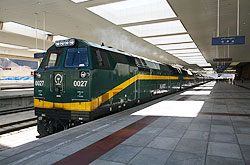 The railway between Lhasa and Shigatse is put into use on Friday, August 15, and the first train will leave from Lhasa at 9 am on the next morning. The 157 miles (253 km) long extension line of Qinghai-Tibet Railway starts from Lhasa, traveling through the picturesque Yarlung Tsangpo River Valley, and finally reaches Shigatse. The train between the two cities runs at a highest speed of 75m/h (120km/h), and shortens the 7-hour bus ride to 3 hours by rail. K9821 leaves Lhasa at 09:00 and arrives in Shigatse at 11:59; for the return trip, K9822 leaves Shigatse at 17:30 and arrives in Lhasa at 20:27.
Tickets for this new route have been put on sale since 09:00, August 15. A hard seat ticket for the 3-hour ride costs CNY 40.5, and a hard sleeper costs CNY111.5, 116.5, and 119.5 for the lower, middle and upper berths, respectively. Soft sleeper is also available and the prices are CNY169.5 for upper berth and CNY175.5 for lower berth.

New Bullet Trains Open on July 1, 2014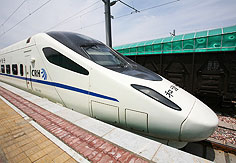 The Chinese railway has adopted a new diagram from July 1, 2014. 60 more rail routes have been put into service and 53 are bullet trains. The new bullet trains from Chengdu to Shanghai, Hangzhou and Fuzhou shorten the journeys to 15 hours, 15 hours and 20 minutes, and 15 hours and 12 minutes, respectively. More bullet trains are available from Chengdu to Wuhan, Zhengzhou, Nanchang, Nanjing, Hankou and Lichuan, and from Chongqing to Shanghai, Fuzhou, Xiamen, Hankou, Wuhan and Yichang. New high-speed railway service from Beijing to Xiamen shortens the journey from 32 hours to 13 hours. More highs-speed rail services are available from Beijing to Taiyuan, Nanning, Guiyang and Jinan. The Xian-Taiyuan high-speed railway service is also put into service from July 1, which shortens the trip from 10 hours to 3.5 hours. Visitors now are able to reach Pingyao Old City from Xian within 3 hours.
What's more, the Lanzhou-Urumqi high-speed rail is going to be put into use by the end of 2014. At that time, passengers will reach Urumqi within 8 hours.