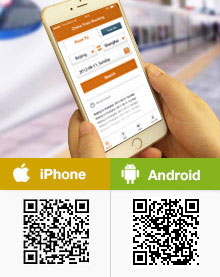 3 Steps to Book a Ticket
Book & Pay
Issue Tickets
Deliver / Collect Tickets
Quick Guide on Train Travel in China
See Schedule of Major Chinese Cities:
What's On

China Train Timetable Adjusted on July 1st, 2015
From July 1st, 2015 on, China railway has adopted a new timetable. The domestic passenger trains have reached 2,844.5 pairs, among which 1,696 pairs are high speed types, 97 pairs more than the previous timetable. Almost every railway bureau has optimized their operation schedule. In the case, passengers are advised to double check the departure time on our website beforehand.
In addition, the freight trains have totaled 165 pairs, 6 pairs more than before. The international trains have also been increased to 39 pairs, including 21 pairs between China and Europe and 17 pairs between China and Asia countries, both 2 pairs more than before.

China Railway Tickets to Adopt a New Edition
A new edition of China railway tickets will be put into trail use since June 25, 2015. During the period till July 31, 2015, both the old and new editions will be valid and can be used for boarding. Since August 1, 2015, all tickets will be issued according to the new composition.

Four major differences between the new and old editions:
1. Chinese character '站' (station) will be added after the departure and arrival cities' names;
2. The information of issuing station will be moved from upper right to lower middle after the 21-digit code;
3. The boarding gate information will be moved from the left of two-dimension code to upper right;
4. The passenger's name will be put in the same row with the number of certificate used for booking.
Read More
Virtual Gallery
1-3 of 24 albums