Facilities on China Trains
Facilities on China high speed trains are modern and up-to-date: western style toilets are available, and power sockets are offered for most passengers. Facilities on the non-bullet trains need to be improved: only squat toilets are available; power sockets are limited in most carriages, and it may be smelly there with open smoking areas.

The luggage rack in most hard sleeper coaches is above the aisle. In soft sleeper and a few hard sleeper coaches, there is a luggage closet in each compartment, which tends to be safer and more private, but provides less room for luggage. In deluxe soft sleeper carriage, there is a closet for luggage opposite the berths. One can also place heavy or large bags under the table or lower berths.

Read more:
Baggage allowance and transportation
Can I take my bike on a China train?
| | |
| --- | --- |
| Luggage Rack in Second Class Seat Coach | Luggage Closet in Soft Sleeper Comparment |
Dining Car and Food Trolley
A dining car is available on
overnight trains
or those running for long-distance routes. Usually, only Chinese food is provided: rice, noodles, porridge and soups. At meal times, the attendants may sell packed food on a trolley. Also, there are staff pushing trollies selling snacks, drinks, and fruit during the trip. In addition to the limitation on food types, the food price is higher than usual. Passengers are recommended to bring some on their own, especially for long-distance rides.

See more: Food on train
| | |
| --- | --- |
| Passengers Enjoy Their Meal in The Dining Car | Snacks Sold in The Carriage |
Drinking Water
Tap water cannot be drunk directly in China. In each carriage, there is a water heater at one end offering free boiled water. A red light indicates that the heater is working, and a green light shows that the water has boiled. Disposable cups are available on some high speed carriages and it is advisable for passengers to take a bottle. Put your bottle under the tap and push/ turn the button/ handle, you will get boiled water. A thermos for hot water is also available in some hard sleeper, soft sleeper, or deluxe soft sleeper compartments.

Toilets are set at two ends of the coach. A red sign on the door indicates the toilet is occupied while green means it is available. Most toilets are western style on a high speed train, while a few also have a squat toilet at one end of the coach. On normal trains, most are squat toilets; sit toilets are only available in soft sleeper and deluxe soft sleeper carriages. When approaching a station, the toilets in some old-fashioned coaches will be closed. Toilet paper is provided in bullet carriages, but it runs out quickly; you'd better bring some on your own. Inside the toilet, there is usually a small wash basin.
| | |
| --- | --- |
| A Heater Provides Boiled Water | Toilet in a Second Class Carriage |
Electricity Charging Sockets
Charging sockets have been available in most carriages for electrical appliances like mobile phones, tablets and laptops. You can find one under your first class or second class seat, on the left armrest of your business class or VIP class seat. In soft sleeper and deluxe soft sleeper coaches, there is a power socket inside each compartment and two along the aisle. In hard sleeper, hard seat and soft seat carriages, there are only two sockets on two sides of the coach; also, if the carriage is "time-honored", there may be no sockets available. In these cases, you should bring a portable battery charger. Note: All electricity onboard is 220V and the socket may not suit your devices, so an adapter may be needed.
| | |
| --- | --- |
| Power is available in hard sleeper carriage. | A Power Socket in Soft Sleeper Compartment |
Internet
WIFI is available, but has partial access. It is not universal. The telephone signal is poor when running in mountainous regions, or at a high speed.
Washbasin
Washbasins with mirrors are also at the end of a carriage. The water is cold and undrinkable. Hand washing liquid is provided on some bullet trains.
Smoking Area
Smoking is strictly prohibited on high speed trains and there is no smoking area; otherwise the passenger will be banned from taking Chinese train for 180 days, or be fined CNY500-2,000, or even may be given a security detention. On normal trains, there are ashtrays at the connection of two carriages, this being the only location where smoking is permitted.

See more:
Can I Smoke on Chinese Trains?
| | | |
| --- | --- | --- |
| Washbasin | | Smoking Area |
Security Facilities
Every carriage is equipped with fire extinguishers, security hammers, and emergency brake. Railway police officers patrol during the journey.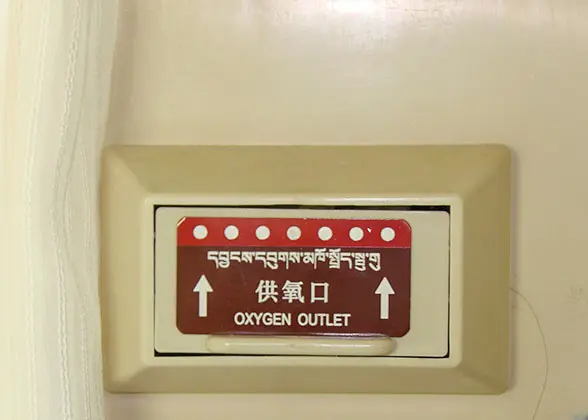 Signs in Railway Coaches to Tibet
Dustbin
A dustbin for litter is available at the end of each carriage. In seat class carriages of high speed trains, each passenger is given a disposal bag; in seat carriages of normal trains or sleeper compartments, a small tray is provided on the table.
Entertainment Facilities
There are TV sets in most carriages, but only Chinese TV programs are available. Magazines and newspapers are also provided, but in Mandarin, too.
To kill time, you may download some movies or songs to your cell phone, tablet or other personal devices in advance.
Special Facilities
On the
trains to Tibet
, all the signs are in Chinese, English, and Tibetan. Oxygen is released in carriages. Passengers can also use the oxygen masks beside seats or berths if they feel uncomfortable. In addition, there is an emergency room and a professional doctor.

See also:
China Train Travel - A Beginner's Guide
Facts on China Train Travel
- Last updated on Apr. 19, 2021 -