Tibet Railway
Going from Xining all the way up to Lhasa in Tibet, Qinghai - Tibet Railway is the highest railway in the world. It connects Lhasa not only with Xining, but also the whole China railway network. Since its opening in 2006, Tibet train has been another option for tourists to Tibet. Currently, passengers can take a train from many large cities like Beijing, Shanghai, Guangzhou, Chengdu, Chongqing, Xi'an, Lanzhou, and Xining to Lhasa.

Qinghai Tibet Railway Facts:

Open Date: July 1st, 2006


Starting Point: Xining, Qinghai


Terminal Point: Lhasa, Tibet


Length: 1,215 miles (1,956 kilometers)


Qinghai - Tibet Rail Extensions: Lhasa-Shigatse, Shigatse-Gyirong (China - Nepal Railway), Lhasa-Yadong


Major Tibet Railway Stations: Xining, Delhi, Golmud, Amdo, Tanggula, Nagqu, Damxung, Lhasa


Top Speed:
Xining-Golmud: 87 mi/h (140 km/h)
Golumd-Lhasa: 62 mi/h (100 km/h) in permafrost area and 75 mi/h (120 km/h) in non permafrost area
Lhasa-Shigatse: 75 mi/h


Characteristics: World's highest railway; world's longest railroad built atop a plateau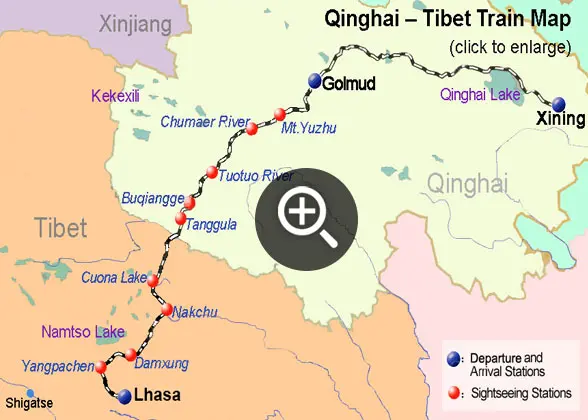 Map of Tibet Railway
Tibet Trains Schedule and Ticket
Currently, there are seven pairs of trains running between Lhasa and Beijing, Shanghai, Guangzhou, Chengdu, Chongqing, Lanzhou, and Xining. Most of them are available daily while those to/from Chengdu and Chongqing are available every other day. Other stations for passengers to get on/off include Amdo, Baoji, Bengbu, Changsha, Damxung, Delhi, Golmud, Nagqu, Nanjing, Shijiazhuang, Taiyuan, Wuchang, Wuxi, Xi'an, and Zhengzhou. In addition, there are two pairs running along its branch, Lhasa-Shigatse Railway. Tibet train tickets can be purchased at any railway station in Mainland China, online, via phone, or more conveniently, from a reliable booking agency like TravelChinaGuide.com. Please note that overseas passengers need to present their valid ID certificates like a passport together with a Tibet Travel Permit in order to get the ticket. During peak travel seasons like summer holiday, these tickets cannot be changed or refunded online and passengers are required to handle the change or refund in person at railway stations.



See detailed Schedule and Ticket to Lhasa & Schedule and Ticket from Lhasa
| | |
| --- | --- |
| Train to Lhasa | In the dining cabin |
Traversingplains, mountain ranges, rivers and lakes, grasslands, densely populated cities and the desolate Gobi, the scenery along the Lhasa Railway is majestic and of various types, especially the last section from Xining to Lhasa. The altitude of this section rises from 7,530 feet (2,295 meters) above sea level to 12,000 feet (3,658) meters above. The famous sights along it includevast and clear Qinghai Lake, marvelous Kunlun Mountains and Tanggula mountain ranges, uninhabited Hoh Xil Nature Reserve, the origin of Yangtze River, etc. Together with the rare wild animals like Tibetan antelopes, yaks, and Tibetan folk houses, prayer flags and Mani stones, they will reward tourists with lifelong unforgettable memories.

See more: 8 Most Scenic Train Rides in China
| | |
| --- | --- |
| Kunlun Mountain | Qinghai Lake |
The railway from Xining to Tibet winds its way like a Dragon across the 'roof of the world' and is a great achievement and a modern wonder in both China's and the world's railway history.However, during the construction work, the crews encountered a lot of challenges and difficulties, including the unstable permafrost, harsh climate and protection of local environment, all of which have been overcomeafter several years' research - winding roads replaced by bridges, 33 migration routes are offered for wild animals, and the garbage created during construction has been removed. To ensure the trains run smoothly and safely without greatly disturbingthe surrounding environment, lots of projects with advanced technologies have been built, like world's highest tunnel, and grand bridges; among all the stations along the line, Lhasa and Tanggula stations are of the most characteristic ones with the latter being the highest train station in the world; trains are specially equipped with oxygen adding devices, and garbage and sewage management and disposal facilities.

As Tibet is such a mountainous area and is at such a great altitude, it is prone to sudden and extreme changes in weather. Many safety aspects must be prepared for prior to your departure, such as lack of oxygen, strong ultraviolet rays and large temperature differences. Besides, general information about the area should also be considered before hand, such as Travel Permit, the best times to visit, local food, language, and transportation, etc.
- Last updated on Aug. 29, 2022 -
Questions & Answers on Tibet Railway
Asked by Nikki from THAI | May. 20, 2019 03:56

Reply
If i go to Tibet by Beijing-Lhasa ,is the sceneric view same as Xining-Lhasa?
Answers (1)
Answered by Glen from SPAIN | May. 20, 2019 18:41

0

0

Reply
After the Beijing-Lhasa train reaches Xining, the rest trip is on the same line, so same scenery for this part.
Asked by Hon Choi from AUSTRALIA | Jan. 04, 2019 17:43

Reply
Train from Guangzhou to Lahsa
If I board a train from Guangzhou to Lasha, do I need to change to another train at Xining to continue my journey to Lahsa?
Answers (2)
Answered by ken | Jan. 04, 2019 22:15

0

0

Reply
If you take train Z264 from Guangzhou to Lhasa, you don't need to change to another train at Xining.
Answered by Steffen from GERMANY | Jun. 03, 2019 03:46

0

0

Reply
Not true..
I am in the train right now and was just being told I need to switch in Xining in half an hour
Asked by Fabian from SWEDEN | Sep. 19, 2017 00:20

Reply
Xining West or Xining Railway Station
Does the 2 PM train from Xining to Lhasa leave from Xining West Station or Xining Railway Station?!?
Answers (1)
Answered by Malvin from USA | Sep. 19, 2017 03:02

0

0

Reply
It is Xining Railway Station, not west
Asked by husnun from UKNARGISRASH
HOTMAIL.CO.UK | May. 25, 2017 14:21

Reply
from xian to Lhasa how much it will cost and how many hours it need and when is the best time to go
Please let me know the price : 1) Beijing to Lhasa ,2) Shanghi to Lhasa, 3) Xi'an to Lhasa.when is best time
Thanks
Answers (1)
Answered by Jacobs from CANADA | May. 25, 2017 21:12

0

0

Reply
From Beijing to Lhasa the ticket price is from USD174 to USD53 based on the seat class, soft sleeper, hard sleeper and seat class. The Shanghai option is from USD192 to USD59. The Xi'an route is USD147 to USD43. Summer time should be the hot season in Lhasa.
Asked by Leo from AUSTRALIA | May. 01, 2017 01:43

Reply
Xining to Lhasa Timings
Is there a preferred departure time from Xining to see more sights along the way? Like, is it better to leave at 12.30pm or 2pm, etc.?
Answers (1)
Answered by SYLVIE | May. 01, 2017 02:51

1

1

Reply
Yes, the sights along the way cannot be missed, 2pm train is better.