China Railway
China railway is undergoing fast development, especially its high speed railway. By now, the railway network in China has totaled 155,000 kilometers (96,300 miles) and will reach 175,000 km (108,740 mi) by 2025. Train has been the top choice of more and more travelers in China.
History
China railway history can be divided into three stages: The first stage, from 1865 to 1949, is featured as the awakening time; only a few railroads were constructed and in use. The second stage, from 1949 to 2014, is a massive construction stage when the old lines were restored and improved, and lots of new lines were built. It was during this stage that the country's railroad network took its shape gradually and was expanded to cover most cities in the country. Since 2004, the country has entered high speed era. High speed lines take place of old busy ordinary speed lines, which greatly increases transport capacity and makes train travel much easier than before.

1865-1949: First Stage


1949-2008: Massive Construction


2008-Present: High Speed Era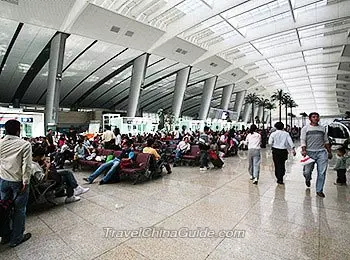 A Station Building
To ensure smooth and efficient transport, lots of rail infrastructures are constructed in the vast land of the country, including ordinary or high speed lines, large or small stations, different types of trains, bridges and tunnels for railroads to passing through, etc. All of them are indispensable parts of the dense railroad system.

China Railway Network


High Speed Rail Network


Railway Stations


Different Types of Trains

Advanced Technological Level
On account of complex topography, great deals of problems took place during the construction of rail system, especially the rail lines, which may travel through densely populated metropolises, desolate gobi, wavy mountainous regions, and wide rivers, etc. To solve these difficulties, Chinese people has thought out many solutions and gradually acquired many advanced technologies. By now, the country's railway construction technologies have reached world's top standards. Another reflection of the advanced construction technologies is the
Shanghai maglev
, which can run at a speed of 430 km/h (267 mph), slower only than a plane.

Challenges of China Railway Construction

Rail Transport Capacity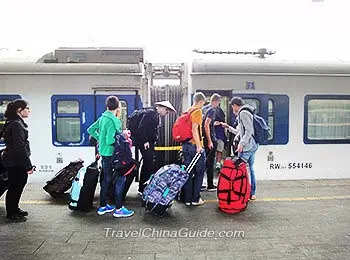 Travel by Rail
Train, as the most principle transport mode in China, accommodates enormous passengers transport volume. In 2022, it has transferred about 2,540 million passengers. Spring Festival Travel Rush is the busiest time of rail system in a year, which usually begins 15 days before Chinese New Year and lasts for about 40 days. During that period of 2021, the passenger volume has reached 218 million.


Passenger Rail Transport in China

K3/ K4
and
K19/ K20
to/from Russia,
K23/ K24
to/ from Mongolia,
K27/ K28
to/from North Korea, and
T8701/ T8702
to/from Vietnam. In addition, several international rail lines are under construction or planning. When completed, they will connect China with more neighbouring countries.

International rail lines under construction/ planning from China to:
Programming and Prospect in Future
It is planned that by 2030, another three goals will be achieved. First, the eight vertical & eight horizontal high speed corridors and three intercity passengers transport systems is expected to be completed, which will cover Bohai Costal Region, Yangtze River Delta and Pearl River Delta. Second, the whole network will be optimized and new lines in west part of the country will be explored. Third, more existing lines will be upgraded and electrified.

Further Reading:

China Railway Museum in Beijing
- Last updated on Jan. 12, 2023 by Brenda Lian -
Questions & Answers on China Railway
Asked by Postak S. from USA | Mar. 12, 2019 10:50

Reply
Beijing to Ulan Bator Train Schedule
Hi
Is the train schedule for Beijing to Ulan Bator (k23 and k3) are published? I am looking to travel in the month of July 2019.
Thank you.
Answers (1)
Answered by TravelChinaGuide | Mar. 12, 2019 23:13

0

0

Reply
Thank you for your inquiry.
K3 still only runs on every Wednesday but the schedule for K23 in July is still not clear at this moment. We will update the information online as soon as the schedule is confirmed. Sorry for the inconvenience.
Asked by Prabudh Ranjan Mishra from INDIA.PATNA. | Jun. 02, 2017 09:39

Reply
when will make Delhi to kuming/ Kolkata to Lhasa internatinal rail routes?
Sir,
I live in patna.india.I want travel patna to Lhasa/ patna to Kuming,extension Hongkong by HSR.
possible in till 2035-?

Answers (1)
Answered by Green | Jun. 05, 2017 03:27

0

0

Reply
The rail route between China and Pakistan is still under planing stage, it is a little far to say the operation time.
Asked by Su from MALAYSIA | Mar. 11, 2017 04:00

Reply
what is verification code?
i want to go to Beijing end of this month. I wanted to buy a train ticket by using my bank card, but i don't have a verification code because it was not sent to me. can i go to the station to buy a ticket(leaving 2 weeks later). how much do i pay as service charge? That's all. Thank you.
Answers (1)
Answered by Lim from MALAYSIA | Mar. 12, 2017 22:25

0

0

Reply
Not sure if you refer to the payment, anyway you can buy the ticket at the station directly. If you buy it from the departure city, there is no extra fee except the ticket price.
Asked by Helen from AUSTRALIA | Oct. 26, 2016 17:24

Reply
shanghai to wuxi
we are staying near shanghai central station . Does the bullet train to wuxi go from here ?
Can you buy tickets on the day ?
Answers (1)
Answered by Sergio from CANADA | Oct. 26, 2016 19:13

0

1

Reply
There are many high speed rides a day from the center station to Wuxi. You can buy the ticket there on the day of travel.
Asked by yingying from THAILAND | Oct. 24, 2016 16:19

Reply
Is there a high speed train service available from Xi'an to Ulumuqi next year?
my friends and i will travel from Xi'an to Ulumuqi on June 2017 . Is there a high speed train service available from Xi'an to Ulumuqi next year?
thank you in advance ;-)
Answers (1)
Answered by Dominic | Oct. 25, 2016 21:00

0

0

Reply
The operation date is not confirmed yet, but it may around the end of 2017.