China Train Stations
China has over 5,500 railway stations for passengers use along its 146,300 kilometers (90,900 miles) long rail lines.

The early-built China train stations are usually located in the center of the city or town, operating non-bullet trains and some also operating a few bullet ones. The newly-built railway stations are generally located far from the city center and specialized in high speed trains, such as Beijing South, Shanghai Hongqiao, and Xi'an North; but they mostly can be reached by subway.

A train station in China usually consists of one or two squares and a terminal building, inside which ticket offices, waiting rooms, boarding gates, platforms and some affiliated facilities like toilets, hot drinking water, restaurants, and bilingual direction boards are provided.

Major Railway Stations
A Full List of
China Railway Stations
Find A Station
As most railway stations are among the local grandest buildings, they are quite easy to find, even for new comers. In cities and towns, when you see a building with large red or golden Chinese characters (the station's name) on the top and a square out the front with a continuous stream of people, you have probably found it.

Usually, being a transportation hub of a city or town, a train station can be reached by bus, subway, taxi, and even coach.

One thing to note is that many cities and towns have more than one train station, such as Beijing, Shanghai, Xi'an, Guangzhou and Shenzhen. Double check the ticket information and make sure you are going to the right one before setting out.
Facilities

Square
A square often lies in front or at the rear part of a station, where bus stops, taxi stands, and subway and coach are distributed in and around it. Parking lots can be found on and under ground. What's more, there are shops, restaurants, vendors, hotels and public toilets. A square also serves as an outdoor waiting room, as it is always filled with travelers before being admitted into the building.

Station Building
Outside:
• Information Board: A huge LED screen usually hangs outside, showing the timetable and status of trains. You will find the departure time and when and whether or not you can enter the building.
• Entrance & Exit: The entrance is usually central to the building. There are both automatic ID-ticket check channels and manual check channels. Those holding passport should enter via the manual check channels. A moving conveyor belt and a metal detection door are installed behind the entrance for security check. At the exit, automatic and manual channels are also installed. The exit usually leads to the city's public transportation.
• Ticket Office: The ticket offices or booking halls can be found near the entrance. There are boards showing ticket information. Conductors seat inside windows to sell tickets. Many have self-service ticket machines, but they do not recognize the passport. E-ticket Pickup Machine is also available, and they do not recognize passport, either. Overseas passengers need to go to the conductors to buy or pick up their tickets booked online. There are also separate ticket windows for platform tickets, and these ticket windows are usually close to the entrance or exit.
• Left Luggage: The left luggage center or luggage storage hall is also near the entrance. Some provide 24-hour service. The charge is CNY 5 – 20 per day for luggage of different weights or sizes. Take Xi'an as an example, it charges CNY 5 per day for a bag not exceeding 10 kg and CNY 10 per day for a bag over 10 kg.
• Baggage check-in counters: the counters are near the entrance. If your luggage exceeds the weight or size limits, you can have your luggage consigned at the counters.
• Others: Police office, passenger service center, restaurants, and shops can also be found outside of the building.
| | |
| --- | --- |
| Ticket Office, Shanghai Railway Station | A Waiting Room |
Inside
• LED Screens: Once inside the building you will see LED screens showing timetable and the designated waiting rooms. Look at these screens carefully to find your waiting room.
• Waiting Hall: Large stations have a big shared waiting hall and some also have special business class seat and mother-and-child waiting zones. LED boards hanging on each boarding gate tell the status of a train: waiting, check-in or delay, and also the platform from which to board. At each boarding gate, there are 2-3 automatic check channels and one manual check channel. Passengers holding passports should use the manual check channel.
• Luggage Lockers: timed luggage lockers can be found inside the building. There are usually charged by hours and the sizes of luggage. In Beijing West, the charge for a normal-sized locker is CNY 10 for 7 hours, CNY 15 for 12 hours, CNY 25 for 24 hours, and additional CNY 10 every 12 hours after the first 24 hours; the charge for a large-sized locker is CNY 15 for 7 hours, CNY 25 for 12 hours, CNY 40 for 24 hours, and additional CNY 15 for every 12 hours after the first 24 hours.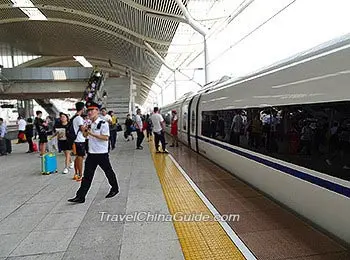 Railway Station Platform
• Others: there are also convenient facilities such as toilets, boiled drinking water, escalators to the upper floors,
inquiry counter, ATMs, lost and found center, public phones, and red cap luggage porters. Restaurants, café, shops, and book stores are also available.

Platform
Passages and stairs connect the waiting rooms with platforms. Some have escalators but not all do. Platforms are numbered, so it is easy for you to find the right one. On platforms, there are stalls selling all kinds of snacks, beverages, magazines and newspapers. Clear signs are available showing the way out upon arrival, although most are in Chinese.

Further Reading:
China Railway Infrastructures
- Last modified on Jan. 05, 2021 -