Zhengzhou Railway Station
Zhengzhou Railway Station is about 875 yards (800 meters) from Erqi Tower in city center, 8 miles (13 kilometers) from East Railway Station and 22 miles (35 kilometers) from Xinzheng International Airport. It is on the junction of China's two main rail lines (Beijing-Guangzhou and Lianyungang-Lanzhou Railways), hence known as the 'Heart of China's Rail System'. Currently, there are about 400 trains a day arriving at/departing from this station, including high speed trains to/from Luoyang, Xi'an, Shanghai, Beijing, Hangzhou, as well as regular ones to Beijing, Shanghai and Tianjin, etc.

Address: No.82, Erma Road, Erqi District

Station Plan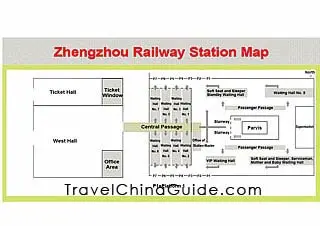 Zhengzhou Railway Station Map
(Click to enlarge)
The station mainly consists of three parts: Terminal Building, East Square, and West Square.

The East Terminal ticket hall is on the south side, with windows 5-8 specifically for ticket refunds and 33-35 for the collection of tickets booked online. The West Terminal ticket hall is on its north side, with window 6 for ticket refunds and 18 for online booking collection. The Left Luggage Offices are also located on the first floor, one next to the East Exit, one nearby the West Exit, and one at the main entrance at East Square. The fare is CNY10 per piece of luggage per day. Additionally, there are luggage cabinets spread in waiting rooms on 2F for passengers' convenience. As the first floor of the building are platforms, departing passengers need to go upstairs to the second floor (waiting rooms) by the escalators or stairs to have a rest and arrival passengers need to exit the station through an underground passage. There are eight waiting rooms in total on the second floor, all equipped with toilets. The waiting rooms are located on two sides of a long walkway, where there are restaurants, supermarkets and newsstand, etc.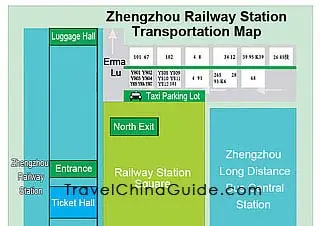 Transportation Map of the Station
(Click to enlarge)
On the east square, there is a long-distance bus station opposite the terminal building, which has buses to Beijing, Shanghai, Xi'an, Nanjing, Luoyang and Shaolin Temple, etc. The city bus stops are on Xinglong Street in front of this square, where there are buses no. 1, 4, 6, 8, 12, 13, 19, 21, 26, 28, 29, 32, 34, 38, 65, 67, 76, 81, 85, 91, 93, 95, 101, 102, 105, 108, 136, 138, 729, 966, 981, 985, B12, B17, B20, and Tourism Line 16. Also on Xinglong Street, passengers can take airport shuttle bus line 2 at Zhengzhou Hotel to reach the airport. The shuttle bus departs from 06:30 to 19:00 once fully occupied. For those who want to take taxis, please go underground following the direction boards upon arrival.

The west square is less populated yet less crowded than the east square. It has a metro exit and entrance to line 1 to its north side. At the front, there are stops for buses no. 20, 40, 41, 44, 50, 57, 66, 70, 99, 201, 210, 213, 217, 260 and 981. The taxi stand is also located underground to ease transportation congestion at ground level.

As a junction of China's two main rail lines, Zhengzhou Train Station has played the role of a logistics center for long time. At its center, there are dozens of wholesale markets for clothes, electric items and art wares, etc. The development of transportation and trading business draws crowds to this area as well as crimes such as pickpockets. Hence, be careful and take care of your belongings while here.
Schedule to Major Stations

Major Rail Lines from the Station to:

High Speed Train Schedule
(Last Update on Aug 15, 2019)
To
Trains
Duration
Ticket Fare (CNY)
First/ Second Class Seat

Beijing West

G1564, G1572, G802, G1560...
64 departures from 06:42 to 20:41
2h25m - 3h53m
CNY 495/ 309
USD 73/ 45

Shanghai Hongqiao

G1804, G370, G1808, G1812...
23 departures from 07:26 to 22:53
4h2m - 7h35m
CNY 739/ 297.5
USD 109/ 44

Xi'an North

G2025, D311, D307, G2001...
82 departures from 06:50 to 21:37
1h48m - 2h49m
CNY 369/ 159
USD 54/ 23

Guangzhou South

G93, G541, G850, G73...
30 departures from 07:56 to 23:52
5h31m - 7h27m
CNY 1,046/ 495
USD 154/ 73

Luoyang Longmen

G2025, G2201, D307, G6619...
66 departures from 06:50 to 21:37
0h36m - 0h50m
CNY 89.5/ 44.5
USD 13/ 7

Lanzhou West

G2025, D311, G2021, G427...
19 departures from 06:50 to 19:16
4h26m - 5h56m
CNY 602/ 336
USD 89/ 49

Jiaozuo

C2902, C2922, G9882, C2962...
25 departures from 06:22 to 21:00
0h33m - 0h58m
CNY 45/ 25
USD 7/ 4

Xinzheng Airport

C2899 at 11:25
0h17m
CNY 19/ 12
USD 3/ 2

The above schedule is for reference only. For real-time schedule and ticket booking, please click the arrival stations.

Normal Speed Train Timetable
(Last Update on Aug 15, 2019)
To
Trains
Duration
Ticket Fare (CNY)
Soft/ Hard Sleeper

Beijing West

Z202, Z162, K184, Z2...
33 departures from 00:52 to 23:20
5h46m - 13h39m
CNY 263/ 174
USD 39/ 26

Shanghai

K558, Z166, Z42, T118...
17 departures from 00:27 to 21:55
8h53m - 14h59m
CNY 363.5/ 237.5
USD 53/ 35

Guangzhou

K1159, Z263, Z137, T369...
17 departures from 00:14 to 23:53
15h33m - 21h14m
CNY 599/ 351
USD 88/ 52

Guilin North

Z335, K157, Z285, K457...
7 departures from 02:33 to 22:12
13h8m - 19h31m
CNY 509.5/ 317.5
USD 75/ 47

Xi'an

K1537, K1027, 1147, Z273...
36 departures from 00:11 to 23:35
5h54m - 8h31m
CNY 204/ 136
USD 30/ 20

Hangzhou

K596, K2908, T114, T328...
7 departures from 04:40 to 22:16
12h45m - 15h1m
CNY 377.5/ 247.5
USD 56/ 36

Chengdu

K257, K205, K283, K385...
9 departures from 04:44 to 23:35
15h20m - 26h29m
CNY 495.5/ 333.5
USD 73/ 49

The above schedule is for reference only. For real-time schedule and ticket booking, please click the arrival stations.
See detailed
Zhengzhou Train Schedule
Transportation

To East Railway Station
Take
metro line 1
to get there directly.
Take bus number 985 to East Coach Station and then change to bus60/158/319 to get there.
It takes about 30 minutes and CNY 25 by taxi.

To
West Railway Station
Take bus no. 12 to the destination directly.
Or take a bullet train to the West Station directly. Duration is about 15 minutes. A first class seat costs CNY17.5 per person and a second class seat costs CNY10.5.

To Xinzheng International Airport
Take airport shuttle bus line 2 at Zhengzhou Hotel, which is about 547 yards (500 meters) east of the East Square.
Take metro line 1 to Civil Aviation Hotel and then change to airport shuttle bus line 1 to get there.
It takes about 50 minutes and CNY100 by taxi.
Zhengzhou Bus Search
Print

- Last modified on Aug. 15, 2019 -
Questions & Answers on Zhengzhou Railway Station
Asked by Walden from FRANCE | Aug. 12, 2019 01:44

Reply
Which station is closer to this Holiday Inn Express Zhengzhou Zhengdong
We are planning the trip to Huashan. Thank you.
Answers (1)
Answered by Tomas from UNITED KINGDOM | Aug. 12, 2019 18:55

0

0

Reply
It is near the East Station, in walking distance, only 700m. There are many high speed rides from East Station to Huashan North Station.
Asked by huang mei lie from INDONESIA | Mar. 20, 2015 01:57

Reply
Hotel or Hostel near Zhengzhou RW by walking distance
Hi, Would Y mind to helping me which one the cheap hotel/hostel in Zhengzhou Railway Station by walking distance? Thanks
Answers (1)
Answered by Matthew | Mar. 20, 2015 02:48

3

1

Reply
You can try Tianquan Hotel, Golden Sunshine Hotel or Super 8. They are all in a walking distance.