Zhengzhou Travel Guide
Zhengzhou Facts
Chinese Name: 郑州 (zhèng zhōu)
Population: 10,136,000
Area: 7,446 square kilometers (2,875 square miles)
Location: on the north central of Henan Province, central China
Area Code: 0371
Zip Code: 450000
GDP (2018): CNY 1,014.33 billion (USD 153.3 billion)
Administrative Division: 6 municipal districts (Zhongyuan, Erqi, Guancheng, Jinshui, Shangjie, Huiji); 5 county-level cities (Gongyi, Xingyang, Xinmi, Xinzheng, Dengfeng); 1 county (Zhongmou)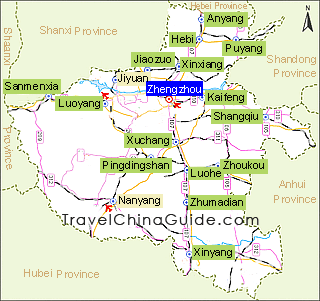 Zhengzhou, the capital city of Henan Province, is located in the middle of China. The famous Shaolin Temple near this city is the cradle of the Chinese martial arts that provided the inspiration for Kung Fu movies. Zhengzhou is a vital transportation hub especially for railways as many important railway trunks pass the city such as the Longhai Railway (Lanzhou to Lianyungang) and Jingguang Railway (Beijing to Guangzhou).

The city is a national historical and cultural city and also the first destination for any Henan Tour. The ancient city was the capital of Shang Dynasty (16th - 11th century BC) 3,500 years ago when porcelain and the Chinese technique of bronze smelting were comparatively more developed. A green ceramic glaze pot unearthed in Zhengzhou has been shown to be the most ancient porcelain in China.

For anyone interested in Chinese ancient history and wishing to know more on it, Zhengzhou is one city that should not be missed.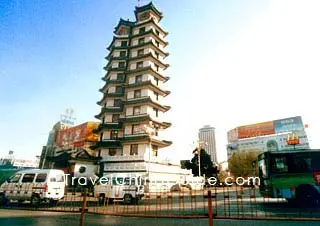 Erqi Memorial Tower
A long history has left the city with many cultural and historic sites. Shaolin Temple situated at the foot of Songshan Mountain is the cradle of Shaolin Kong Fu. If you are interested in Chinese Kong Fu, the temple and the performances must be seen.

One of the four Academies of Classical Learning in the Song Dynasty (960 - 1279), Songyang Academy, gives a complete depiction of Chinese ancient education. In addition, many ancient tombs, temple buildings and battle sites all show the dense culture of the city.



Other Scenic Spots:
Huangdi Hometown
Yellow River
Yin Xu (Yin Ruins)
Henan Museum
Erqi Square
Transportation provision in the city is excellent. Arriving and departing, whether by air, train or bus, is a smooth process as Zhengzhou is a center of transportation in middle China.
See Also
Top 10 Things to Do in Zhengzhou
You May Like
China Population by City: List of 50 Most Populated Cities
- Last updated on Feb. 22, 2023 -
Questions & Answers on Zhengzhou Travel
Asked by Rev.Vimutti from SRI LANKA | Feb. 20, 2023 19:52

Reply
Policy to enter in April 2023
1. I plan to visit Zhengzhou in early April, 2023.
I have already been vaccinated three doses.
Do I need further clarification to enter China?
My passport allows 15-day free visa. Is there any change after covid-19.

2. From Zhengzhou international airport, how can I get to the high speed train station.
Answers (1)
Answered by Mike | Feb. 22, 2023 17:31

0

0

Reply
1. Vaccine is not a problem any more and you don't need to care about it, either. Currently, only covid-19 test is required before departure for China. Why does your passport allow 15-day free visa visit to China?

2. From the airport to Zhengzhou East Railway Station, you may take airport bus line 4 to Civil aviation hotel, then change to subway line 1 to get there.
Asked by bourdais from FRANCE | Feb. 18, 2022 06:46

Reply
what is the postal code for erqi road Nr 68 Zhengzhou city ( Henan province
Answers (1)
Answered by Derick | Feb. 25, 2022 16:15

0

0

Reply
450052
Asked by bourdais from FRANCE | Feb. 18, 2022 06:41

Reply
can you give me the hotels on ERQI road ?
Answers (1)
Answered by Edison | Feb. 25, 2022 16:35

0

0

Reply
New Asia Hotel, Madison Hotel, Yuehai Hotel, and Ji Hotel near Erqi Square are recommended.
Asked by Rev. Vimutti from SRI LANKA | Feb. 24, 2020 05:02

Reply
Zhengzhou to Louyang Longmen
1. I will arrive Zhengzhou international airport at 17:25 and will take the high speed train to Louyang Longmen
2. Is it at Zhengzhou East Station to take the station? Must I book the ticket in advance?
3. From airport, what is the best transport to the high speed train station?
Answers (1)
Answered by Sandy from UKRAINE | Feb. 28, 2020 19:33

0

0

Reply
Yes, it is at Zhengzhou East Railway Station to take the train. You are suggested to book the train tickets in advance. Upon landing, the transportation is convenient. Take airport shuttle bus line 2 to East Railway Station directly.
Asked by Anna from POLAND | Dec. 14, 2019 13:42

Reply
How can I get from the Henan University of Technology campus to Fengleyuan Hot Springs?
Answers (1)
Answered by Gabbie from NEW ZEALAND | Dec. 17, 2019 17:40

0

0

Reply
You can take taxi to there directly. It costs around CNY20 with 30 min.