Shaolin Temple
Shaolin Temple, in the region of
Songshan Mountain
, Dengfeng City, Henan Province, is reputed to be 'the Number One Temple under Heaven'. Shaolin Temple history can date back to Northern Wei Dynasty (386 - 534), and it played an important role on the development of the Buddhism in China. Included on UNESCO's
World Cultural & Natural Heritage List
in 2010, it is the cradle of the Chinese Zen Buddhism and the
Shaolin Martial Arts
such as Shaolin Cudgel. One can see wild flowers and pines on the mountain. With birds singing and a brook spattering, a beautiful scene full of life and vitality is revealed to the visitors.
Shaolin Temple embraces many exciting attractions, such as the Hall of Heavenly Kings (Tianwangdian), the Mahavira Hall (Daxiongbaodian), the Pagoda Forest, the Dharma Cave and the Martial Art Training Center. Visitors may follow the virtual guide to visit the temple.
Shanmen Hall
First we see the Shanmen Hall. Hung on its top is a tablet reading 'Shaolin Temple'. The tablet was inscribed by the Emperor Kangxi (1622 - 1723) during the Qing Dynasty (1644 - 1911). Under the stairs of the hall crouches two stone lions made in the Ming Dynasty (1368-1644). The hall enshrines the Maitreya Buddha. Two sides of the corridor behind the hall's gate are paved with inscriptions on stone steles made during several different dynasties.

Hall of Heavenly Kings
Next we arrive at the Hall of Heavenly Kings. The gate of the hall is guarded by two figures depicting Vajra (Buddhist warrior attendants). Inside the hall are figures of the Four Heavenly Kings who are responsible for inspecting peoples' behavior, helping the troubled, and blessing the people.

Mahavira Hall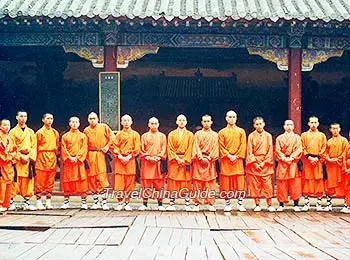 Followers of Shaolin Martial Art
Then we come to the Mahavira Hall. The complex's center is right before your eyes. Both important celebrations and regular prayers are held here. 18 Buddhist Arhats stand along the eastern and the southern walls of the hall. Buddhas of the Middle, East and West are enshrined in this hall, respectively Sakyamuni Buddha, Pharmacist Buddha and Amitabha Buddha. Figures of Kingnaro (the founder of Shaolin Cudgel) and Dharma (the founder of Chinese Zen Buddhism) stand beside those three Buddhas, a placement which is very different from other Mahavira Halls. At the feet of the pillars in this Mahavira Hall are stone lions that are more than one meter (about 3.33 feet) high. On the ground there are about 50 small pits, 20 centimeters (about 7.87 inches) deep. It is said that they are the footprints left by monks when they practiced Shaolin Martial Arts.

Pagoda Forest
Unexpectedly, we come to the Pagoda Forest, a graveyard for Buddhist dignitaries through the ages. On average, the pagodas are less than 15 meters (about 49 feet) high. The layer and the shape of a pagoda depend on many factors, such as one's Buddhist status, attainment and prestige during his lifetime. The Pagoda Forest here is the largest of China's pagoda complexes.
Ancestor's Monastery & the Second Ancestor's Monastery
Outside the Shaolin Temple we continue walking to the northwest, and then we will take a look at two monasteries, named the Ancestor's Monastery and the Second Ancestor's Monastery. The first monastery is built by a Dharma's disciple to commemorate Dharma's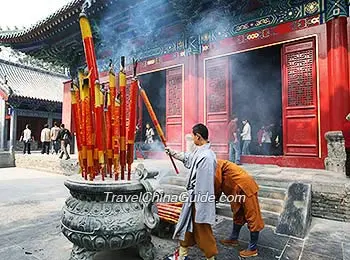 Burn incense and pray
nine years of meditation in a cave. It has a big hall supported by 16 stone pillars on whose shafts are exquisitely carved warriors, dancing dragons and phoenixes. The second monastery is a nursing home of the second ancestor Huike who cut his left arm in order to show his sincerity to study Buddhism from Dharma. In front of the monastery are four springs created by Dharma to help Huike to fetch water easily. They are called 'Spring Zhuoxi' and each has its own distinctive flavor.
Dharma Cave
The cave we see next is the Dharma Cave. In this cave Dharma patiently faced the wall and meditated for 9 years. Finally, he reached the immortal spiritual state and created the Buddhist Zen. The cave is seven meters deep (about 23 feet) and three meters high (about 9.8 feet). Many stone inscriptions are carved on both its sides. There is a Meditating Stone in the cave. It is said Dharma's shadow was reflected upon the stone and embedded on it because of the long time of his meditation facing the wall. Unfortunately the stone was ruined during the war.
Buddhist Living Quarters
After passing the Dharma Cave, we come to the Buddhist Living Quarters for transient monks. It is on the south bank of the Shaoxi River opposite the temple. First built in 1512 of the Ming Dynasty, it was repaired in the Qing Dynasty. The quarters are noted for the simple and distinctive design. It collapsed in 1958 and then repaired in 1993.
Wushu (Martial Arts) Training Center
The Shaolin Temple Wushu (Martial Arts) Training Center comes last. Its perfect scenery makes it an ideal place for practicing the Chinese
Shaolin Kung Fu
. Shaolin monks have been practicing Kung Fu for over 1,500 years. The system was invented by Dharma who taught the monks basic methods to improve their health and defend themselves. The Martial art performance shows the true Chinese Shaolin Temple Kung Fu. For example, Tong Zi Gong, performed by teenagers, is a kind of martial art to train one's flexibility and strength.
In a word, Shaolin Temple is worthy of a visit. It will give you a better understanding of
Chinese Buddhism
and the Chinese martial arts.
| | |
| --- | --- |
| Buddha statues | The pagoda forest |
How to get to Shaolin Temple
From Dengfeng
You can take a taxi to the temple and it costs around CNY30.
From Zhengzhou
1. Take a bus from Zhengzhou Central Bus Station to Shaolinsi (Shaolin Temple) directly. The bus departs at 7:00, 8:00, 8:50, 9:40, 10:10, and 11:00. The bus fare is CNY28 and the duration is 1.5h.
2. Take a bus to Dengfeng and then take a taxi to the temple. The buses to Dengfeng depart from Zhengzhou Central Bus Station, General Bus Station, North Bus Station and a bus station near the
Zhengzhou East Railway Station
. The bus fare is CNY25-32 and the duration is 1.5-2h.
* Visitors need to find the bus carefully because there is no bus stop sign.
From Luoyang
1. Take a bus from Luoyang Bus Station from 5:30 to 12:30, or from Jinyuan Bus Station at 5:15 or 8:00. The bus fare is around CNY20 and it takes 1.5-2h.
2. Take a bus to Dengfeng from Luoyang Bus Station or Jinyuan Bus Station.
From Xi'an
Visitors can take train or long distance bus to reach Luoyang first, and then take regular buses from Luoyang Bus Station to the temple. Please refer to
Xi'an Train Schedule
for more train information. Long distance bus from Xi'an Sanfuwan Bus Station departs at 8:00. Bus fare is CNY125. The whole journey is around 5 hours.
| | |
| --- | --- |
| Entrance Fee | CNY80 |
| Opening Hours | 8:00 - 17:30; ticket selling starts 30mins earlier. |
| Recommended Time for a Visit | 2-3h |
​What to see nearby Shaolin Temple
About 7 kilometers away from (4 miles) southeast of Shaolin Temple, there offered a feast to the eyes and ears -
Shaolin Zen Music Ritual
, which is the largest-scale outdoor performance in mountains in the world. With various factors contained, a magnificent performance is made to show the Zen Buddhism concepts, including Zen Buddhism music, martial arts and dance of local shepherdesses. Usually, the performing time is 20:00 - 21:15 from March to November.
- Last modified on Feb. 27, 2019 -
Questions & Answers on Shaolin Temple
Asked by phueser from GERMANY | Feb. 01, 2019 00:59

Reply
We intend to visit the Longmen Grottoes on 17th March in the morning.
Afterwards we will need to take a taxi because buses are only driving from Luoyang to Shaolin Temple until 12:30 (can you confirm that?).
Is it possible to take a taxi from Longmen to Shaolin temple? Or will taxi drivers reject to drive there?
Thanks very much in advance.
Answers (3)
Answered by Sarah from CANADA | Feb. 13, 2019 18:44

0

0

Reply
You are suggested to hire a private car to Shaolin Temple. Or share a car with other tourists. It is an economic way.
Answered by Patrick Häuser from GERMANY | Feb. 17, 2019 09:16

0

0

Reply
Would you suggest to hire a private car at Longmen Station for the whole day alone or shall we ask our next Hotel in Dengfeng to do organise the private car?
Answered by Sarah | Feb. 18, 2019 19:06

0

0

Reply
You are advised to ask the hotel in Dengfeng and organize the private car to Shaolin Temple. In this way, the distance would be nearer.
Asked by Shaik Abdullah from INDIA | Dec. 16, 2018 22:51

Reply
Can I visit Shaolin Temple from Beijing and Get back to beijing the same day?
Start the trip early morning and get back to beijing by night.
Can please suggest ?
Answers (1)
Answered by Thomas from CANADA | Dec. 17, 2018 23:46

0

0

Reply
Well, the time is too tight to come back in the same day. Thus you are advised to prepare for two days.
Take bullet train from Beijing West Railway Station and get off at Zhengzhou East Railway Station first. It takes around 3 hours on the way. Then take a taxi to Zhengzhou Railway Station.After arriving, there are many coaches that can take you to the destination directly. In addition, the return way is the same.
Asked by Kon from SINGAPORE | Oct. 23, 2018 04:34

Reply
Hi, is there a bus from the Shaolin temple to catch the 8pm Shaolin Zen Show?
After the show ends, will there be transport back to Luoyang? Thank you.
Answers (1)
Answered by Linda from USA | Oct. 23, 2018 22:42

0

0

Reply
There is no buses from Shaolin Temple to catch the Shaolin Zen Show and you can only take a taxi. I'm afraid there is also no buses from Shaolin Temple to Luoyang after 08:00pm.