Wangcheng Park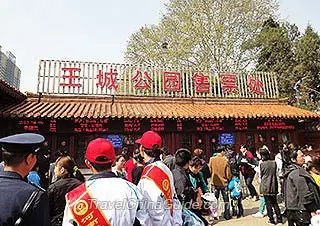 Ticket Office of Wangcheng Park
Covering an area of about 40 hectares (99 acres), Wangcheng Park is located on the northern side of Zhongzhou Road. It gained the name because of its location on Wangcheng, the site of the Capital City of Zhou Dynasty (11th century BC-221BC). Built in 1955, Wangcheng Park is the biggest comprehensive park in Luoyang city as well as in Henan Province. It is one of the best places to enjoy the beauty of the peony, especially during the annual Luoyang Peony Festival. The park is renowned for its cultural spots, such as the Ding, a bronze vessel from the Zhou Dynasty, Peony Garden and Hetu and Luoshu Tablet.
Standing in front of the gate, visitors will be awed by the structure's simplicity and dignity. With red walls and glazed tiles, the gate depicts the ancient architectural style of the city. Upon entering, guests will see a huge Ding symbolizing the power of the emperor in front of a stone screen. The vessel is a duplicate of the Zhou Dynasty Ding unearthed in Jin Village in Luoyang. Wangcheng Park consists of five scenic areas: the History and Culture area, the Peony Admiring Area, the Peony Culture Area, the Wangcheng Zoo and the Amusement Area.
History and Culture Area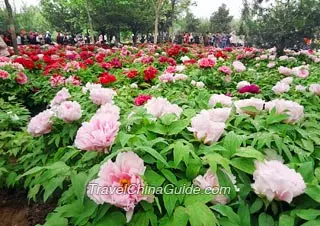 Peonies in Wangcheng Park
The History and Culture Area is in the west of the Wangcheng Park. In this area, tourists will enjoy a journey to the Zhou Dynasty and Chinese Civilization. Here attractions such as the Jishengzhu Tablets, Shenyuantai Hall, Jicheng Hall, Zhou Memorial Pavilion and Mingdemen Gate will educate visitors in the architecture and culture of the ancient city. Each site reflects the glamour of Zhou Dynasty, Han Dynasty (206BC-220) and Tang Dynasty (618-907). Another attraction worth seeing is the Hetu and Luoshu Tablet. Hetu and luoshu refer to the two special diagrams depicted on the tablet. Legend has it that long ago a man named Fu Xi saw a dragon appear out of the Yellow River with Hetu on its back, and an immortal turtle spring up from the Luo River with Luoshu on its back. After careful study, Fu Xi drew out the Eight Diagrams according to what he had seen on the dragon and turtle.

Peony Admiring Area
The Peony Admiring Area is the most famous section of the Wangcheng Park. It is comprised of three gardens - the Luoyang Peony Garden, the Rockii Peony (Purple Speckle Peony) Garden and the Herbaceous Peony Garden. Each April, during the Luoyang Peony Festival, hundreds and thousands of peonies bloom together in a majestic display of natural beauty.
Peony Culture Area
The Peony Culture Area presents poems from many of China's literary giants and artwork from famous calligraphers and painters. Here the three art forms are united on a long, columned walk way, each praising the beauty of the peony.
Wangcheng Zoo & the Amusement Area
The last two attractions are the Wangcheng Zoo and the Amusement Area. Wangcheng Zoo lies in the northern area of the Wangcheng Park. Here guests will be educated and entertained by many rare species, some of which include: pandas, south China tigers, black bears, leopards, and red-crowned cranes. The Amusement Area featuring a number of recreational facilities will add additional entertainment to your trip.
How to get to Wangcheng Park
1. Take bus no. 9/ K9, 10/ K10, 11, 15/ K15, 19/ K19, 32/ K32, 40/ K40, 50/ K50, 99/ K99, 101, 102 or 103, and get off at Wang Cheng Gong Yuan (Wangcheng Park) Station.
2. Take bus 78 to Wangcheng Gongyuan Beimen.
Entrance Fee
Wangcheng Park is free of charge; the zoo inside charges CNY 15.

Note:
Tourists are required to buy the entrance tickets during the Peony Festival held from early April to early May every year. The ticket covers both the park and the zoo. The ticket price for the Peony Festival is CNY 20 from Monday to Friday and CNY 30 for weekends and public holidays.
Opening Hours
05:00-21:30
- Last updated on Dec. 22, 2019 -
Questions & Answers on Wangcheng Park
Asked by George from SINGAPORE | Dec. 18, 2019 22:30

Reply
what date in April 2020 is best to visit Luoyang for Peony viewing
Answers (1)
Answered by Kimmy from UNITED KINGDOM | Dec. 22, 2019 23:21

0

0

Reply
Luoyang's Peony Festival is held around April 5 to May 5 every year. The timing is mainly related to the flowering period of peony. So we don't know the exact date now.
Asked by Elena from CH | Mar. 24, 2019 09:31

Reply
How do I get from Longmen Railway station to Wangcheng Park (which bus number)?
Answers (1)
Answered by Muller from GERMANY | Mar. 26, 2019 00:54

0

0

Reply
Take Bus Line J966 to the Mudan Square East and then walk northeast about 50m to take Bus Line 99/ K99 to Jiandong Road, Zhongzhou Road Intersection Station. Get off the bus and walk north about 100m, you can get to the park.
Asked by kanchana from THAILAND | Mar. 30, 2017 08:58

Reply
I will go to Luoyang On 21 April 2017 and have accommodation at Peony Hotel.
Is this hotel near Wangcheng Park or not?
Have peony on that day?
Answers (2)
Answered by Olive from SWEDEN | Apr. 04, 2017 20:46

0

0

Reply
It's only 0.6 miles (1 kilometer) between these two places. You can take a taxi at the cost of CNY6 or so. You can appreciate the various peonies in full bloom around April 21st.
Answered by kanchana from THAILAND | Apr. 05, 2017 06:36

0

0

Reply
Thank you ,Olive
Asked by Pomnawa from THAILAND | Jun. 27, 2016 02:59

Reply
In October to November, is there any peony blossom in Wancheng Park or other flowers blooming?
Answers (1)
Answered by Marton from UNITED KINGDOM | Jun. 27, 2016 22:01

0

0

Reply
Well, I'm afraid that you cannot see the peony blossom in that park during October and November. The exhibition of peony blossom usually occurs the mid of April.
Asked by Cecil | Jul. 17, 2013 08:05

Reply
Is this worth visiting Luoyang Wangcheng Park in August? Are lines still long on that month? Thank you.
From Shaolin temple, is it convenient to pass by this park? Can I get here by bus? How long does it take? thank you.
Answers (1)
Answered by Iris from THAILAND | Jul. 17, 2013 21:10

1

3

Reply
If you intend to appreciate flowers, Aug. may not be a good time. If you are going to enjoy the history and culture as well as the zoo, it is worth visiting. In Aug. you don't need to line up for tickets. Don't worry!

At Luoyang Railway Station bus stop, you can take bus no. 102 to the park directly. I don't think it is convenient to pass by the park to head for Shaolin Temple as the tourism buses to the temple start from the railway station.