Guanlin Temple
Guanlin Temple, about seven kilometers (about 4.5 miles) south of Luoyang City, was built in 1596, during the reign of Emperor Wanli in the Ming Dynasty (1368-1644) and was expanded in the Qing Dynasty (1644-1911). It is called General Guan's Tomb as well.

Guanlin Temple is the place where Guan Yu's head was buried. So, are you wondering about who Guan Yu is? He is a hero in Chinese history and is the only person respected by Confucians, Buddhists and Taoists. Guan Yu was a general of the Kingdom of Shu during the Three Kingdoms Period. After he was murdered by people of the Wu Kingdom, his head was sent to Cao Cao in order to frame Cao Cao and start a fight between the Shu Kingdom and the Wei Kingdom. However, Cao Cao discovered their plot. Due to his great respect for General Guan Yu, Cao Cao had Guan Yu's body carved from eaglewood and buried the carving and the head with great honors outside the South Gate of Luoyang City. Emperors of succeeding dynasties all revered Guan Yu a lot and even worshiped him as God of War. As a result, the temple in Luoyang is splendid and grandiose.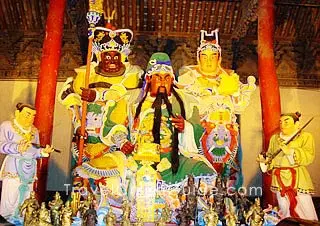 The statue of Guan Yu
The Guanlin Temple covers an area of 100 mu (about 16.5 acres). Inside the temple are halls, tablets, small stone lions and cypress. The layout of the temple highly embodies the traditional style of Chinese architecture. It is designed and built symmetrically. Moving north from the Opera tower, there is the Main Gate, the Courtesy Gate, the First Hall, the Second Hall, the Third Gate, and the Tomb of Guan Yu. The First Hall is most magnificent. On its main gate are a series of reliefs telling the well-known stories of Guang Yu. The views from other halls and places inside the temple are also beautiful.

An art gallery was also built inside the temple, displaying a collection of nearly 2000 ancient steles, epitaphs and stone inscriptions. They are really helpful to the research of ancient Chinese history.

How to get to Guanlin Temple
Take bus no. 15/K15, 39/K39, 55/K55, 58/K58, 69 or K69 to Guanlinmiao (Guanlin Temple).
Entrance Fee
CNY 40;
Free for children under 1.2m (3.9 feet).
Opening Hours
9:00 - 17:00; closed on Mondays.
Recommended Time for a Visit
1h
- Last updated on Mar. 29, 2023 -
Questions & Answers on Guanlin Temple
Asked by Isa from FRANCE | Mar. 29, 2023 07:01

Reply
how to get from guanlin temple to guanlin railway station?
Answers (1)
Answered by Fiona | Mar. 29, 2023 18:06

0

0

Reply
Firstly, walk for about 500m to Yiluo Road Guansheng Street Crossing, then take bus no. 80 to Xinqu No.1 City Bus Parking Lot and walk for more 900m to the railway station. It takes about 40-45 minutes.

It is more recommended to travel by taxi, which takes about 15 minutes and around CNY20.
Asked by biancam from ITALIA | Jul. 14, 2018 23:44

Reply
How to get Guanlin Temple from Luoyang-Longmen Railway station?
Answers (1)
Answered by Percy from USA | Jul. 16, 2018 00:50

0

0

Reply
Bus line 920 is available. Take off at Longmen Avenue Guanlin Intersection.
Asked by ASHATAN1903 | Dec. 26, 2016 07:07

Reply
I believe there is a fair to celebrate Chinese New Year's Eve at Luoyang Guanlin Temple.
How far is the temple from Hyatt Place, 300 Zhongzhou Middle Road, Xigong District?
Would I be able to take a taxi there from my hotel in the evening and back again?
How much would taxi fare cost one way?
Also will food be on sale at the fair or should we eat beforehand?
Answers (1)
Answered by Tracy from CANADA | Dec. 27, 2016 02:14

1

0

Reply
The temple is 7 miles from your hotel. You can totally take a taxi for the round trip and it should cost CNY25 for one way.
It is advised you have a taste of the local snack at the fair. It should be a feast. :)
Asked by Alex from THAILAND | Apr. 22, 2013 00:44

Reply
And how to get Guanlin Temple from The Longmen Grottoes have bus directly?
Answers (3)
Answered by Allen | Apr. 22, 2013 04:59

1

2

Reply
Bus 81 take you from the temple to reach the grottoes directly. The bus stop is at the west side of the temple.
Answered by biancam from ITALY | Jul. 14, 2018 23:59

0

0

Reply
Is the bus stop Guanlinmiao or an other?
Thank you
Answered by Allen | Jul. 15, 2018 18:39

0

0

Reply
It's Longmen Avenue Guanlin Intersection.
Asked by Alex from THAILAND | Apr. 20, 2013 23:14

Reply
How to get Guanlin Temple from Luoyang Raiway Station ?
Answers (1)
Answered by Allen from USA | Apr. 21, 2013 01:38

0

1

Reply
Bus 55 can take you from LY Train Station to reach the temple directly.