Private Itineraries
Unique Services
How to Book?
Inquiry
Get a quote
Free changes
Payment
Confirmation
Endorsed by
New York Times
The New York Times Travel Supplement has named our company as being in their opinion a large and reliable Chinese travel agency. Details...
2017 Shanghai Cherry Blossom Festival - A Feast for Your Eyes
Published: Mar. 29, 2017

Spring has quietly come! Trees turn green and flowers are coming out successively. In Shanghai Gucun Park, the Cherry Blossom Festival welcomed crowds of guests. It started from March 15, 2017 and will end on April 14. The white, pink, red, and light green flowers, together with brown trunks and branches, and green leaves, provide a feast for visitors' eyes.
Top 10 Recommended China Tours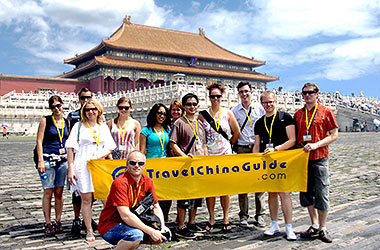 Why travel in a small group with us?
Small group size of 2 to 18
Lowest price guarantee
Top quality service guarantee
International brand hotels
Travel with like-minded people
18-year group tour experience
Trip Planning FAQs
Q: What to see in China for first time travelers?
A: China is a vast land with abundant tourism resources. For first time travelers, the top travel destinations of Beijing, Xian, Guilin, Shanghai and the Yangtze Cruise are recommended. As ancient capitals, both Beijing and Xian boast fantastic cultural and historic relics, such as the Great Wall, the Forbidden City and the Terracotta Warriors. Guilin is well known for its superb natural beauty, with Li River flowing through an amazing landscape resembling a scroll-painting. A relaxing cruise on the Yangtze River allows people to immerse themselves in the wonder of the natural surroundings. Shanghai, an international metropolis, best shows the country's pulsating modern development as well as its olden-day charms. In the light of the above, you can combine visits to these cities as you wish to create your China holiday tours.
Q: For a second time traveler, what are the recommended destinations?
A: If you wish to go further on your second trip, you may consider visiting some regions with distinctive features. For panda lovers, Chengdu will satisfy your desire to observe these cute creatures in their natural habitat. In addition, it provides easy access to the magical Jiuzhaigou. Tibet is a good option for those who are interested in learning about Tibetan Buddhism and seeking out the mystery of this unique land. Cities in southwestern region like Kunming, Dali, Lijiang, Shangri-la, Guiyang, Kaili, and Zhaoxing are also popular for their rich ethnic minorities' folklore and customs. If you are curious about the Silk Road culture, you can visit Dunhuang, Turpan, Urumqi, Kashgar and more cities depending on your trip duration. For those who like mountain sceneries, Zhangjiajie and Mt. Huangshan are indeed visual delights. The above mentioned are only partial lists, our tour operators are ready here to
customize
a private China tour package to meet your needs.
Q: How many days are needed for a trip to China?
A: It mainly depends on the destinations of your trip. For a single city package, three to four days are required. If you want to visit two to three cities, basically one week is needed. A 12-day to two weeks China vacation tours usually would cover four to five cities. Once you decide on your destinations, we can help you work out a realistic duration.
Q: What is the best time to travel to China?
A: China is a vast country with wide-ranging climatic conditions, so a decision about the best time to visit should be based on the regions you plan to visit and the kind of weather you enjoy. Generally speaking, late March to May in spring, September and October in autumn are the best months to visit most of the cities. Try to avoid travelling during the National Day Holiday from Oct 1st to Oct 7th as all sightseeing spots are very crowded. For visitors who want to save money and enjoy sightseeing without interference by tourist crowds, you can plan your private China tours in the winter season from December to February.
Q: How much would a trip to China cost?
A: The prices will range widely depending on the tour destinations, durations and your demands for comfort. Let's take one of the most popular itineraries as an example, 8 days Beijing, Xian and Shanghai. It will cost about USD1400 per person on the basis of a private guided tour for two people with 4-star accommodation and domestic flights in between. If you join in a China small group tour with the similar itinerary, the trip usually costs about USD999 per person. For travelers who start your China tours from USA, Canada, UK, Australia, Germany, Spain, France, etc, international flights are not included.
Many travelers also take the high speed trains instead of flights to save the cost and enhance the travel experience, which has been proved to be an awesome choice. No matter how much you want to spend on a trip, as the best China tour company we are always happy to tailor make a private tour itinerary that best fits your needs. In addition, our
10% discount
can also help you save more.
International Flights to China