Classic China with Yangtze Cruise
SG03: 14 Days Small Group Tour of Beijing - Xi'an - Guilin - Chongqing - Yangtze River Cruise - Yichang - Shanghai
Tour Type:
Small Group of max 18, guaranteed departures
Guide & Driver:
English-speaking guide, experienced driver with an air-conditioned coach
Accommodation:
10 nights at good 5-star hotels, 3 nights on Yangtze River cruise
Highlights:
Must-see sights in China - Mutianyu Great Wall, Forbidden City, Terracotta Army.
Fantastic cruise tour on the Li River from Guilin to rural Yangshuo.
Unwind with a Yangtze River cruise tour and see the Three Gorges.
Enjoy a la carte meals, Peking Opera & Tang Dynasty Music and Dance Show.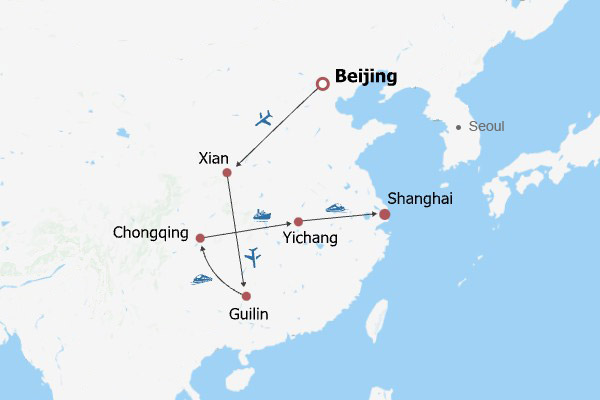 Welcome your arrival anytime at the airport and transfer to hotel.
When you arrive in Beijing today, your two weeks China group tour officially begins. Claim your luggage, clear customs, and you will find your guide waiting for you with a welcome sign bearing your name at the airport arrival hall. The driver will then escort you to your hotel and help you register for three nights. The rest of the day is free time for your own use.
Accommodation: The Great Wall Hotel Beijing





- the former Sheraton
Visit Tiananmen Square and Forbidden City including Treasure Gallery; enjoy an a la carte welcome lunch with authentic Peking Duck; continue to visit Yonghe Temple and Temple of Heaven; and watch the classic Peking Opera in the evening. (B+L)
Your Beijing group tour now kicks off. The guide will host a short pre-trip meeting in your hotel lobby this morning after breakfast. This includes a briefing and preparations for your trip. The group travel guidelines and tips will also be shared. After that, your tour will begin with a visit to
Tiananmen Square
and the
Forbidden City
.
We will stroll all the way from city square until we reach the entrance of the Forbidden City, where Chinese emperors of Ming and Qing dynasties (1368 – 1911 AD) once lived and worked. Now, its trove of countless imperial treasures has made it a museum to exhibit the royal luxury before common eyes. Today, we will take a side tour to the Treasure Gallery to witness the most precious relics left by Chinese imperial ancestors. An interesting fact about this place is that, the real life of emperors seemed to be the opposite of their material extravagancy. Like Emperor Yongzheng (1678 – 1735 AD), who devoted himself to country management and was said to die of overwork.
Explore the Forbidden City
★
Enjoy an a la carte welcome lunch with Peking Duck
A welcome lunch will be served at a celebrated restaurant with an a la carte menu (valued at CNY150.00 per person and included in our price). You will taste authentic Beijing food, including the ever popular Peking Roast Duck. Normally, it takes 2 hours to roast an already air-dried duck, but our guide will arrange it for you ahead of time. So, just enjoy it the moment you sit at the table!
Your will spend your afternoon in
Yonghe Temple
, an imperial lamasery built during Qing Dynasty and still functioning for people to pay tribute to Buddha, and then in
Temple of Heaven
, a majestic altar complex for Ming and Qing emperors to offer sacrifices to Heaven and pray for good harvests. Both sights will lend insight into the traditional spiritual world of Chinese people.
Our guests at the Temple of Heaven
A special gift is prepared for you after dinner. We will head for Liyuan Theatre – the most prestigious performance venue in Beijing for both domestic and foreign visitors - to enjoy
Peking Oper
a, a quintessential symbol of Chinese culture. The singing, the music, the storytelling, the acrobatics, the make-up, and the costumes just combine to make a feast that everyone would find yourself inspired by a certain aspect. We will also arrive earlier for you to watch the artists painting colorful faces and wearing elaborate costumes – something fascinating to watch!
This is our itinerary for today. We will take you back after the performance finishes.
Meals: Western buffet breakfast, A la carte welcome lunch
Visit Mutianyu Great Wall by round-trip cable car and toast for Great Wall challenge with red wine; drive by Olympic Bird's Nest; then take a rickshaw ride through Hutong alleys and visit a local family in a traditional courtyard house. (B)
Today you are going to hike on a Wonder of the World - the Great Wall of China. We will drive from downtown Beijing to visit the
Great Wall at Mutianyu
, sung as the most picturesque among all the sections. A round-trip cable car ride will be arranged for you to tour the Wall. You can also choose a chairlift up and an even more thrilling toboggan down, which add spices to your journey for sure. After getting down, your guide will arrange for you to clink glasses with red wine and drink a toast to your visit to this engineering feat!
Hiking on the Great Wall
After lunch, we will stop before the National Stadium, widely-known as the Bird's Nest, a landmark of Beijing used for national and international track-and-field competitions like the Beijing Olympic Games in 2008.
A Hutong tour by rickshaw and a visit to a local family will be followed. Hutongs are alleys or backstreets with both sides lined with courtyard houses - a traditional way of living for Beijing people, where multiple generations of an extended family live together. Today, you get to step into a courtyard, talk with locals, observe its layout, and learn the cultural connotations behind it. You will discover another side of this metropolis. After that, we will drive back to hotel.
Meals: Western buffet breakfast
Day 4
Beijing to Xi'an by Flight
Visit Panda Hall and Summer Palace; taste local flavors for lunch; fly to Xi'an and transfer to hotel. (B+L)
Today, you are going to watch adorable pandas at one of their homes on earth –
Panda Hall of Beijing Zoo
. We are leaving this morning, when giant pandas are most active during the day. About pandas there is an intriguing fact - they only weigh around 100 grams when they are born, the equivalent of two eggs. Why an adult could be bizarrely 900 times bigger remains a puzzle for scientists.
Then you will have the rest of the morning spent in the
Summer Palace
, an imperial garden which includes famous Longevity Hill and Kunming Lake. Its design embodies the solemnity and grace of a royal garden that incorporates the joy of nature and is a monument to classical Chinese architecture.
Beautiful Scenery of the Summer Palace
Enjoy a lunch featuring local flavors, and you will be off to the next destination of your two-week China tour - Xi'an. Our local guide will greet you at the airport and transfer you to the hotel for a three-night stay.
Meals: Western buffet breakfast, Lunch
Accommodation: Crowne Plaza Xi'an





Visit Terracotta Army and the discoverer's home of the first terracotta warrior; have a unique experience to make your own mini clay warrior; continue to visit Giant Wild Goose Pagoda, and then enjoy dumpling dinner and Tang Dynasty Music and Dance Show in the evening. (B+D)
The escorted morning tour begins with a visit to the
Terracotta Army
. It will be an astounding moment when you see the great army of life-sized terracotta warriors, which serve as funeral objects, assembled in their thousands to protect the tomb of Emperor Qin Shi Huang (259 – 210 BC) of Qin Dynasty (211 – 206 BC), the first Emperor in China's history. The enigmatic ambience of this place is drawing people of different nationalities from all over the world. If you ever pay attention to the news about it, you might've heard of an anecdote, which happened years ago, that a German, so fascinated by the Qin culture, intruded into an excavated pit and disguised himself as a warrior, just to fulfill his childhood dream of standing among real terracotta warriors.
Visit the Terracotta Warriors and Horses
★
Privilege of Our Guests:
►
Many people have seen terracotta warriors and horses, but few know and meet the first discoverer of it. By taking this tour, you will have a special opportunity to visit the home of Mr. Yang Zhifa, the first discoverer of this world's wonder. Spend a few minutes talking with him or his families about this great discovery.
►
Imagine you are an artisan, making your own terracotta warriors in 21st century... Today, you are going to make your mini versions of warriors in a local workshop, and use the same kind of clay that was used 2,000 years ago. With the help of a local expert, you can get your handmade warrior done within 40 minutes.
The rest of your afternoon will be spent touring the
Giant Wild Goose Pagoda
– the most famous pagoda in Xi'an that witnessed the unprecedented cultural diversity of Tang Dynasty (618–907 AD). A splendid evening is also in store. You will be entertained by the
Tang Dynasty Music and Dance Show
over a great Chinese
dumpling dinner
. You will be escorted back after the show.
Travel Tip: Since the theater for the show and dumpling dinner is usually not open in Jan, Feb, Mar and Dec, we will not arrange the activities for tours during these periods.
Meals: Western buffet breakfast, Dumpling dinner
Connect with local people at City Wall Park and learn to practice Tai Chi from a master, then visit City Wall; taste local flavors for lunch at Muslim Quarter; in the afternoon visit Great Mosque and Shaanxi History Museum. (B+L)
Traveling is not just for sightseeing. It is also a journey to experience life and explore different cultures. Today's tour will begin with a leisurely walk in the
City Wall Park
, which encircles the center of Xi'an. It is where you may see locals do exercises, dance, play instruments, play ping-pong or just spend their leisure time chatting. You can even join them for fun, just as our previous guests do! We will also invite a Tai Chi Master to teach you some basic moves of Tai Chi Quan, a symbol of Chinese traditional culture in the form of martial arts that integrates mediation, which is still practiced across China as a common physical exercise.
Afterwards, you will ascend the well-preserved ancient
City Wall
to appreciate the panorama of the city of Xi'an. Perhaps you also want to take a cycle ride on the wall for a special experience - please note that the bike rental fee is at your expense.
Practice Tai Chi at the City Wall Park
Taste Authentic Local Food at Muslim Quarter
During lunch time, we will take you to taste local dishes at the
Muslim Quarter
, the liveliest snack street in China where you will find Islamic customs, intertwining alleyways, and countless Muslim snack stalls. Then continue to spend some hours in the tranquil
Great Mosque
, which features classical Chinese architecture. Out from the mosque, we will head for one of the most renowned museums in China –
Shaanxi History Museum
. Today's trip now reaches its end, and we will give you a ride to your hotel.
Meals: Western buffet breakfast, Local flavor lunch
Day 7
Xi'an to Guilin by Flight
Fly to Guilin and transfer to hotel; visit Reed Flute Cave and Elephant Trunk Hill. (B)
Today, you will board a flight to Guilin. Upon your arrival, your local guide will pick you up at the airport and transfer you to your hotel for a two-night stay. Have a break, and then you will visit
Reed Flute Cave
and
Elephant Trunk Hill
- the picturesque landmarks of Guilin City.
Meals: Western buffet breakfast
Accommodation: Sheraton Guilin Hotel





Day 8
Guilin - Yangshuo - Guilin
Take a Li River cruise from Guilin to Yangshuo; explore West Street and have a countryside tour; drive back to Guilin. (B+L)
Today will be one of the unforgettable experiences as you cruise down the beautiful
Li River
from Guilin to Yangshuo County. The river, with its serene sparkling water, is the essence of the city's landscape and known as the "Hundred Mile Gallery". After cruising about 4.5 hours and docking at Yangshuo, you will walk through the well-known
West Street
. Then you get to enjoy amazing rural scenery as we drive along the country roads of Yangshuo. En route, you will be invited to visit a villager's home. Finally, we will transfer you back to Guilin.
Appreciate the Stunning Landscape of Li River
Travel Tip: The cruise company offers a box lunch of Chinese food onboard. It's a simple one but it provides enough calories for your next hours' cruise. You can also prepare for it with a generous breakfast at the hotel.
Meals: Western buffet breakfast, Lunch
Day 9
Guilin to Chongqing by High Speed Train
Take a high-speed train to Chongqing and board the Yangtze River cruise ship. (B+D)
Take a morning high-speed train for around 5 hours to Chongqing. The train has a dining carriage where meals are sold at certain times. Also snacks, soft drinks and bottled water can be bought from a cart on the train.
Upon arrival, you will be met and then escorted to board the Century Oasis cruise ship for a three-night stay. After some rest in your private cabin, you will have an exclusive exquisite buffet dinner and be welcomed by a wine party at the invitation of the Captain. The ship sets sail at 22:00. Your relaxing Yangtze cruise journey is about to begin!
★
You will enjoy one of the most luxurious cruises on Yangtze River!
Century Oasis, a member of Century Cruises fleet, is carefully selected after field studies to provide you with luxurious 5-star services during your two-day tour on Yangtze River. As it was newly-built and launched in recent years, it has advanced amenities just as top-rated as any other services. The themed meals on each day, accompanied with free alcoholic drinks and night snacks are what make the ship we select stand out from others.
Meals: Western buffet breakfast and dinner
Cruises: Century Oasis





The Yangtze River Cruise Ship
Standard Cabin with Balcony
Day 10
Yangtze River Cruise
Take an onshore excursion to Ghost City, then enjoy your leisure time on board or participate in some cultural activities; three buffet meals a day plus midnight snacks are served. (B+L+D)
This morning, before cruising all the way down, we will first come ashore for a visit to the Ghost City in Fengdu County, a palace complex where you get to see what the underworld in Chinese folklores looks like. You get to pass the Guimen Guan, or Gate of Hell, and many attractions ahead to learn about Chinese ghost stories.

You will spend your afternoon onboard participating in activities scheduled by the cruise company. A lecture about the Three Gorges will be given to familiarize you with the site. You can also fly kite, watch cruise staff perform their skills, etc. You will eat buffets for all your meals today and tomorrow, and taste night snacks if you want to.

Meals: Full board served in buffet style
Day 11
Yangtze River Cruise
Admire Yangtze Three Gorges and take an onshore excursion to Shennv Stream. (B+L+D)
Today the ship will sail through the splendid Three Gorges. The first is the
Qutang Gorge
, which is only eight kilometers long but encompasses the most precipitous parts of the gorges. Then the ship will sail into the beautiful
Wu Gorge
. An excursion between two to three hours long along its tributary, the Shennv Stream, by sampan is arranged for you today. Afterwards, the ship will continue to sail into heavily-shoaled
Xiling Gorge
.
Take your time to eat a buffet dinner, and end today by enjoying artistic performances that are prepared for you.
Meals: Full board served in buffet style
Three Gorges Sightseeing
Sampan Adventure along the Shennong Stream
Day 12
Yichang to Shanghai by High Speed Train
Disembark from cruise ship and visit Three Gorges Dam; take a high-speed train to Shanghai and transfer to hotel. (B)
This morning, disembark from the ship and we will have an onshore excursion to visit the stunning
Three Gorges Dam site
, a world-renowned engineering feat built for flood control. Before that, please remember to pack your luggage and check out.
After finishing the excursion, the cruise ship company will drive you to the Three Gorges Tourist Center in Yichang City. Our local guide will meet you there and escort you to the railway station for a high speed train ride to Shanghai. It will be a 7.5-hour ride, so you might want to prepare in advance some snacks, fruits or some books to entertain yourself. Upon your arrival, our guide in Shanghai will greet you and transfer you to your hotel.
Meals: Western buffet breakfast
Accommodation: Radisson Blu Hotel Shanghai New World





Visit Shanghai Museum and Yu Garden; enjoy an a la carte farewell lunch; have a panoramic view of the city skyline, and then explore the Bund with a Huangpu River cruise tour. (B+L)
Today we will show you around the most important commercial and financial hub in China. The first destination is
Shanghai Museum
. There are all kinds of collections, with some rarities even commanding world-wide attention. Next, let's turn to
Yu Garden
, a bright pearl that shines for its typical South China classical garden style. The pavilions, terraces, towers, ponds and rockeries inside the garden are delicately laid out. They show ingenuity in compacting wide views into a confined space. Near the garden is a lively local bazaar. You may wish to enjoy some free time there.
The farewell
a la carte lunch
(valued at CNY150.00 per person and included in our price) will be served at a well-reputed restaurant featuring delicate Shanghai cuisine.
After lunch, we will come to Duoyun Bookstore on the 52nd floor of the tallest building in China, Shanghai Tower. Your guide will help you to get a drink or some refreshment there. Enjoy spectacular panoramic views of the city leisurely. Then we are lifted down to stroll
the Bund
, where you will have a one-hour
cruise tour
along the Huangpu River.
View the Landmark Buildings on the Bund
On completion of the trip, our guide and driver will transfer you back to the hotel and bid you farewell in the lobby.
Meals: Western buffet breakfast, A la carte farewell lunch
Day 14
Departure from Shanghai
Please check out before 12:00, and head for the airport in our recommended ways; a pleasant journey home! (B)
Your 2 weeks guided tour of China draws to a close today. You need to head to the airport for your homeward flight by yourself. As a metro station is just outside your hotel, you can take Metro Line 2 to Shanghai Pudong or Hongqiao International Airport. Or take a taxi to the airports, which costs around CNY200.00 and CNY100.00 respectively.

We wish you a happy flight home and hope we can serve you again in the future.

Meals: Western buffet breakfast
B-- Breakfast
L-- Lunch
D-- Dinner
Prices are per person on twin sharing basis; departures are guaranteed even with two persons!
Christmas & 2024 Special:
12% off
- Book before Dec 31, 2023
| Arrival Date | Departure Date | Double Occupancy | Single Room Supplement | |
| --- | --- | --- | --- | --- |
| Oct 06(Fri) | Oct 19(Thu) | USD3489 | USD1229 | |
| Oct 13(Fri) | Oct 26(Thu) | USD3489 | USD1229 | |
| Oct 20(Fri) | Nov 02(Thu) | USD3489 | USD1229 | |
| Oct 27(Fri) | Nov 09(Thu) | USD3419 | USD1309 | |
| Nov 03(Fri) | Nov 16(Thu) | USD3279 | USD1169 | |
| Nov 10(Fri) | Nov 23(Thu) | USD3279 | USD1169 | |
Remark: The prices in red reflect the current discount.
Prices are per person on twin sharing basis; departures are guaranteed even with two persons!
Christmas & 2024 Special:
12% off
- Book before Dec 31, 2023
Arrival Date
Departure Date
Double Occupancy
Single Room Supplement
Apr 08(Mon)
Apr 21(Sun)

USD3009

USD2647

USD1069
Apr 19(Fri)
May 02(Thu)

USD3009

USD2647

USD1069
May 10(Fri)
May 23(Thu)

USD3009

USD2647

USD1069
May 24(Fri)
Jun 06(Thu)

USD2949

USD2595

USD1059
Jun 10(Mon)
Jun 23(Sun)

USD2949

USD2595

USD1059
Jun 21(Fri)
Jul 04(Thu)

USD2949

USD2595

USD1059
Jul 05(Fri)
Jul 18(Thu)

USD3049

USD2683

USD1119
Jul 19(Fri)
Aug 01(Thu)

USD3049

USD2683

USD1119
Aug 02(Fri)
Aug 15(Thu)

USD3049

USD2683

USD1119
Aug 16(Fri)
Aug 29(Thu)

USD3049

USD2683

USD1119
Sep 06(Fri)
Sep 19(Thu)

USD3049

USD2683

USD1119
Sep 16(Mon)
Sep 29(Sun)

USD3049

USD2683

USD1119
Oct 07(Mon)
Oct 20(Sun)

USD3049

USD2683

USD1119
Oct 18(Fri)
Oct 31(Thu)

USD3049

USD2683

USD1119
Nov 01(Fri)
Nov 14(Thu)

USD2769

USD2436

USD1019
Nov 15(Fri)
Nov 28(Thu)

USD2769

USD2436

USD1019
Price Includes
Domestic airfares & train fares
Hotel accommodation with breakfasts
A la carte lunches as itinerary specifies
Professional English-speaking guides
Drivers & air-conditioned vehicles
Entrance fees to tourist sites
Yangtze River cruise with full board
Tips or gratuities for hotel porters
Price Excludes
International airfares
Entry Visa fees
Personal expenses
Tips or gratuities for guides and drivers
Why Travel With Us
Itineraries you may also like: