Yu Garden
Yu Garden, aka Yuyuan Garden, Yu Yuan in Chinese, is a classical garden ranking among the must-see attractions in
Huangpu District
, Shanghai. It dates back to the
Ming Dynasty
(1368-1644) and was owned by a government officer named Pan Yunduan. Yu in Chinese means pleasing and satisfying, and this garden was specially built for Pan's parents as a place for them to enjoy a tranquil and happy time in their old age.
Location: No. 137, Anren Street, Huangpu District, very close to the Old City God Temple
Age: over 400 years
Area: 20,000 square meters (about five acres)
Highlights: exquisite classical gardening art, rockeries and carvings, Yuyuan Bazaar
Best Seasons for Visit: spring and autumn
Time Needed for a Visit: 2 hours

What to See in Yu Garden
Yu Garden is small in size, but it contains all elements that a classical Chinese garden should have. The pavilions, halls, rockeries, ponds and cloisters all have unique characteristics. There are some highlights in the garden that you can't miss.

Great Rockery
Upon entering Yu Garden, you will encounter a rockery, which is called the Great Rockery. With a height of 14 meters (about 50 feet), it is the largest as well as the oldest rockery in the southern region of the Yangtze River. On the top of the rockery, you can get a bird's eye view of the garden.

Cuixiu Hall
Cuixiu Hall sits at the foot of the Great Rockery. It is a quiet and elegant place surrounded by old trees and beautiful flowers. Visitors can find curio shops in the Cuixiu Hall.

Sansui Hall
Sansui Hall was originally used to entertain guests. Later it became a place to hold ceremonies for the gentlemen and bookmen. With a height of nine meters (about 30 feet) and featuring five halls, it is the most commodious structure in the garden. The name Sansui is derived from the book History of the Later Han Dynasty, and means 'propitious' and 'lucky'.

Wanhua Chamber
Wanhua Chamber is a delicate building surrounded by derious cloisters. Spring bamboos grow beside the cloisters. In front of Wanhua Chamber, there are two old trees. One is a ginkgo which is 21 meters tall (about 70 feet). It is said that the tree was planted by the owner of Yu Garden 400 years ago.

Exquisite Jade Rock
The true treasure of Yuyuan is the Exquisite Jade Rock, one of the three most famous rockeries in south China. The rock is 3.3 meters (about 10.8 feet) in height and has 72 holes. What is interesting about this rock is that if you burn a joss stick just below the rock, the smoke will magically float out from all of the holes. Similarly, when you pour water into the rock from top, the water will flow out from each hole creating a spectacular sight to see. Yuhua Hall facing the rock was built particularly for appreciating it. The furnishings in the hall were made of top grade rosewood of the Ming Dynasty, appearing both natural and graceful.

What to Do in Yu Garden Area
Yu Garden Shopping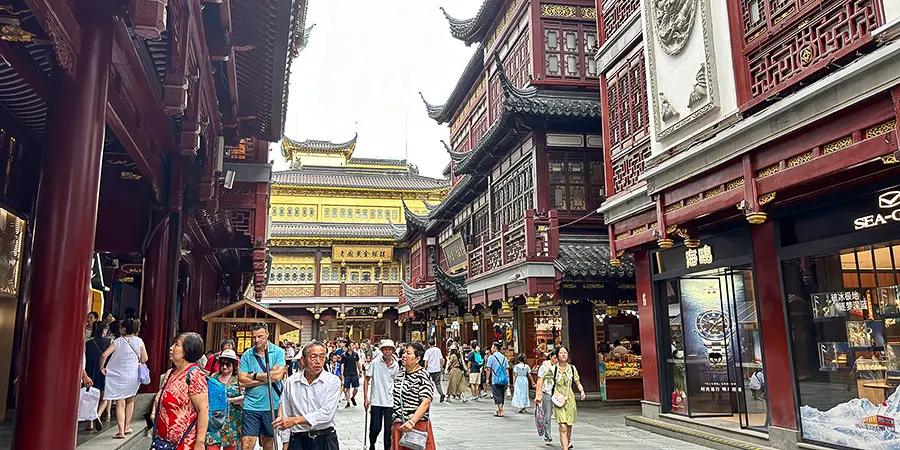 On the periphery of Yu Garden, there is the Yuyuan Bazaar, where visitors can buy all kinds of souvenirs like foods, craftworks, and jewels. Bargaining is necessary.

Appreciating the Night View on the Nine Bend Bridge
The zigzag Nine Bend Bridge is a part of Yu Yuan Shanghai, but outside the area that charges entrance fee. At night, colorful lights on both sides of the bridge are attractive. During the Chinese New Year, lantern exhibitions will be held there, adding more charm to the night piece.

Tasting the Nanxiang Steamed Buns
Nanxiang Steamed Buns with Stuffing is particularly famous in Shanghai and there is a branch at the end of Nine Bend Bridge. The buns are soft and juicy with thin skin. Do not forget to have a taste during your visit.

How to get to Yu Garden Shanghai

By Bus:
1. Take bus 64, 736, 805, 920, 911, or 930 and get off at Xinbeimen Station, and then walk along Anren Street to reach the garden.
2. Take City Sightseeing Bus Line 1, or 3 to get there.



By Metro:
Take Metro Line 10 and get off at Yuyuan Station. Leave from Exit 1.
Shanghai Bus / Metro Search
Entrance Fee
Apr. - Jun. & Sep. - Nov.: CNY 40
Jul. & Aug. & Dec. - Mar.: CNY 30
Free for children under 1.3m (4.3ft) or no more than 6 years old.
Half price for seniors over 60.
Opening Hours
9:00 - 16:30 (Ticketing stops at 16:00.)
Closed on Monday, except national holidays.

See also:

Places of Interest in Shanghai: 12 Historical Sites to Explore

15 Most Beautiful Places in Shanghai in Spring

Where to Go in Shanghai in Autumn - 11 Best Destinations

Top 10 Places for a Shanghai Visit in Winter

Top 10 Shanghai Tourist Spots for Solo Travelers
Print
- Last updated on Sep. 22, 2023 by Gabby Li -
Questions & Answers on Yu Garden
Asked by Lilla from HUNGAR | Sep. 09, 2023 10:43

Reply
Visiting Yu garden 1st october
We are visiting Shanghai in the beginning of October and planning to go to Yu Garden on the 1st oct (sunday).
Do we need to buy ticket in advance or can we buy when we arrive there? We will go with a group of 22 people. Thank you!
Answers (3)
Answered by Andrew | Sep. 11, 2023 19:58

0

0

Reply
You'd better make a reservation in advance. October 1 coincides with the China's National Day holiday and there will be a lot of visitors during that period, so tickets of many scenic spots will be sold out days before.

BTW, hotel prices will be much higher during the holiday.
Answered by Lilla | Sep. 16, 2023 09:57

0

0

Reply
Thank you!
We are travel to a sport competition, so we cant chose another date :)
Where can i book tickets? I found more website, but i dont know which one is the official and most reliable.
In one website i found the admission ticket for 40CNY, but the service fee is 30CNY, so its totally 70CNY. Is it the normal price?
Thank you for your help!
Answered by Andrew | Sep. 17, 2023 19:00

0

0

Reply
As I know, you can book tickets on its official website or WeChat account. However, they are all in Chinese. Some websites offer the booking service but you need to pay extra service fee (CNY30 is the average level).

Buying at the spot is also available but it's risky during China holidays, as mentioned above they may be sold out days before.
Asked by Emma from CHINA | Jul. 04, 2020 07:27

Reply
Will yu garden be open in July? Are there any restrictions due to covid?
Answers (1)
Answered by Paloma from CANADA | Jul. 06, 2020 01:58

0

0

Reply
Yes, as I know, it opens in July. But you need to show your green health code.
Asked by Bo from KOREA | Dec. 06, 2019 18:54

Reply
I will be in Shanghai only on Monday(12/23) but I saw the Monday closing notice.
If I visit on Monday then I can't see any part of Yu garden?
Answers (1)
Answered by Mason from CANADA | Dec. 09, 2019 19:31

0

0

Reply
Yes, the whole garden will be closed on Monday.
Asked by Adriana Pineda from USA | Dec. 01, 2019 16:48

Reply
Has Yu Garden reopened already?
Answers (1)
Answered by Ada from NEW ZEALAND | Dec. 04, 2019 19:15

0

0

Reply
From December 2, 2019, it will be closed on Mondays every week.
Asked by Jim Conrad from PHILIPPINES | Nov. 09, 2019 04:13

Reply
Yu Garden reopening date
Hi, I'm confused if Yu Garden will be open starting 16 November or if it is still closed until 16 November, making the reopening date on 17th instead. Can you clarify this please?
Answers (2)
Answered by Melin from INDIA | Nov. 10, 2019 01:36

0

0

Reply
Yesterday we visited and mentioned that it will be opened on 16th November
Answered by Jim Conrad from PHILIPPINES | Nov. 10, 2019 03:49

0

0

Reply
Thank you very much! I will visit on 16th, that is my initial plan. I worried that it would be 17th because I got confused with the statement "closed until 16 November". That's wonderful, I don't have to change itinerary schedule anymore.