Oriental Pearl Tower
Facts

Established since: 1991


Completed in: 1995


Overall Height: 468 meters (1,536 feet)


Height of Observation Decks:
351m (1,152ft): Space Capsule
267m (876ft): Revolving Restaurant
263m (863ft): Sky Galleria
259m (850ft): Transparent Sky Walking
90m & 98m (295ft & 322ft): Game City including an indoor roller coaster
78m (256ft): "Future Shanghai" Multimedia Show

Shanghai Oriental Pearl Tower is located in Pudong Park in Lujiazui, Pudong New Area, Shanghai. Surrounded by the Yangpu Bridge in the northeast and the Nanpu Bridge in the southwest, it creates a picture of 'twin dragons playing with pearls'. The entire scene is a photographic jewel that excites the imagination and attracts thousands of visitors year-round.

This 468 meters (1,536 feet) high tower is the world's sixth and China's second tallest TV and radio tower. However, even more alluring than its height is the unique architectural design that makes Oriental Pearl Tower one of the most attractive places anywhere. Its base is supported by three seven-meter wide slanting stanchions. Surrounding the eleven steel spheres that are 'strung' vertically through the center are three nine-meter wide columns.

There are three large spheres including the top sphere, known as the space module. Then there are five smaller spheres and three decorative spheres on the base. The entire structure rests on rich green grassland and gives the appearance of pearls shining on a jade plate.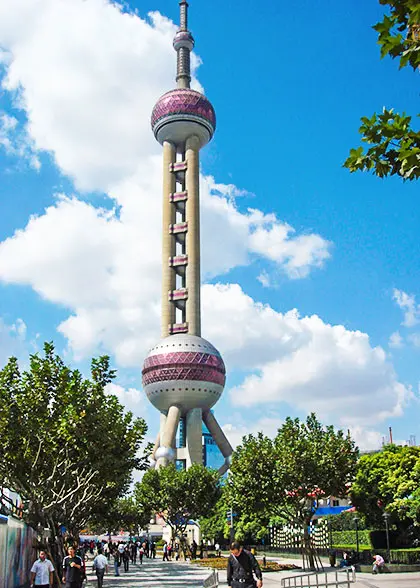 Oriental Pearl Tower
Visitors travel up and down the Oriental Pearl Tower in double-decker elevators that can hold up to fifty people at the rate of seven meters per second. The elevator attendants recite an introduction to the TV Tower in English and Chinese during the rapid 1/4-mile ascent. Once you reach your destination, you will be amazed at the variety of activities available as the various spheres and columns actually house places of interest, commerce, and recreation.

The inner is a recreational palace, while the Municipal History Museum is located in the tower's pedestal. The large lower sphere has a futuristic space city and a fabulous sightseeing hall. From here, on a clear day a visitor can see all the way to the Yangtze River. The base is home to a science fantasy city. The five smaller spheres are a hotel that contains twenty-five elegant rooms and lounges. The pearl at the very top contains shops, restaurants, (including a rotating restaurant) and a sightseeing floor. The view of the city from this height fills you with wonder at the beauty that surrounds you. When viewed from the Bund at night, the three-dimensional lighting makes it a delight of brilliant color.

It is amazing that this ultra-modern Oriental Pearl TV Tower combines ancient concepts such as the spherical pearls, with 21st Century technology, commerce, recreation, educational and conference facilities. It really is a TV and radio tower that services the city with more than nine television channels and upwards of ten FM radio channels. Truly, 'oriental pearl' is the most suitable name for it.
The Tower and
Other Skyscapers at Night
Oriental Pearl Tower Tickets Price
Ticket Types
Price
Includes
Deluxe Package
CNY 260
263m

Sky Galleria + 259m Transparent Sky Walking + 78m "Future Shanghai" Multimedia Show +

Shanghai History Museum + Huangpu River Cruise
Superior Package
CNY 220

351m Space Capsule +

263m

Sky Galleria + 259m Transparent Sky Walking + 78m "Future Shanghai" Multimedia Show +

Shanghai History Museum
High-value Package
CNY 190
263m

Sky Galleria + 259m Transparent Sky Walking + 78m "Future Shanghai" Multimedia Show +

Shanghai History Museum + Landmark Paradise
Standard Package
CNY 160
263m

Sky Galleria + 259m Transparent Sky Walking +

Shanghai History Museum
Shanghai History Museum
CNY 35
Shanghai History Museum
Landmark Paradise
CNY 120
Landmark Paradise
* Children below 1 meter (3.3 feet) are admitted for free while those who are between 1 and 1.4 meters (3.3 and 4.6 feet) enjoy 50 percent discount.
Opening Hours
8:00 - 21:30

Revolving Restaurants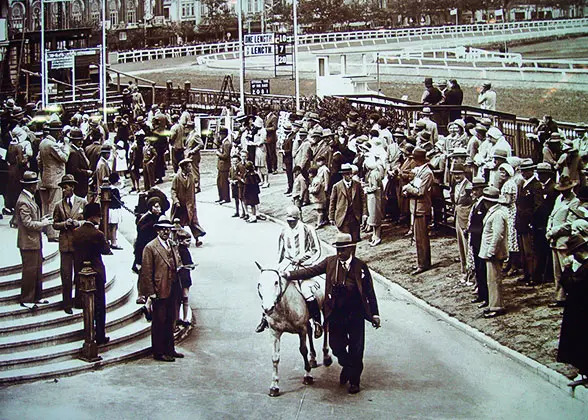 Photo of Old Shanghai in the Municipal
History Museum
There is a revolving restaurant inside the second sphere of the Oriental Pearl Tower. The restaurant mainly offers buffet of western style. While dining, customers can appreciate the beautiful scene of the city. Besides, customers of the revolving restaurant can enjoy free visit of the tower, including the three spheres and the Municipal History Museum. The cost of the restaurant is listed here for your reference:
Buffet Lunch: 11:00-14:00; CNY 338 / person
Buffet Dinner: 17:00-21:00; CNY 378 / person
Note: Both buffet packages include:
267m Revolving Restaurant Buffet +
263m
Sky Galleria + 259m Transparent Sky Walking + 78m "Future Shanghai" Multimedia Show +
Shanghai History Museum
How to get to the Oriental Pearl Tower
Take the Bund Sightseeing Tunnel across the Huangpu River, and get off at the Pudong side.
By Metro:
Take
Metro Line 2
and get off at Lujiazui Station. Get out from Exit 1 and you can see the Oriental Pearl Tower.
By Bus:
1. Take bus 81, 82, 314, 939, 993, Cailu Special Line, Lujiazui Financial City Line 1 or Lujiazui Financial City Loop Line and get off at Lujiazui Huanlu Fenghelu Station.
2. Take
City Sightseeing Bus
Line 2 and get off at Dongfang Mingzhu Guangbo Dianshita (Oriental Pearl Tower) Station.
Shanghai Bus / Metro Search
Tip
After touring around, visitors can have a Huangpu River cruise if you like. The cost of the cruise varies according to the ships you choose.



Neighboring Attractions:


World Financial Center


Jin Mao Tower


Shanghai Tower


Shanghai Ocean Aquarium


Natural Wild Insect Kingdom


The Bund


Bund Sightseeing Tunnel



Read more:


Top 10 Things to Do in Shanghai


10 Cool Things to Do in Shanghai for Youngsters


Top 10 Places for a Shanghai Visit in Winter


15 Things to Do in Shanghai with Kids


7 Crazy Things to Do in Shanghai for Adventurous Tourists


Best Shanghai Observation Decks on 4 Super Skyscrapers


Top 10 China Tourist Attractions List


Top 10 Shanghai Tourist Spots for Solo Travelers
Print
- Last updated on Apr. 24, 2023 by Catherine He -
Questions & Answers on Oriental Pearl Tower
Asked by Mylene from PHILIPPINES | Jan. 04, 2020 18:25

Reply
What time does Oriental Pearl Tower Municipal History Museum open during Sundays?
Answers (1)
Answered by Gina from CANADA | Jan. 06, 2020 17:13

0

0

Reply
It opens from 8:00 to 21:30.
Asked by Dinh Luong from VIETNAM | Nov. 11, 2019 02:26

Reply
How To Book Deluxe Package of Shanghai Huangpu River Cruise
1/ How to book the Deluxe Package on this site?
I would like to buy the ticket for the deluxe package (include a ticket for Huangpu River Cruise) but I can't see any option to choose when clicking "Ticket booking" box.
2/ The "Huangpu River Cruise" in this package is the same when I buy a separated ticket for the Huangpu River Cruise package only?
Answers (1)
Answered by Liz from SINGAPORE | Nov. 13, 2019 17:39

0

0

Reply
Well, this website doesn't provide ticket booking service. You are suggested to buy the ticket at No.481, East Zhongshan Road, which is also the boarding site.
Asked by Deyl from PHILIPPINES | Aug. 27, 2019 01:33

Reply
Best place to take photos
We won't be going inside the towers however do anyone knows where is the best place to take photos of The Tower and other skyscrapers?
Answers (2)
Answered by Amanda from SPAIN | Aug. 28, 2019 01:47

0

0

Reply
I guess you can find a good location in the Bund.
Answered by Joe from CHINA | Sep. 23, 2019 02:51

0

0

Reply
Hi, the flyover near the tower is also a good place.
Asked by John from AUSTRALIA | Jun. 06, 2019 18:49

Reply
Oriental Pearl Tower restaurant
Can you email the restaurant for a booking or do you have to call?
John
Answers (1)
Answered by Daisy from USA | Jun. 10, 2019 19:14

0

0

Reply
You can book it in advance online, which might be difficult for foreigners. You can also go to it and wait in line.