Shanghai World Financial Center
Standing in the center of Lujiazui in Pudong New Area and neighboring Shanghai Tower and Jin Mao Tower, Shanghai World Financial Center (SWFC) is the second tallest skyscraper in the city up to now. From the exterior, the structure looks like a bottle opener and that's exactly its nickname.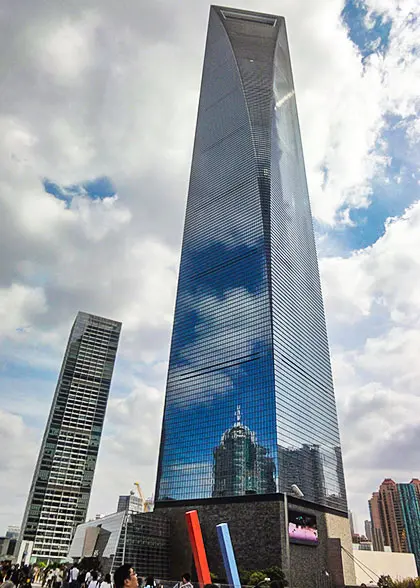 SWFC
Aiming to be a magnet of the world's finance, Shanghai WFC boasts functions of first class financial centers, able to showcase monetary talents, cultural and art exhibitions and information from all over the world. For tourists, it's more of a hot attraction featuring the sightseeing observatories and the Park Hyatt Hotel.
Shanghai World Financial Center Facts
Location: in the center of Lujiazui, Pudong New District
Designing Architect: Kohn Pedersen Fox architectural firm & Mori Building Corporation of Japan
Construction started in: 1997
Completed in: 2008
Height: 492 meters (about 1,614 feet)
Floors: 3 underground, 101 above ground
Observation Decks: 94F, 97F, 100F

Functions of Main Floors
| | |
| --- | --- |
| 94-100F | Sightseeing |
| 79-93F | Park Hyatt Hotel |
| 3-5F & 7-77F | Meeting facilities and offices |
| B2F ~ 3F | Shopping malls, restaurants |
Sightseeing Arena on 94F (423 meters / 1,388 feet)
It provides a perfect and extensive view of Shanghai along the Huangpu River. The 750-square-meter (about 897-square-yard) sightseeing hall is also suitable for exhibitions. A café bar and a souvenir store can be found there.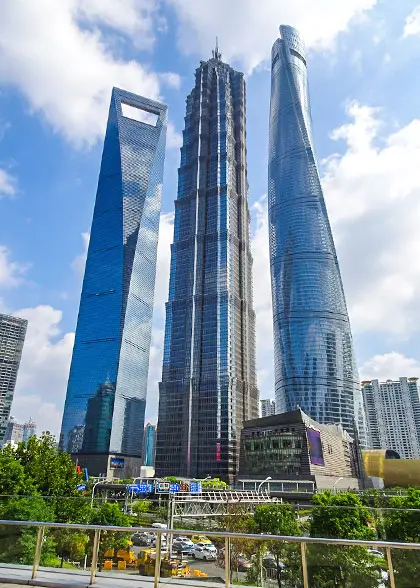 World Financial Center, Jinmao
Tower and Shanghai Tower
Sightseeing Observatory on 97F (439 meters / 1,440 feet)
Parapets in the window on 97F provide a place to take pictures. The open skylighted ceiling shows ingenuity in design. In good weather, it can be opened, turning the hall into an overpass in the air.

Sightseeing Skywalk on 100F (474 meters / 1,555 feet)
It is a 55-meter-long (60-yard-long) corridor. While wandering on the floor made of transparent glass, you can see the top of the Oriental Pearl Tower just in front and feel as if you are walking in the air above the roof of the Jin Mao Tower. Vehicles, pedestrians and even the whole city seem to be far away, down below.

Taking a Bird's View from the Park Hyatt Hotel in SWFC Shanghai
There is also a beautiful sight of the whole city from the Park Hyatt Hotel. The hotel's lobby, with a cocktail bar, is on the 87th floor. Overlooking the entire city from the 100 Century Avenue Restaurant on the 91st floor appeals to all senses, with a perfect perspective to see the top of the near neighbor Jin Mao Tower, the Oriental Pearl Tower, the full extent of Pudong, as well as many symbolic landmarks of Shanghai.

How to get to Shanghai World Financial Center
Shanghai Bus / Metro Search
By bus:

1. Take bus Lujiazui Financial City Line 2 or Lujiazui Financial City Loop Line and get off at Dongtailu Shijidadao Station.
2. Take bus 583, 799, or 939 and get off at Huayuan Shiqiaolu Dongtailu Station.
3. Take bus 791, 870, 961, or 985 and get off at Lujiazui Huanlu Dongtailu Station.
4. Take bus 01, 798, 992, Lujiazui Financial City Line 3, or Lujiazui Financial City Line 4 and get off at Shiji Dadao Pudong Nanlu Station.

By regular shuttle bus:

There are regular shuttle buses between SWFC and the HSB Building from 9:00 to 18:00. They are free of charge and leave every 60 minutes (30 minutes at noon).

By metro:

Metro Line 2: get off at Dongchang Road Station, get out of the station from Exit 4; or get off at Lujiazui Station and get out of the station from Exit 6. Then walk 10 minutes towards the building.

By ferry:
From the Bund, take ferry to Dongchang Road Pier and then walk 10 minutes to the building.
By tunnel:
Take Tunnel Line 3 or Line 6 and get off at Shiji Dadao Pudong Nanlu Station.
| | |
| --- | --- |
| | Entrance to the SWFC Observatory |
Travel Information about the Sightseeing Observatories
Where to find the entrance?
There are many elevators leading to different parts of the building. Elevator to the observatories can be found in Basement 1 on the west side of the building (just opposite to the Jin Mao Tower). Tickets are sold here and visitors can take the direct elevator to the sightseeing platform. It takes 66 seconds from the entrance to reach the 94th floor. The Park Hyatt Hotel has its own guest elevators from the south side of the building.

Entrance Fee
94F Only
Combo Ticket for 94F, 97F and 100F
Adults
CNY 120
CNY 180
Children between 1 and 1.4m (3.3 and 4.6ft) and the disabled
CNY 60
CNY 90
Kids below 1m (3.3ft)
Free of charge
Opening Hours
11:00-21:00 every day (last entry at 20:00)

Recommended Tour including the visit to World Financial Center:
3 Days Tour of Shanghai


Read more:

10 Cool Things to Do in Shanghai for Youngsters

12 Popular Shanghai Activities to Survive Summer

6 Shanghai Must-Visit Places in January

8 Fun Things to Do in Shanghai with Family

7 Crazy Things to Do in Shanghai for Adventurous Tourists

Best Shanghai Observation Decks on 4 Super Skyscrapers
Print
- Last updated on Apr. 24, 2023 by Catherine He -