Shanghai Tower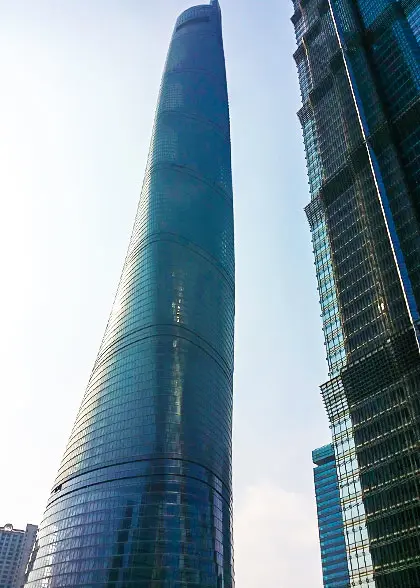 Shanghai Tower
Shanghai Tower Facts

Chinese name: 上海中心大厦 (shàng hǎi zhōng xīn dà shà)


Location: 501 Middle Yincheng Rd, Pudong


Height: 632 m (2,073 ft)


Floors: 127 floors above and 5 floors below ground

Shanghai Tower is in Lujiazui Finance and Trade Zone of Pudong, with Shanghai World Financial Center to the east and Jin Mao Tower to the north. The tower ranks as China's tallest building and second only to the world at large. The foot print takes up 30,368 square meters (about 326,878 square feet) with floor space of about 576,000 square meters (about 6,200,012 square feet), with 5 basement levels, 127 floors above ground and 5 podium floors.

Shanghai Tower Observation Deck

Location: 118th Floor


Height: 546 meters (1,791 ft)
For tourists, a Shanghai Tower visit would not be completed unless including a climb to the 'Top of Shanghai Observatory', which is the world's highest indoor observation deck. From this height, one can enjoy a unique panoramic view of the Huangpu River, the Bund on the west, and several other skyscrapers like the Jin Mao Tower and the World Financial Center on the east bank. Tourists are recommended to visit the exhibition hall on floor B1 first, and then take the express elevator to the 118th floor directly within only 55 seconds. At last, see the exhibition of 'Shanghai Eye' on the 125th and 126th floors if time permits.

Shanghai Tower Construction
Because Shanghai is on a inactive seismic belt and the construction site is in a river basin, a firm foundation for this skyscraper is very important. To firm up the ground, engineers first put 980 foundation piles underground to a depth of 86 meters (282 feet), and then poured 61,000 cube meters (2.15 million cube feet) of concrete to set a 6-meter-thick (20-foot-thick) baseboard for anchoring the main building.

The exterior of the building spirals upward like a snake. It twists about one degree per floor to offset the wind effect on higher altitude. This is very important to a super tall building in Shanghai to withstand frequent typhoons.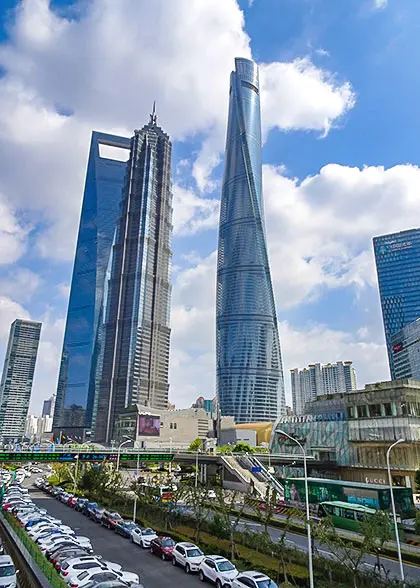 Skyscrapers Cluster in Pudong
The tower sports two glass facades, an inner one and an outer one, like overlapping "tubes". The space between the two "tubes" varies from 1 to 10 meters (3 to 33 feet) wide, providing more public space inside the building. At the mean time, the space functions as a heat insulation layer like in a thermos flask. This is environment-friendly and costing less.

Shanghai Tower Elevators
The building is serviced by 149 elevators, of which 108 are lifts. Three of the lifts can send passengers up to the 546 meters (1,791 ft) high sightseeing deck from street level within one minute, which is a world record holder.

Divisions & Functional Areas
As a complex super tall building, the Tower is subdivided into five main functional areas: 24-hour offices for multinational companies and financial services; super five-star hotels and support facilities, offering personalized service and amenities; high end retail shops etc; recreation zone, forming a new business and cultural center in the city, a clear departure from ghost town image of Lujiazui after working hours; conference facilities, including sightseeing rooms in upper floors, and a multifunction conference center measuring over 2,000 square meters (about 21,528 square feet) and a multifunction banquet hall measuring more than 1,000 square meters (about 10,764 square feet) in podium building.

How to get to Shanghai Tower
By Metro:
Take
Metro Line 2
and get off at Lujiazui Station. Get out from Exit 6 and walk 500 meters (550 yards) south.
By Bus:
1. Take
City Sightseeing Bus
Line 2 and get off at Jin Mao Tower.
2. Take bus 583, 799, 939, or Lujiazui Financial City Line 2 and get off at Huayuan Shiqiaolu Dongtailu Station.
3. Take bus 791, 870, 961, 985 or Lujiazui Financial City Loop Line to Lujiazui Huanlu Dongtailu Station and then walk there.
By Ferry:
Take ferry Dongjin Line or Dongfu Line and get off at Dongchang Road, then walk to the skyscraper.
Shanghai Bus / Metro Search
Shanghai Tower Price for the Observation Deck
Adult: CNY 180
Children between 1 and 1.4 meters (3.3 and 4.6 feet): CNY 90
Free for children under 1 meter.
Opening Hours
8:30 - 22:00; ticket sale stops at 21:30
| | |
| --- | --- |
| Pudong New Area | Skyscrapers in Pudong New Area |

Nearby Attractions:

Oriental Pearl Tower

Shanghai Ocean Aquarium

Natural Wild Insect Kingdom

Top 10 Things to Do in Shanghai
- Last modified on Feb. 15, 2019 -
Questions & Answers on Shanghai Tower
Asked by Ursula Schiemer from AUSTRALIA | Feb. 13, 2019 01:40

Reply
I want to visit the Shanghai Tower observation floor (118th) at sunset (18.30) on May 3rd.
Can I purchase a ticket ahead of time and perhaps have it delivered to my hotel? What is the cost? Is there a discount for seniors? Thanks Ursula Schiemer
Answers (1)
Answered by Ethan from UKRAINE | Feb. 15, 2019 00:17

0

0

Reply
Well, the online booking page only has Chinese version. If you have Chinese friend, you can ask help for them. If not, just purchase the ticket when you arriving at the scenic area.
In addition, the elder people above 60 years old can enjoy the discount ticket. You need to bring the passport.
Asked by Mej from ARMENIA | Jan. 19, 2019 18:20

Reply
Ticket price of Shanghai Tower.
I heard ticket price for the students are Half of an adult. Is it correct? If yes is it applicable for international students as well?
Answers (1)
Answered by Arien from SINGAPORE | Jan. 21, 2019 19:52

0

0

Reply
As I know, there is no half price student ticket. Students can only enjoy some discounts when purchase the ticket. For international students under 23 years old, they can purchase the discount ticket by showing the valid certificates.
Asked by Peter from CANADA | Dec. 21, 2018 12:30

Reply
Is photographing in Shanghai Tower allowed? How long is one allowed on the Observation Deck?
Answers (1)
Answered by Victoria from UKRAINE | Dec. 26, 2018 18:57

0

0

Reply
Yes, the photographing is allowed. As I know, there is no limitation about the time on the observation deck.
Asked by M Norman Rushworth from UK | Feb. 07, 2018 10:27

Reply
I arrive at Hotel Rainbow 2000 West Yan An Road pm on 24.02.18.
Will I have time to visit Shanghai Tower that afternoon. How long will it take me to travel from the hotel to the tower and how much will it cost for an OAP? What time does it get dark in February?
Answers (1)
Answered by Helen from FRANCE | Feb. 07, 2018 20:23

0

0

Reply
You can take a taxi, and the fare is around 40RMB, the duration is no more than 20mins. As for night time, the sunset is around 17:50.
Asked by Sharlene Furuto from USA | Sep. 23, 2017 22:54

Reply
Advance tickets for specific day and time for Shanghai Tower?
We will be arriving on Friday afternoon October 20, 2017 and leaving early Monday morning October 23, 2017. Should we buy tickets in advance? Can we purchase tickets to the tower for a specific entry time and day?

What day and time would you suggest for a day view?

Is the visibility usually better during the morning, afternoon, or evening hours?

When are the ques shortest from Friday afternoon to Sunday nights?
Answers (3)
Answered by Nigel from SINGAPORE | Sep. 25, 2017 22:23

0

0

Reply
Yes, you are suggested to book the tickets in advance. Here is the official number: 86-029-61999766, by dialing which maybe the booking can be done.

And you are suggested to go there in the afternoon, when you can enjoy the beautiful sunset.
Answered by Sharlene B Furuto | Sep. 26, 2017 03:32

0

0

Reply
Thanks Nigel for your response! Please also answer: Is the visibility usually better during the morning, afternoon, or evening hours?

When are the ques generally shortest from Friday afternoon to Sunday nights? Friday afternoon? Saturday mid-day? Etc?
Answered by Ellen from AUSTRALIA | Sep. 26, 2017 21:16

0

0

Reply
You should buy the tickets in advance since there always so many people visiting the place. By the way, I'm sure the number is 86-021-61999766!

As the highest building in the city, you can enjoy the most wonderful scenery, including Oriental Pearl, Expo Park and Huangpu River.

I also suggest you to go there in afternoon, since you can enjoy the beautiful day scenery, and later, the night scene.

As for ques, I have no idea what it's about. Would you please clarify?