Shanghai Tower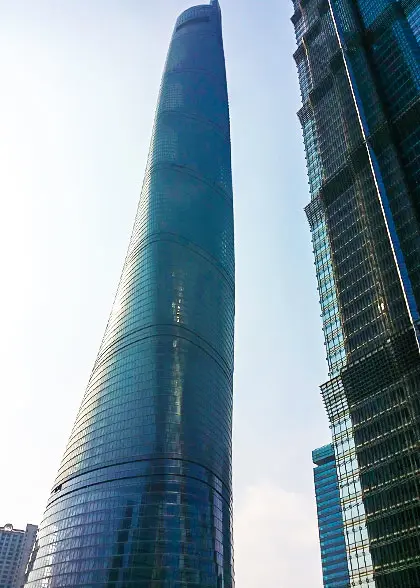 Shanghai Tower
Shanghai Tower is in Lujiazui Finance and Trade Zone of Pudong, with Shanghai World Financial Center to the east and Jin Mao Tower to the north. The tower stands 632 meters (about 2,073 feet) high and ranks as China's tallest building and second only to the world at large. The foot print takes up 30,368 square meters (about 326,878 square feet) with floor space of about 576,000 square meters (about 6,200,012 square feet), with 5 basement levels, 127 floors above ground and 5 podium floors. Visitors can take the express elevator to the sightseeing deck on the 119th floor directly and a whole ride only takes 55 seconds.

As Shanghai is on a seismic belt and the construction site is in a river basin, a firm foundation for this skyscraper is very important. To firm up the ground, engineers first put 980 foundation piles underground to a depth of 86 meters (282 feet), and then poured 61,000 cube meters (2.15 million cube feet) of concrete to set a 6-meter-thick (20-foot-thick) baseboard for anchoring the main building.

The exterior of the building spirals upward like a snake. It twists about one degree per floor to offset the wind effect on higher altitude. This is very important to a super tall building in Shanghai to withstand frequent typhoons.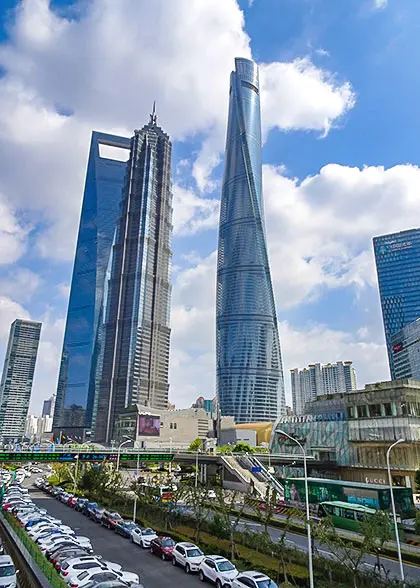 Shanghai Tower, Jinmao Tower
and World Financial Center
The tower sports two glass facades, an inner one and an outer one, like overlapping "tubes". The space between the two "tubes" varies from 1 to 10 meters (3 to 33 feet) wide, providing more public space inside the building. At the mean time, the space functions as a heat insulation layer like in a thermos flask. This is environment-friendly and costing less.

As a complex super tall building, Shanghai Tower is subdivided into five main functional areas: 24-hour offices for multinational companies and financial services; super five-star hotels and support facilities, offering personalized service and amenities; high end retail shops etc; recreation zone, forming a new business and cultural center in Shanghai, a clear departure from ghost town image of Lujiazui after working hours; conference facilities, including sightseeing rooms in upper floors, and a multifunction conference center measuring over 2,000 square meters (about 21,528 square feet) and a multifunction banquet hall measuring more than 1,000 square meters (about 10,764 square feet) in podium building.

The building is serviced by 149 elevators, of which 108 are lifts. Three of the lifts can send passengers up to the 500 meters (about 1,640 feet) high sightseeing platform from street level within one minute, which is a world record holder.


How to get to Shanghai Tower
By Metro:
Take
Metro Line 2
and get off at Lujiazui Station. Get out from Exit 6 and walk south for about 500 meters (550 yards) to Shanghai Tower.
By Bus:
1. Take
City Sightseeing Bus
Line 2 and get off at Jin Mao Tower.
2. Take bus 583, 799, 939, or Lujiazui Financial City Line 2 and get off at Huayuan Shiqiaolu Dongtailu Station.
3. Take bus 791, 870, 961, 985 or Lujiazui Financial City Loop Line to Lujiazui Huanlu Dongtailu Station and then walk there.
By Ferry:
Take ferry Dongjin Line or Dongfu Line and get off at Dongchang Road, then walk to the skyscraper.

Shanghai Bus / Metro Search
Entrance Fee for the Sightseeing Deck
Adult: CNY 180
Children between 1 and 1.4 meters (3.3 and 4.6 feet): CNY 90
Free for children under 1 meter.
Opening Hours
8:30 - 22:00; ticket sale stops at 21:30
| | |
| --- | --- |
| Pudong New Area | Skyscrapers in Pudong New Area |

Nearby Attractions:

Oriental Pearl TV Tower

Shanghai Ocean Aquarium

Natural Wild Insect Kingdom