Pudong New Area, Shanghai
Pudong New Area Facts
Chinese Name: 浦东新区 (pǔ dōng xīn qū)
Population: 5,501,000
Area: 1,210 square kilometers (467.2 square miles)
Location: in the east of Shanghai City, east China
Area Code: 021
Zip Code: 200120
GDP (2018): CNY 1,046 billion (USD 158.1 billion)

Best Places to Visit & Top Things to Do in Pudong New Area
You may need 1-2 days for Pudong New Area travel in modern skyscrapers, Chuansha Ancient Town, Shanghai Wild Animal Park, Shanghai Science Center and other tourism attractions.
Visit Modern Skyscrapers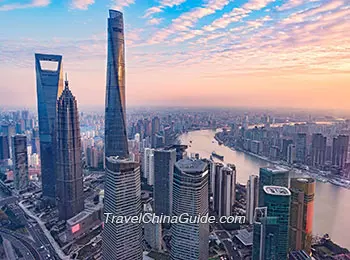 Skyscrapers in Pudong

Shanghai Tower
As the highest skyscraper in Shanghai, it is 632 meters (2,073 feet) high with 119 floors. Travelers can overlook the whole city on the 118th floor and enjoy the light show on holidays.

Shanghai World Financial Center
Located in Lujiazui, it is 492 meters (1,614 feet) high with 101 floors above ground. Travelers can go sightseeing on 94th – 100th floor. And the high-speed elevator is with a maximum speed of 8 meters per second which only takes 66 seconds to the 95th floor.



Oriental Pearl Tower
It is one of the iconic cultural landscapes in Shanghai. Travelers can have a full view of the city on the sightseeing floor, have delicious dishes in the revolving restaurant and experience the unique Shanghai culture in the exhibition hall.

Jin Mao Tower
With 420.5 meters (1,780 feet) high, there are 88 floors of the main building and the sightseeing hall is on the top. The outer wall is made up of large glasses which reflect in different shades and colors.
Chuansha Ancient Town
Chuansga is the hometown of Shanghai Opera, a gathering place for opera fans. With more than 500-year-history, Chuansha Ancient Town still remains an ancient wall from the Ming Dynasty (1368 – 1644). There is a great combination of western and Chinese elements, such as the Catholic Church which will leave you a deep impression.
Others:
Long Museum
Best Time to Visit Pudong New Area
The best time to visit Pudong New Area is from March to May and from September to November with a temperature of 15-21℃ (59-69.8℉). It is located in the coastal area where the East Asian monsoon prevails, and the climate in Pudong New Area Shanghai belongs to the subtropical monsoon climate. With distinct four seasons, there are abundant rainfalls, sufficient sunshine and suitable temperature. The annual average temperature is 16℃ (61℉). You should pay attention to that from April to September is the rainy season.
During March and May, the peach blossoms will be in full bloom, it is the best time to admire the beauty of flowers.
-
Within the city area, Metro Line 2, 4, 6, 7, 8, 9, 11, 12, 13, 16 are available. The taxi charges CNY 14 for the first 3 km, CNY 2.4/km for no more than 10 km, and CNY 3.6/km for subsequent distance. It may cost CNY 140-150 from Shanghai Pudong International Airport and CNY 60-70 from Shanghai Hongqiao International Airport to Pudong New Area.

See more:
Shanghai Metro
,
Shanghai Taxi
Pudong Food to Try
There are many delicious local foods in Pudong New Area including Sanlin Benggua, Gaoqiao Waffle, Pan-Fried Chicken Bun, and White Rabbit Sugar.

Sanlin Benggua
This kind of melon is in an oblong shape with a weight of 1-1.5 kg. The melon rind is very thin and crispy. It is famous for its sweet taste.

Gaoqiao Waffle
It is famous for its well-bedded pastries which are as thin as paper. It is shaped like a moon cake with a fragrant flavor, thin skin, various stuffing, crispy and soft taste.

Pan-Fried Chicken Bun
With yellow sesame seeds and chopped green onion in the upper part, it tastes soft and palatable. And the lower part is crispier with heavy stuffing and juicy chicken.

See more:
Top 10 Shanghai Street Food
- Last updated on Aug. 03, 2022 -