Shanghai Wild Animal Park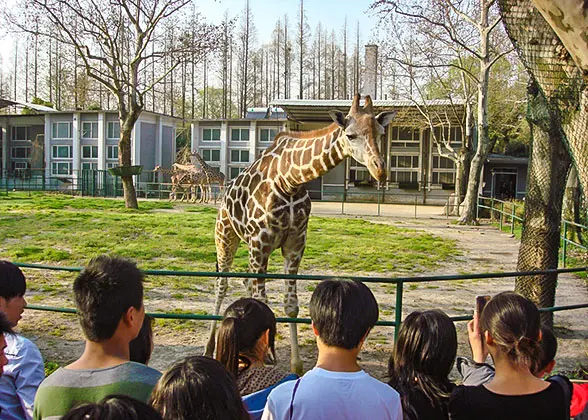 Located in Sanzao Town of Nanhui in
Pudong New Area
and about 35 kilometers (22 miles) from the city center, Shanghai Wild Animal Park is the first national grade wild zoo in China.
Covering an area of 153 hectares (378 acres), the zoo is the home of over 200 kinds of animals from all over the world including rare animals and animals under the state special protection. The zoo can be divided into a walking area where you travel on foot and a bus-riding area where you take a bus to enjoy close contact with the wild animals. There are five main sections in Shanghai Wild Animal Park: animal performing hall and areas for wild beasts, herbivores, penned animals and other animals.
Walking into the animal performing hall, you are welcomed by all the lovely animal actors. Elephants, dogs, sheep, bears, tigers, lions, monkeys and parrots are eager to present a colorful performance. All of them have superior skills and cooperate well with each other. They are praised as the top animal actors and some are even the animal stars. During the past National Holiday, the zoo personnel held a wedding ceremony for a bear couple and many animals were invited to join in. Visitors witnessed this happy moment and sent their best wishes to the new couple. The dog racing course is the venue for animals that are good at running or galloping. Dogs, camels, ostriches and Mongolian horses are the selected competitors. Who will win? Let's wait and see.
Take a tourist bus and the unforgettable experience of close contact with wild animals begins. Giraffes are leisurely eating leaves. Greedy bears always beg for food around your bus. Shanghai Wild Animal Park feeds tigers and lions with living animals to help them retain their wild survival instincts. Sometimes they are taking a nap, but when the prey comes into their sight, they will show you the prestige and power of the jungle king. Under the safety guarantee, visitors are allowed to feed and take a photo with animals such as giraffes and elephants. This is face-to-face contact in the truest sense.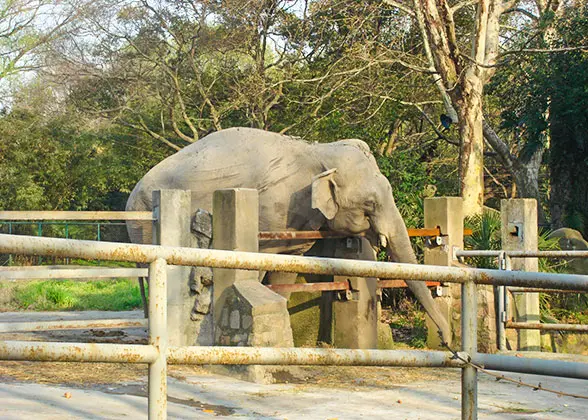 The penned animal area includes a giant panda hall, golden monkey hall, parrot house, white lion area, white tiger area, ostrich zone, kangaroo zoo and crocodile island. It is a wonderful place where you can see many precious animals such as a
giant panda
, white lion and white tiger. Knowing how they live will increase your knowledge about the animals. The other animal area embraces the flamingo exhibition area, young animal garden, waterfowl lake and bird garden. You will get to know more about the life and behavior of the animals residing in this area and how the small animals are cared for by the caring zoo keepers.
In order to make sure every tourist has an enjoyable visit, Shanghai Wild Animal Park has established extra facilities. A Ferris wheel allows you to take a bird's eye view of the whole zoo and an electric power cart will carry you on your trip if you feel tired. The outdoor play equipment is dreamland for children. If you are hungry, the local restaurants such as Shangye Restaurant, Guanhe Hotel and Changqing Hotel will serve you delicious meals to satisfy any appetite. Choose something in the souvenir shops and make a grandiose ending to your memorable trip!
Animal Show Time
Show
Schedule
Location
Animal's Welcoming Performance and Parade
09:00 - 10:15 at weekends and holidays
the square inside the main gate of the Wild Animal Park
Sea Lion Show
10:00, 15:15; an extra show at 13:00 at weekends and holidays
Sea Lion Hall
Large Square Show
13:00
Baishoushan Square
Show of Lions and Tigers
11:00; an extra show at 14:30 at weekends and holidays
Animal Training Ground
Horse and Dog Racing
11:00
Dog Racing Circus
Russian Circus
Mon. - Fri.: 13:00
Weekends and Holidays: 12:00, 14:00
International Circus Theater
Tiger Hunting Training
12:00, 13:00, 14:00, 15:00
Tiger Hunting Training Ground
How to get to Shanghai Wild Animal Park
1. Take Metro Line 16 and get off at Wild Animal Park Station. Then take Huinan Line 6 and get off at the park.
2. Take Metro Line 2 and get off at Zhangjiang High Technology Park Subway Station. Get out from Exit 5 and find the bus stop for Zhangnan Line. Then get on the bus and get off at the Wild Animal Park.
3. Nanxin Special Line: From Shanghai Railway Station to Nanhui University Town passing the park.
4. Tourism Bus at Shanghai Stadium (Parking Lot No. 4) only at weekends: 9:30 from Shanghai Stadium and 16:00 back from the zoo. Reservation is necessary.

Shanghai Bus / Metro Search
Entrance Fee
CNY 130 for adults
CNY 117 for seniors between 60 and 64, and CNY 65 for seniors above 65 (passport required)
CNY 65 for children between 6~18 years old (passport required)
Free for children under 4.3 feet (1.3 meters) high or under 6 years old (passport required)
Opening Hours
July & August: 08:00 - 18:00
March - June & September - November: 08:00 - 17:00
December - February: 8:30 - 16:30

Ticket sale stops an hour before the closing time.

Further Reading: Shanghai Zoo, in the west suburb of the city, near Hongqiao International Airport.



​ See also:


​ 15 Most Beautiful Places in Shanghai in Spring


15 Things to Do in Shanghai with Kids


6 Shanghai Popular Places to Visit in March​


9 Interesting Places in Shanghai You Should Not Miss
Print
- Last updated on Jul. 28, 2020 -
Questions & Answers on Shanghai Wild Animal Park
Asked by ouswa from MALAYSIA | Dec. 07, 2019 04:45

Reply
If I'm bringing the whole family including children to Shanghai,
do you think the weather now is too cold?
And do you think the weather are suitable for the kids because the zoo is outdoor right?
Answers (1)
Answered by Agatha from UNITED KINGDOM | Dec. 09, 2019 22:42

0

0

Reply
Generally speaking, it will be ok for you to tour around the city.
You are suggested to prepare enough winter clothes to keep warm, such as down jackets, sweaters, jeans, sneakers and pants.
Asked by MDee from MALAYSIA | Oct. 16, 2019 02:35

Reply
Is it 'wheelchair friendly' in Shanghai wild animal zoo?
Any place to "park the wheelchair" during our bus rides?
Answers (1)
Answered by Theo from SINGAPORE | Oct. 17, 2019 18:32

0

0

Reply
You can push the wheelchair on some flat paths. I think most of the bus set up exclusive space for wheelchair users.
Asked by Lorian Hinton from UK | Aug. 05, 2019 13:51

Reply
Hi I'm from the uk senior help. About Shanghai Wild Animal Zoo
I'm from the uk, I'm disabled, I can walk slowly with my stick, it says seniors and I'm 65 it's 65cny for 1 adult, I'm staying at the Vienna hotel which is 1.9 miles away, can u also please give me a rough idea of the cost of a taxi, or is there a taxi app I should use in china like Uber.? Do the Chinese used uber? And I don't know what browser they use in Shanghai, as I don't think they use google, but do they use yahoo? Thanks travelling in Oct 2019
Answers (1)
Answered by Rebecca from USA | Aug. 11, 2019 17:44

0

0

Reply
DiDi is Chinese version of Uber but I think you can't use it because it is in Chinese, so you may need to take taxi. The browser most Chinese use is Baidu. If you travel in October, you better avoid Oct 1-7. which is China's National Day and there is large number of crowds traveling around the country.
Asked by Nadya Marinova from BULGARIA | Oct. 09, 2018 22:31

Reply
Hi, we will like to visit Shanghai wild animal zoo on Sunday - out last day in Shanghai.
So we plan to leave the Leading man Collection Hotel early in the morning with our baggage. After to take the Metro and to go to the park. What is your proposition about how we can go there easily and what time will take? And the main question - if there they can keep our bags? After our visit, around 22 h we have to be at Pudong Airport.
Answers (2)
Answered by David from USA | Oct. 15, 2018 00:07

0

0

Reply
You can first take the metro line 6 at Pudian Road, about 6 minutes' walk from your hotel and get off at Century Avenue. Then transfer to take the metro line 2 and get off at Longyang Road. Then transfer to take the metro line 16. Then get off at Wildlife Park and walk about 25 minutes to the zoo. The whole ride needs about 1.5 hours and CNY6 per person.

If you take pieces of luggage, you are advised to take a taxi, and the fee is about CNY120 – 130. The duration is about 50 minutes. On the entrance of the zoo, you will see the check room.
Answered by Lorian hinton from UK | Aug. 13, 2019 05:52

0

0

Reply
Hi thanks I sadly that it the only time I have to travel so I'm awear ,but thsnk u for pointing it out! I'm planning on being there early to avoid the crowds! Bit sure I'll get caught up I them!