Terracotta Warriors Day Tour from Beijing or Shanghai
Terracotta Warriors Museum - City Wall - Small Wild Goose Pagoda
Frequent schedules of flight and train make it possible to take a one-day round trip to Xi'an from many cities of China, especially from Beijing and Shanghai. To ensure enough time for this day tour, you're suggested to reach Xi'an around 09:00 in the morning and leave after 20:00.
►
If you travel from Beijing
By flight: There are many flights available from Beijing to Xi'an every day, and the earliest one departs at 6:45 am. The recommended flights in the early morning are CZ8829 06:45/08:55 (2h10m) departing from Beijing Daxing International Airport (PKX), HU7137 06:55/09:20 (2h25m) and CA1231 07:30/09:35 (2h5m) departing from Beijing Capital International Airport (PEK). By taxi, it takes about 1.5 hours and costs around CNY200 per cab to Daxing Airport from downtown area, about 1 hour and CNY150 per cab to the Capital Airport. Please arrive at the airport more than one hour ahead.
By train: From Beijing to Xi'an, both overnight and high-speed trains are convenient, while, for a same-day trip, the overnight train is a better choice since you can sleep on the train and arrive earlier in the morning to start the tour. The recommended overnight trains are Z43 20:09/07:54+1 (11h45m) and Z19 20:35/08:29+1 (11h54m) departing from Beijing West Train Station. You can take taxi or subway Line 7 or Line 9 to get there for it is not far from downtown area. For your reference, the high-speed trains are in the daytime and the earliest one is G89 06:53/11:24 (4h31m), which arrives too late for your day trip.
►
If you travel from Shanghai
By flight: To fly from Shanghai to Xi'an in the early morning, you are recommended to take flight MU2335 06:45/09:30 (2h45m) departing from Pudong International Airport (PVG) or 9C8845 07:10/09:40 (2h30m) departing from Hongqiao International Airport (SHA). By taxi, it takes about 1 hour to Pudong Airport and costs around CNY230 per cab, about 45 minutes and CNY100 per cab to Hongqiao Airport. Make sure to leave enough time for the airport transfer and flight check-in.
By train: Among all overnight and high-speed trains from Shanghai to Xi'an, the most suitable train schedules are Z252 15:52/08:00+1 (16h8m), Z40 16:17/08:35+1 (16h18m), Z92 18:03/09:32+1 (15h29m) and Z216 18:34/09:39+1 (15h5m). All these trains depart from Shanghai railway station which is easily reached by subway Line 1, Line 3 or Line 4.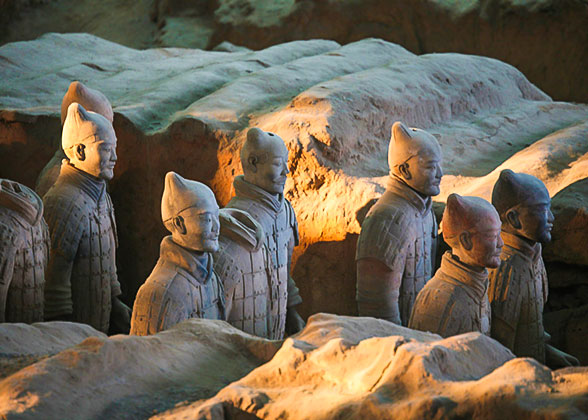 Terracotta Warriors Museum
►
Arrive in Xian and Begin Your Private Day Tour
Upon your arrival, your guide and driver in Xi'an will pick you up from the airport or the railway station on time and then drive you for about one hour to the Terracotta Warriors Museum, where you will not only take a close look at the more than 8,000 life-sized terracotta warriors and horses in the three pits, but also learn the legendary stories of Qin Shi Huang, the first emperor of ancient China. You will spend at least 2.5 hours here visiting this world's miracle. Lunch is by your own arrangement and you can have meals around the site with the advice and assistance of your guide.
In the afternoon, we will drive back to downtown Xi'an, where you will first visit the City Wall, the best-preserved and largest ancient city wall with a total length of 14 kilometers (9 miles) in China. A relaxing walk on the wall is a must-do for leisure travelers. Moreover, you can also choose to ride a bike or take a sightseeing car at your own expense to sightsee on the wall. Finally, you will come to the Small Wild Goose Pagoda, a major historical and cultural site from the Tang Dynasty (618-907).
As the tour ends, your guide and driver will escort you back to the airport or the railway station and see you off there.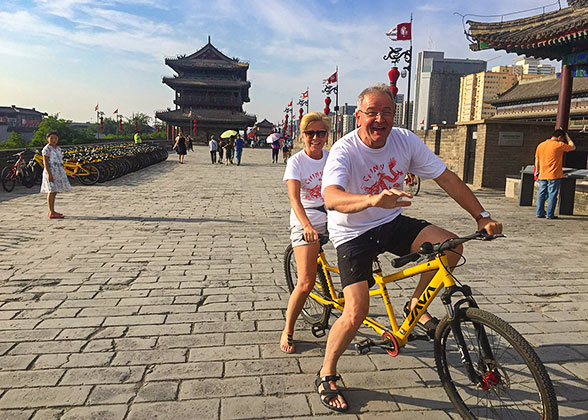 Cycling on the City Wall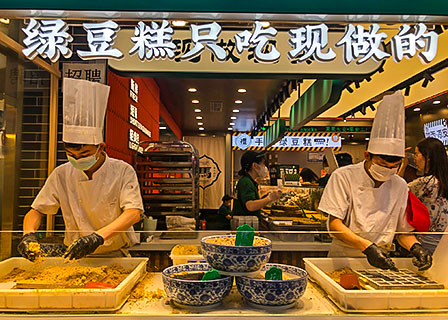 Small Wild Goose Pagoda
►
Return Trip to Beijing
By flight: The recommended flights back to Beijing are CZ6947 20:00/22:15 (2h15m) to Daxing Airport and CA1236 20:30/22:45 (2h15m) to the Capital Airport. The last subway from Daxing Airport is 22:30 and the last express train from the Capital airport is 23:10.
By train: There are more choices of overnight trains from Xi'an to Beijing, including Z20 19:14/07:01+1 (11h47m), T42 20:03/09:31+1 (13h28m), Z44 20:22/08:22+1 (12h) and T56 20:38/10:45+1 (14h7m), among which Z20 with no stopover and Z44 with only two stopovers are more favored by tourists. On arrival, you could take subway back to downtown Beijing.
►
Return Trip to Shanghai
By flight: Getting back to Shanghai, you are recommended to take flight MU8422 20:00/22:30 (2h30m), FM9204 20:00/22:30 (2h30m), or MU2169 21:00/23:20 (2h20m) to Hongqiao airport. The last subway from airport is 22:50.
By train: You can choose from the overnight trains Z166 20:44/11:58+1 (15h14m), Z42 20:50/12:06+1 (15h16) and Z254 21:31/12:52+1 (15h21m) returning to Shanghai. Then take subway back to your hotel or home address.
►
We Kindly Remind
•
For this day trip, flights or trains arriving and departing from Xi'an are not included in our quotations, however, we are happy to book them for you according to your requirements if you need the service.
•
Since it is a same-day trip, traveling light with necessities is very important, which can help you save time.
Thank you for traveling with us. Our dedicated service will surely make your trip memorable and interesting!
Prices (US$ Per Person)
1 person

$308

2 persons

$185

3 persons

$149

4 persons

$129

5 persons

$116

6 persons

$103

7 persons

$102

8 persons

$95

9 persons

$89

10+

$83

Price Includes
Private English-speaking guide
Private driver & air-conditioned vehicle
Entrance fees to tourist sites
Price Excludes
Flights or trains to and out of Xian
Hotel accommodation with breakfasts
Lunches and dinners
Tips or gratuities for guide and driver
Why Travel With Us
Itineraries you may also like:
Customer Reviews

Questions & Answers
Posted on August 16, 2020

If you go to Xi'an in summer, you must do a good job of preventing summer heat and prepare enough water all the journey. And then…I was most grateful to the travel guide for this trip. He helped me find the lost necklace. I really appreciate it. Thanks a million!

Posted on August 04, 2020

The organization of the day trip to Terracotta Army was amazing. Everything worked out fine and there was no confusion. Our guide Tracy offered excellent work throughout the trip and recommended many delicious snacks to me. Xi'an is a wonderful tourism destination and I will definitely return here in the future.

The day trip to Terracotta Army gave me a wonderful experience. The airport pick-up service was very convenient and punctual. Lily, our guide was very patient and introduced the Terracotta Army in detail. I'd like to highly recommend fantastic Terracotta Amy to anyone who is going to visit China. You cannot miss it!