Terracotta Amy Tour from Beijing or Shanghai
Terracotta Warriors Museum - City Wall - Muslim Quarter
Trip Highlights:
►
Have a unique experience by getting insights of the Terracotta Warriors.
►
Marvel at the over 600 years old City Wall & experience cycling on it.
►
Taste various kinds of local flavors at the Muslim Quarter.
Hereunder please find our proposed itinerary. Our travel experts will be happy to customize a tour for you to meet your interests and needs.
Itinerary:
Frequent schedules of flight and train make it possible to take a one-day round trip to Xi'an from many cities of China, especially from Beijing and Shanghai. To ensure enough time for this day tour, you're suggested to reach Xi'an at around 09:00 in the morning and leave after 20:00.
Upon your arrival, your guide and driver will pick you up from Xi'an airport or railway station. Then drive for about 1 hour to the Terracotta Warriors Museum. Here you will not only take a close look at the more than 8,000 life-sized terracotta warriors and horses in the three burial pits, but also learn about the legendary stories of Qin Shi Huang, the first emperor of ancient China. You will spend at least 2.5 hours visiting this world's miracle. While it may be true that many more treasures are hidden within the super large mausoleum of Qin Shi Huang, archaeologists dare not to excavate the tomb, for fear of many consequences if we venture into this unknown world. Apart from unexpected pitfalls everywhere, more than a hundred tons of toxic volatile mercury is flowing around the space, to take lives of whoever step into the tomb. Furthermore, any accident during excavations would possibly cause a landslide, damaging or even destroying the hidden treasures in the grave very deep underground.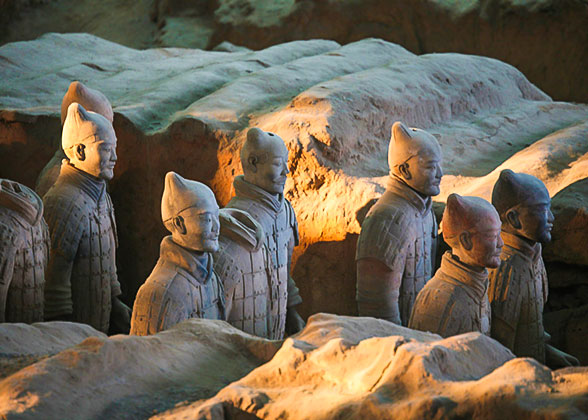 Terracotta Warriors Museum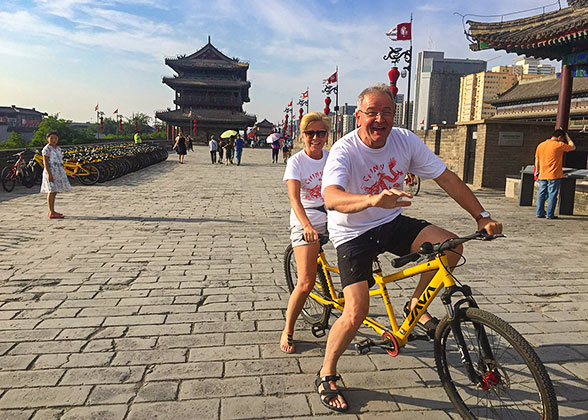 Cycling on Ancient City Wall
Lunch is excluded on today's itinerary, but your guide will surely offer recommendations and assistance. In the afternoon, we will drive back to downtown Xi'an to visit the
City Wall
from the Ming Dynasty (1368 – 1644 AD) first. It is the best-preserved and largest ancient city wall in China, with a total length of 14 kilometers (9 miles). A relaxing walk on the wall is a must-do for leisure travelers, moreover, you can also choose to ride a bike to take in the city views. Cycling on the centuries-old wall while witnessing traditional houses within and modern buildings outside would be awesome. It is a self-paying option and your guide will help you with bike renting.
Finally, you will be guided to the lively
Muslim Quarter
, a food lover's paradise. Nearly all kinds of local snacks can be found here, such as dried fruits, nuts, bread, pastries, barbecued beef, and lamb soup. Some local specialized desserts are also worth a try, like "Qie Gao", a huge rice cake topped with red sweet dates, mirror cake "Jing Gao", another round and small rice cake topped with sesames, and green bean cake "Lv Dou Gao". Overall, the Muslim Quarter is a perfect place for travelers to taste delicious street food and experience local food culture. By the way, if you want to buy souvenirs, don't forget to bargain to get good prices.
As the tour ends, your guide and driver will escort you back to the airport or the railway station and see you off there.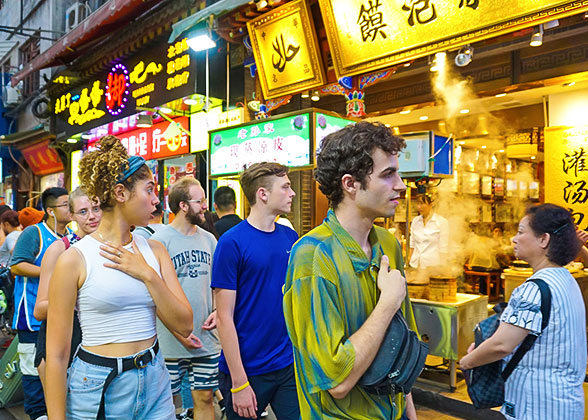 Muslim Quarter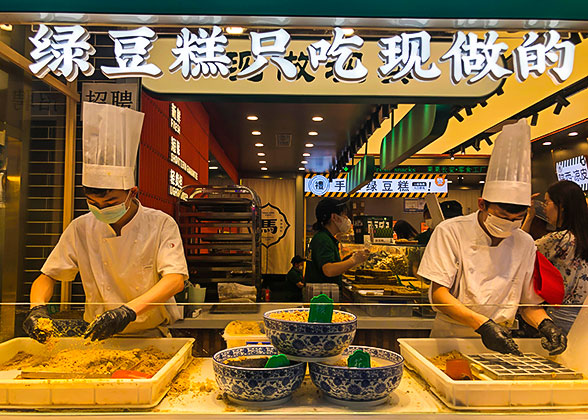 Making Green Bean Cake
►
If you take a same-day trip from Beijing to Xian
•
By flight
Beijing/ Xi'an: There are many flights available from Beijing to Xi'an every day, and the earliest one departs at 6:45 am. The recommended flights in the early morning are CZ8829 06:45/08:55 (2h10m) departing from Beijing Daxing International Airport (PKX), HU7137 06:50/09:10 (2h20m) and CA1231 07:30/09:35 (2h5m) departing from Beijing Capital International Airport (PEK). By taxi, it takes about 1.5 hours and costs around CNY200 per cab to Daxing Airport from downtown area, about 1 hour and CNY150 per cab to the Capital Airport. Please arrive at the airport more than one hour ahead.
Xi'an/ Beijing: The recommended flights back to Beijing are CZ6947 20:00/22:10 (2h10m) to Daxing Airport and CA1236 20:30/22:55 (2h25m) to the Capital Airport. The last subway from Daxing Airport is 22:30 and the last express train from the Capital airport is 23:10.
•
By train
Beijing/ Xi'an: From Beijing to Xi'an, both overnight and high-speed trains are convenient, while, for a same-day trip, the overnight train is a better choice since you can sleep on the train and arrive earlier in the morning to start the tour. The recommended overnight trains are Z43 20:09/07:51+1 (11h42m) and Z19 20:35/08:29+1 (11h54m) departing from Beijing West Train Station. You can take taxi or subway Line 7 or Line 9 to get there for it is not far from downtown area. For your reference, the high-speed trains are in the daytime and the earliest one is G651 06:35/12:17 (5h42m), which arrives too late for your day trip.
Xi'an/ Beijing: There are more choices of overnight trains from Xi'an to Beijing, including Z20 19:16/07:01+1 (11h45m), T42 20:06/09:31+1 (13h25m), Z44 20:22/08:22+1 (12h) and T56 20:40/10:40+1 (14h), among which Z20 with no stopover and Z44 with only two stopovers are more favored by tourists. On arrival, you could take subway back to downtown Beijing.
►
If you take a same-day trip from Shanghai to Xian
• By flight

Shanghai/ Xi'an: To fly from Shanghai to Xi'an in the early morning, you are recommended to take flight MU2335 06:45/09:20 (2h35m) departing from Pudong International Airport (PVG) or 9C8845 07:10/09:40 (2h30m) departing from Hongqiao International Airport (SHA). By taxi, it takes about 1 hour to Pudong Airport and costs around CNY230 per cab, about 45 minutes and CNY100 per cab to Hongqiao Airport. Make sure to leave enough time for the airport transfer and flight check-in.

Xi'an/ Shanghai: Getting back to Shanghai, you are recommended to take flight MU8404 20:00/22:30 (2h30m), FM9204 20:00/22:30 (2h30m), or MU2169 21:00/23:20 (2h20m) to Hongqiao airport. The last subway from airport is 22:50.

• By train

Shanghai/ Xi'an: Among all overnight and high-speed trains from Shanghai to Xi'an, the most suitable train schedules are Z252 15:52/07:59+1 (16h7m), Z40 16:17/08:33+1 (16h16m), Z92 18:03/09:32+1 (15h29m) and Z216 18:34/09:37+1 (15h3m). All these trains depart from Shanghai railway station which is easily reached by subway Line 1, Line 3 or Line 4.

Xi'an/ Shanghai: You can choose from the overnight trains Z166 20:46/11:58+1 (15h12m), Z42 20:52/12:06+1 (15h14) and Z254 21:31/12:52+1 (15h21m) returning to Shanghai. Then take subway back to your hotel or home address.

► We Kindly Remind

• For this day trip, flights or trains arriving and departing from Xi'an are not included in quotations, however, we are happy to book them for you if you need the service.
• Since it is a same-day trip, traveling light with necessities is important, which can help to save time.

Thank you for traveling with us. Our dedicated service will surely make your trip memorable and interesting!
Tour Prices
| 1 traveler | 2-3 travelers | 4-5 travelers |
| --- | --- | --- |
| USD299 | USD179 | USD119 |
Prices are per person in US Dollars.

Price Includes
Private English-speaking guide
Private driver & air-conditioned vehicle
Entrance fees to tourist sites
Price Excludes
Flights or trains to and out of Xian
Hotel accommodation with breakfasts
Lunches and dinners
Tips or gratuities for guide and driver
Why Travel With Us
Itineraries you may also like: