Top Xian Attractions
More Things to Do
Top 10 City Tours
XA01-05: One Day Private Tour to Mt. Huashan
Free Cancellation

24-hour Before

Mt. Huashan is well-known for its precipitous crags, narrow and steep paths. Today our Xian to Huashan day tour will take you to see the natural vista of this mountain.
In the morning, our guide and driver will pick you up from the hotel booked on your own at about 08:30 and transfer you to Mt. Huashan. The trip takes about 2 hours. Upon arrival, we will start our Mt. Huashan tour by taking tourism bus and transit to a cable car to approach the North Peak at an elevation of about 1,614 meters (5,298 feet). You can hike southward from the North Peak and pass through the Ear-Touching Cliff, and then you will see a long and narrow ridge called Canglongling (Black Dragon Ridge) - one of the most famous steep paths on Mt. Huashan. After that, you will return to the North Peak in order to get down the mountain by cable car. At the end of this one day Mount Hua tour from Xian, we will take you back to your hotel.
Our clients on the mountain Huashan
Mt. Huashan
Due to the limited conditions on Mt. Huashan, we cannot arrange lunch during your visit. We advise you to have a good breakfast, and then take along some snacks such as bread, biscuits and chocolate for yourselves.
Meals: No meals, advice freely available
Friendly Tips:
There are four peaks on Mt. Huashan: East Peak, South Peak, West Peak and North Peak, among which the South Peak is the highest point. If you intend to get to the South Peak, we advise you to go up to the West Peak by cable car firstly, and then hike around 30 minutes to approach the summit. This route is suitable for travelers who are not physically fit but want to enjoy the splendid and dangerous landscapes above Mt. Huashan. However, we kindly remind you that the fare for the cable car of the West Peak is a bit more expensive than for the North Peak. Our travel consultant is happy to arrange that upon your request.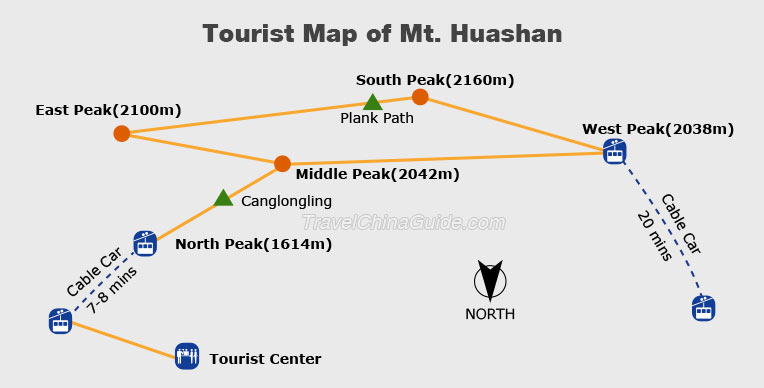 The North Peak
The North Peak, also called Cloud Terrace Peak, is surrounded by cliffs on three sides. It is the best place to have a bird's eye view of the other three peaks in Mt. Huashan as well as the Black Dragon Ridge - a blade-like ridge, standing straight to sky which looks like a dragon swirling around Mt. Huashan. In addition, the cable car line to the North Peak has around 1,524 meters (0.9 mile) long and the whole ride takes 7-8 minutes.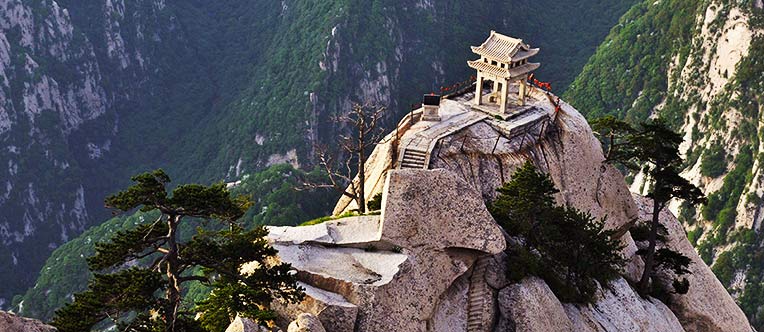 Climbing up the Mt. Huashan is no easy task, but the natural vista is worth of your effort.
The West Peak
The West Peak, also named as Lotus Flower Peak, is regarded as the most exquisite and precipitous peak in Mt. Huashan. At the top of it, Lotus Flower Cave - a giant stone which looks like a lotus flower will come to your eyes. Beyond that, you can also see Cuiyun Palace, God Juling's Foot, Axe-splitting rock and Self-sacrifice Cliff etc. The cable car line to the West Peak is 4,211 meters (2.6 miles) long, and you can reach the top station in around 20 minutes.
Prices (US$ Per Person)
1 person

$280

2 persons

$180

3 persons

$150

4 persons

$132

5 persons

$123

6 persons

$113

7 persons

$111

8 persons

$108

9 persons

$104

10+

$97

Price Includes
Private English-speaking guide
Private driver & air-conditioned vehicle
Entrance fees to tourist sites
Price Excludes
Hotel accommodation with breakfasts
Lunches and dinners
Tips or gratuities for guide and driver
Itineraries you may also like:
The above routes do not meet your requirements? Please click
Tailor My Trip