One Day Private Tour to Mt. Huashan
Mountain Huashan
Trip Highlights:
►
Enjoy a thrilling hike on the adventurous Mt. Huashan.
►
Round way cable cars are included to save your time.
►
Private guide and comfortable non-smoking car with air-conditioner.
Itinerary:
Mt. Huashan, one of the five most sacred mountains in China, is well-known for its precipitous crags and narrow and steep paths. Today this Xi'an to Huashan day tour will take you to see the natural vista of this mountain, which will definitely astound you.
In the morning, your guide and driver will pick you up from the hotel booked on your own at about 08:30 and then transfer you to Mt. Huashan, which takes about 2 hours on the way. Upon arrival, we will take a tourism bus and then transit to a cable car up to the
North Peak
at an elevation of about 1,614 meters (5,298 feet). After getting off the cable car, your Huashan hiking officially starts.
The North Peak, also called the Cloud Terrace Peak, is surrounded by cliffs on three sides. It is the best place to have a bird's-eye view of the other three peaks of Mt. Huashan as well as the Black Dragon Ridge - a blade-like ridge, standing straight to the sky which looks like a dragon swirling around Mt. Huashan. In addition, the cable car line to the North Peak has around 1,524 meters (0.9 mile) long and the whole ride takes 7-8 minutes. Climbing up the Mt. Huashan is no easy task, but the natural vista is worth your effort.
Pass the Ca'er (Ear-Touching Cliff) to head to the
East Peak
. During the 2 hours' walking, you will see the Heavenly Ladders, Riyue Cliff, Canglong Ling and Golden Locak Pass. Have a short break on the East Peak to appreciate the amazing scenery. Then head to
South Peak
. En route, pass by the famous Nantian Gate and the most dangerous path -- Plank Road in the Sky. There are other ways that can get through if you choose not to take the path. Spend some minutes on the South Peak, the highest peak on Mt. Huashan to refresh and enjoy the landscape. Continue hiking for about 1 hour to the
West Peak
. The West Peak, also named as the Lotus Flower Peak, is regarded as the most exquisite and precipitous peak on Mt. Huashan. Upon arriving at the top of it, the Lotus Flower Cave - a giant stone which looks like a lotus flower will come to your eyes. Beyond that, you can also see Cuiyun Palace, God Juling's Foot, Axe-splitting rock and Self-sacrifice Cliff etc.
Finally, you will walk about 20 minutes to reach the West Peak cable car station to get down the mountain by cable car. The cable car line to the West Peak is 4,211 meters (2.6 miles) long, and the journey takes around 20 minutes.
At the end of this one day Mount Hua tour from Xi'an, we will take you back to your hotel in downtown Xi'an.
Due to the limited conditions on Mt. Huashan, we cannot arrange lunch during your visit. We advise you to have an abundant breakfast at the hotel, and then take along some snacks such as bread, biscuits and chocolate with you.
Our clients on the mountain Huashan
Mt. Huashan
Our Friendly Tip:
There are four peaks on Mt. Huashan: East Peak, South Peak, West Peak and North Peak, among which the South Peak is the highest point. If you intend to get to the South Peak, you're suggested to take the cable car to the West Peak firstly, and then hike around 30 minutes to get to the summit to enjoy the breathtaking scenery. And get down from the West Peak. This route is suitable for travelers who are not physically fit but want to enjoy the splendid and dangerous landscapes above Mt. Huashan. Your travel consultant is happy to arrange that upon your request.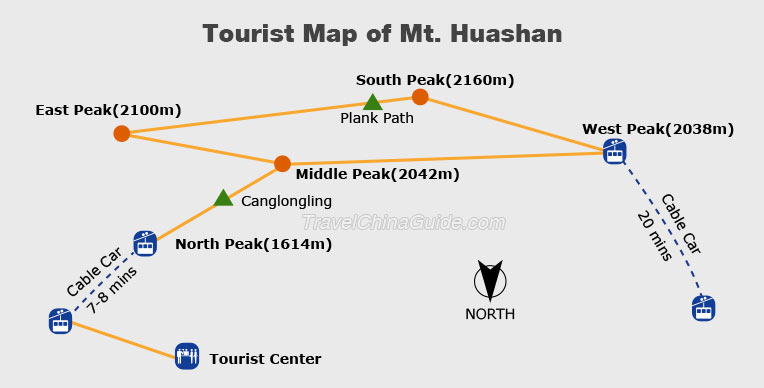 Tour Prices
| 1 traveler | 2-3 travelers | 4-5 travelers |
| --- | --- | --- |
| $379 | $239 | $179 |
Prices are per person in US Dollars.

Price Includes
Private English-speaking guide
Private driver & air-conditioned vehicle
Entrance fees to tourist sites
Price Excludes
Hotel accommodation with breakfasts
Lunches and dinners
Tips or gratuities for guide and driver
►
If you would like to take all arrangements on your own, we are pleased to offer the following independent travel information Huashan tour from Xi'an for your reference.
Mt. Huashan is located in Huayin city, 120 kilometers (74.6 miles) east of Xi'an, Shaanxi province. With an altitude of 2,160 meters (7,087 feet), Mt. Huashan is famous for its lofty peaks. It is one of the five sacred mountains in China, the other four being Mt. Taishan in Shandong, Mt. Hengshan in Hunan, Mt. Hengshan in Shanxi, and Mt. Songshan in Henan. As the old Chinese saying goes, "there has been only one path leading up Mt. Huashan since ancient times," so you can imagine how steep it is. To help you explore this splendid attraction easier, we will show you the convenient transfers from Xi'an to Huashan, the recommended climbing route, and the introduction of the mount's history and landscape.
How to reach Mt. Huashan from Xi'an?
Mt. Huashan is 138 kilometers (86 miles) from Xi'an Xianyang airport. Unfortunately, there is no direct bus from the airport, so you will have to go to downtown Xi'an and take a train or bus from there.
By train:
There are many high-speed trains (about 50 per day) traveling from Xi'an North Railway Station to Huashan North Station per day. You can choose one that fits your time. Please feel free to contact us if you need ticket-booking service. The train journey takes about 30 minutes and the second-class seat is CNY54.5 per person. On arrival, you can take Huayin tourist bus No.1 (from 07:10 to 19:10) for free or a tourist taxi (CNY 10) to get to the scenic area.
By Bus:
1. The state-run shuttle coach buses from Xi'an to Huashan is a nice choice. The recommended departure station is Fangzhicheng Bus Station with 4 buses per day departing at 09:00, 12:00, 16:00 and 17:00 respectively. The trip takes about one and a half hours with CNY41.5 for a one-way ticket and CNY81.5 for a round-way ticket.
2. In the east of Xi'an Railway Station, you will also find shuttle buses to Mt. Huashan. These buses are run by local tourist companies and the departure time is not fixed. Generally, they depart every 30 minutes or once filled up with passengers. And you could easily find one there waiting to depart. The trip takes 2 hours and costs about CNY40 per person.
Kindly Reminder: The departure of trains and buses can be changed due to the COVID-19 pandemic and present policies. Please check it before the trip. We are of your service 24/7 whenever you need more information.
Prior to the Tang Dynasty, few people had ever conquered Mt. Huashan as it is so steep. Nowadays the mountain attracts thousands of tourists from all over the world. It has five peaks each reached from different paths. These are Huashan Yu scenic area; Yuntai Scenic area near the North Peak (Cloud Terrace Peak); Chaoyang scenic area near East Peak (Sun Facing Peak); Luoyan scenic area near the South Peak (Wild Geese Landing Peak); Lianhua scenic area near West Peak (Lotus Flower Peak) and Wuyun Feng scenic area.
Mt. Huashan is known for its near-perpendicular cliffs and breathtaking scenery, so when hiking on the mountain you will have to climb narrow steps and steep ladders on rocks in addition to flat trail. Here is a brief description of the three sections of a
popular trekking route:
1st section: Foot of Mt. Huashan (Yuquan Yuan) --> Huixin Rock --> North Peak
Road conditions: Winding trail from Yuquan Yuan to Qingke Ping
Stone stairway from Qingke Ping to Huxin Rock
Steep ladders from Huxin Rock to North Peak
2nd section: North Peak --> Jinsuo Guan
Road conditions: Steep ladders
3rd section: Jinsuo Guan-->Top of the rest Main Peaks
Road conditions: Flat trail and some ladders.
This is a popular route that most visitors take, and along this route you will see most of the scenery on the mountain. You have three options to reach the North Peak. The first is to start trekking from Yuquan Yuan at the west gate of Mt. Huashan so you can enjoy the amazing scenery along the way. The second option is to take the cable car (7 - 8 minutes; CNY 90 one way and CNY 150 for a round trip) from the east gate to the North Peak directly. This saves time and energy for you to reach the other peaks. (The cable car runs from 07:00 to 19:00 between April and October, from 09:00 to 17:00 between November and March) The third option is to start trekking from the east gate on foot. Few people take this as there is little scenery along this route.
Should you have a tight schedule, just take one day for your exploration. This will require departure from Xi'an in the early morning. Then take the shuttle bus to the east gate of Mt. Huashan to take the cable car up to the North Peak. From the North Peak, you have a series of paths to reach the remaining four peaks. You will have 3 to 5 hours' trekking time, but be sure to leave enough time to catch the last cable car down the mountain to avoid being stranded.
If you want to reach the East Peak to watch the sunrise, you can climb from Yuquan Yuan at night. Having watched the sunrise, you can then visit the Middle Peak, South Peak, West Peak and return to Jinsuo Guan to the foot of the mountain. This trip takes about 8-10 hours one way and this is also considered safer because in the dark you won't feel terrified at seeing the steep cliffs. However, you will miss out on the breathtaking scenery.
To the First-timers
If this is your first time to Mt. Huashan, we suggest that you climb the mountain at night and enjoy the spectacular sunrise the next morning. Here is our suggested route:
Start your trip from Yuquan Yuan, a Taoist temple at the entrance to Mt. Huashan. There is a 20-minute walk before you come to the ticket office at Wulong Qiao. The admission fee for the mountain is CNY 160 from March to November and CNY 100 from December to February. The first section from the entrance to Huixin Rock is a relatively easy uphill path. Some small shops are scattered along the road. You will pass the Yushi (20 minutes) - Wuli Guan (15 minutes) - Shimen (25 minutes) - Yunmen (20 minutes) - Huixin Rock.
It takes nearly two hours to reach Huixin Rock, the real starting point of this trek. You will find narrow steps instead of a flat path, and it will become steeper as you progress. It is said that if you're tired from following this route, you may well regret returning the same way. Beside the rock, as you continue to climb the 370 steep steps, you will go along a very breathtaking path, known as Qianchi Chuang (Thousand-Feet Precipice). Here you can only climb with the assistance of the iron chains. Just as its name implies, this site is 1,000 feet high and only 1 meter wide. The towering rocks and cliffs around will make you feel as if you were walking at the bottom of a well. Although this section is difficult, it is safe if you use the chains and step carefully.
Cross the "Qianchi Zhuang" and continue to walk for 15 minutes. You will see "Baichi Xia", another precipitous path. Keep on climbing for another 25 minutes, and you will reach North Peak (1,614 meters high), the terminal of the cable car. The North Peak is also named Cloud Terrace Peak as steep cliffs surround the peak in all directions just like a flat terrace in the clouds. Standing here you can see the other three peaks and Canglong Ridge. Here you will also pass the Ca'er Cliff (ear rubbing cliff), to one side of the North Peak. In ancient times, it was said that tourists could only get through this narrow path by pressing one ear close to the cliff.
Not far away from Ca'er Cliff, you need to climb 999 stairs to reach the Tianti (Heavenly Ladders) and view the Riyue Cliff. Continue to hike for another 5 minutes, and Canglong Ling will beckon you nearby. It is a path built on the mountain ridge which is one meter wide and you can only move with the help of iron rails. The overhanging cliffs on each side are nearly 70 meters high. After you walk across this section, you will feel more relaxed as the trail flattens and the steps are wider.
The next site is Jinsuo Guan (Gold Lock Pass). It is a custom to hang a golden padlock on the iron chains with families and friends as a prayer for happiness and good health. Up to now, you have successfully reached the end of the so-called "one way path of Mt. Huashan". From Jinsuo Guan, you can continue to trek either clockwise or counter-clockwise. It is recommended that you follow the clockwise way from Jinsuo Guan - East Peak - Nantian Men - South Peak - West Peak - Middle Peak - Jinsuo Guan; although you can reverse the order this way if you prefer to trek counter-clockwise.
East Peak (2,090 meters high) has the best view of the sunrise. From Jinsuo Guan you have to walk for another 30 minutes and climb the Cloud Ladder, which is about 10 meters high. Then you will finally reach Guanri Tai (Sun Watching Terrace), the top of the East Peak. There you can also see the famous Yaozi Fanshen, Xiaqi Pavilion and Immortal Palm. Check in at the Dongfeng Hotel for the night and have a simple dinner there (it pays to make an early reservation). The next morning, you can enjoy the spectacular sunrise at dawn. The following schedule is the time of sunrise and sunset:
| | | |
| --- | --- | --- |
| Month | Sunrise | Sunset |
| Jan & Feb | 07:42 - 07:47 | 17:45 - 18:03 |
| Mar & Apr | 06:35 - 07:10 | 18:35 - 18:56 |
| May & Jun | 05:29 - 05:44 | 19:08 - 19:28 |
| Jul & Aug | 05:31 - 05:44 | 19:44 - 19:57 |
| Sep & Oct | 06: 16 - 06:29 | 18:04 - 19:10 |
| Nov & Dec | 06:03 - 07:24 | 17:35 - 18:47 |
Tips: There are six decent hotels (North Peak Hotel, Wuyun Peak Hotel, Middle Peak Hotel, East Peak Hotel, Zhenyu Gong, Chaoyang Gong Hotel). There are also many hostels (CNY50 for a bed for a night) on the mountain. The prices at the hostels are negotiable.
On the second day, after watching the sunrise at the East Peak, continue your way to the other three peaks. It takes 35 minutes to reach Nantian Gate from East Peak. You will also pass the Changkong Zhandao (an ancient plank road built on the vertical face of a cliff), one of the most dangerous sites on Mt. Huashan. It is about 4 meters long and only 0.33 meters wide. Refresh yourself before you go for the next stop.
Then, after passing Yangtian Chi in another 25 minutes, you will reach the South Peak (2,160 meters high), "The Monarch of Mt. Huashan". You can be proud to say that you've conquered Mt. Huashan. The walk to West Peak (2,082 meters high), taking another 35 minutes, and there are no railings along this way but only an old wooden plank. You can visit the Taoist Temple and Cuiyun Palace.
Continue to walk downwards for another 30 minutes to the Middle Peak where you will have a chance to visit the Taoist Jade Maiden Temple, Rootless Tree and Sacrificing Tree. The Middle Peak is actually regarded as a branch of the East Peak and the view is not as outstanding; you can leave out this part if you are feeling tired.
From the Middle Peak, you can return to North Peak through Jinsuo Guan and Canglong Ridge the same way, which takes about an hour. Then take the cable car to the foot of the mountain and catch the shuttle bus back to Xi'an.
Further Tips:
1. You should take gloves, a raincoat, any necessary medicines and a flashlight.
2. The average temperature on the mountain is 6.8℃, so be sure take enough clothes.
3. You can rent an overcoat for CNY 45 on the mountain.
4. Leave any heavy luggage at the foot of the mountain.
5. Don't drink too much water as it is not easy to find toilets on the mountain.
6. The best seasons for visiting Mt. Huashan are spring (March to May) and autumn (September to October).
7. Please do remember to avoid climbing the mountain on Chinese holidays, such as the May Day (May 1st to 3rd) and the National Day (Oct 1st to 7th).
Why Travel With Us
Itineraries you may also like:
Customer Reviews

Questions & Answers
Posted on August 16, 2020

Good transfer from Xi'an downtown to Mt. Huashan. Beautiful view of nature from the top of the mountain. The snowy steps were slippery, but it was an interesting adventure. I suggest the elderly take the cable car up and down the mountain, which is safer and can save more energy.

The one day to Mt. Huashan tour came to a wonderful end. It was easy to climb the mountain by taking a cable car and its scenery was breathtaking and beautiful. Our guide also helped and encouraged us when we met some steep steps on the cliff. The suggestions about the best routine to explore the Mt. Huashan were also offered. Thank her very much.

I truly appreciated our guide Tracy who spoke fluent English and very helpful. She knew everything about Mt. Huashan such as the features of the main peaks, the best hike route and cable car fee. She didn't recommend any product to us unless we asked her for suggestions about buying local products. On the way to and back from the Mt. Huashan, she also shared facts about Xi'an with us.