Best Huangshan Tours
Top Huangshan Attractions
Top 10 City Tours
Huangshan Tours -

100% No Shopping Stops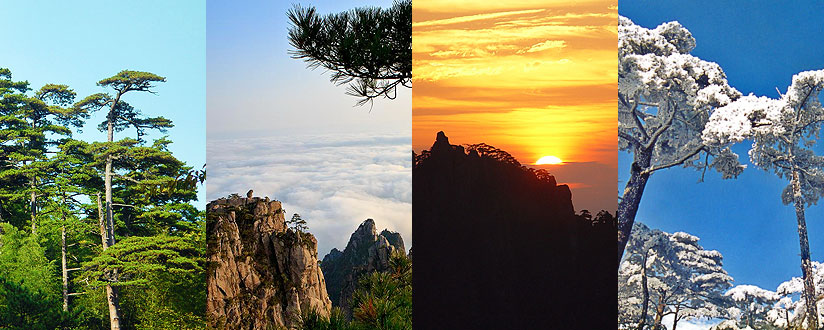 Huangshan greets you all year round!
Of all the scenic mountains in China, Huangshan has been voted the best. Each of the four seasons on the mountain has a distinct beauty, creating a delightful, other-worldly paradise on earth. Whether you like nature, ancient villages, hiking or cycling, our top private Huangshan tours will help you get the most out of them.
Best Huangshan Tours
How to Get to Huangshan
Huangshan has direct flights from some major cities of China. And nowadays, it becomes easier to take a Huangshan tour from Shanghai by high speed train. Travelers who plan an extended Huangshan tour from Hangzhou can also take the convenient train.
By Flight
By Flight
Beijing
Daily
2 hours
Xian
Every Tue, Thu, Sat
2 hours
Shanghai
Daily
1.5 hours
Chengdu
Every Mon, Wed, Fri
2.5 hours
Chongqing
Every Tue, Thu, Sat, Sun
2 hours 15 minutes
Guangzhou
Daily
1 hour 45 minutes

By High Speed Train

By High

Speed Train

Beijing
Daily 8 trains from 08:00 to 15:30
6.5-7 hours
Xian
Daily 1 train at 10:56
8 hours
Shanghai
Daily 2 trains from 08:00 to 14:00
4.5 hours
Hangzhou
Daily 2 trains from 08:00 to 14:00
3-3.5 hours
Guangzhou
Daily 1 train at 09:12
7 hours
Huangshan Tourist Map
How to Plan a Private Tour to Huangshan
Normally it takes 3 to 4 days to explore the popular attractions in Huangshan. If you are a bit pressed for time, you can just schedule 3 days to visit the Yellow Mountain with one night hotel stay on the mountain. In this case, you'll have chances to enjoy the stunning sunset or sunrise in addition to admiring the sheer beauty of the Yellow Mountain. If you have 4 days for the private vacation tour, we suggest you include a side trip to one or two old villages of Huizhou, such as Hongcun, Xidi or Tangmo for the unique Ming and Qing style local residences, the traditional rural lifestyle as well as the delightful countryside scenes.

For those who are the outdoorsy type, go hiking in the Yellow Mountain and the old villages is definitely a great choice to get in touch with nature and see the locals go about their daily lives. It also becomes popular to go cycling from village to village and have fun.
Top 9 Things to Do in Huangshan
Best Time to Visit Huangshan
6 Tips on Tours to Huangshan in Winter
Mt. Huangshan is attractive for its spectacular rocky peaks, pines and sea of clouds
Travel Tips for Yellow Mountain Visit
We suggest you travel light as much as possible. Hotels in Tunxi usually offer free left-luggage service for their guests. You can prepare backpack to take only necessities with you instead of the heavy and rolling suitcases, just because after getting off from the cable car in Yellow Mountain, there is still nearly 30 minutes' hiking along the winding path, which has many steps.
Although the temperature is 8C (46F) cooler in the mountain than in the city area, you will perspire easily in hiking especially during the daytime. To avoid catching a cold, please change your damp underwear in time.
It is rainy in Yellow Mountain, but there is seldom a series of wet days. The abrupt change from rain to sunshine in the same day is frequent. Don't feel bad if it happens to rain during your visit. Most likely you will be rewarded with splendid views of the Sea of Clouds, rainbow flying over peaks, waterfalls, rosy dawn or sunset glow after the rain.
Taking Huangshan tour itinerary during the Golden Week of the National Day from Oct 1st to Oct 7th is not recommended since the sightseeing spots will be crowded with domestic visitors.