Best Huangshan Tours
Top Huangshan Attractions
Top 10 City Tours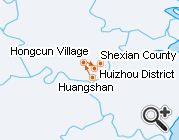 Huangshan Photography Journey
HS05: 5 Days Private Tour of Huangshan - Hongcun Village - Huizhou District - Shexian County
From
$919
per person
Free Inquiry


Welcome to Huangshan! Our guide and driver will come to the airport or railway station to pick you up. You will be transferred to the hotel by a comfortable drive. If we had time, a visit to the
Tunxi Old Street
would be arranged for you to appreciate traditional Hui-style buildings as well as to taste local snacks and admire exquisite handicrafts.
Day 2
Huangshan - Yellow Mountain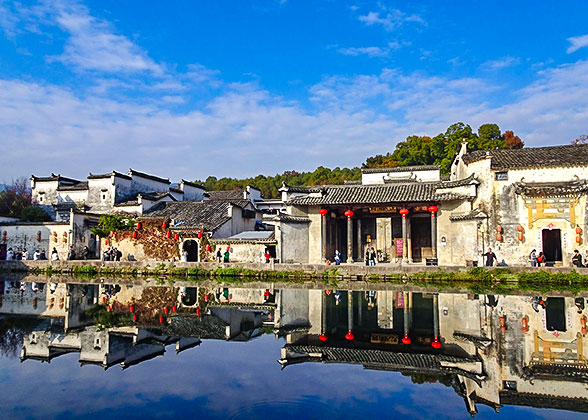 Yellow Mountain
After breakfast, you will be given a car ride to the
Yellow Mountain
whose essential beauty lies in the sea of clouds, jagged rocks and grotesque pines. Upon arrival, we will take a bus at the transfer station to the Hot Spring and then take the Jade Screen Telpher there uphill. After alighting, our guide will accompany you to hike down the mountain path and point out interesting sights along the way including Jade Screen Peak, Guest-Greeting Pine, Lotus Peak, Bright Summit Peak, Falling Rock from Sky… You can easily take great shots of these natural scenes at any angle.
We will stay overnight at a hotel on the mountain. If weather is fine, our guide will take you to watch the beautiful sunrise the next morning, so we kindly suggest you go to bed early and have a good sleep this night.
Meals: Western buffet breakfast, Lunch
Day 3
Yellow Mountain - Hongcun Village (Yixian County)
Hongcun Village
If it is clear, we will set out today's private Yellow Mountain tour early this morning to view the stunning sunrise over the sea of clouds and rolling peaks. After that, continue our photography tour to the Cloud Dispersing Pavilion, West Sea Valley, Lion Peak, the Flower Grown out of a Writing Brush Rock, and Beginning-to-Believe Peak.
At this point, our tour schedule at the Yellow Mountain draws to an end and we will take the Cloud Valley Telpher down to the foot of the mountain. Then you will be transferred to the suburb of Yixian County to tour around the
Hongcun Village
. It is recognized as a village in painting by visitors. Nanhu Lake and Yuezhao Pond are acceptable best shooting places there with surrounding Hui-style residences throwing their reflections on the water. The other highlight of Hongcun Village is the intricate wood, stone and brick carvings on the buildings. At night, our guide will take you to a local hotel for one night's stay and help you check in.
Meals: Western buffet breakfast, Lunch
Day 4
Yixian County - Huizhou District
Tangyue Memorial Archway
Today, we are going to stop by three other ancient villages named Xidi, Nanping, and Guanlu.
Xidi Village
is like a giant maze consisting of 99 crisscrossing lanes with traditional residences lining along the paths while more than 300 quaint buildings especially eight ancestral temples are well preserved in Nanping Village, making the place widely known as the 'museum of Chinese ancient ancestral halls'. When visiting the Guanlu Village, you will be surprised by the adjoining eight mansions there. All of them were built during the Qing Dynasty (1644 - 1911) and adjacent buildings are connected with each other by corridors.
After taking enough pictures, we will head for the next destination of this 5-day Huangshan tour package,
Tangmo Village
. We will arrive at Tangmo in the late afternoon. Our guide will lead you to check in the Tangmo Gites de France in the village.
Meals: Western buffet breakfast, Lunch
Day 5
Huizhou District - Shexian County - Huangshan Exit
After breakfast, you will be guided to loiter around the Tangmo Village to take in its quiet scenery of river, bridges, and black-tiled buildings. After that, we will continue our journey to
Chengkan Ancient Village
which is also nicknamed as the Eight Trigrams Village for eight mountains surrounding the village represent each of the eight diagrams.
When the visit is over, you will be transferred to Shexian County to admire
Tangyue Memorial Archway
consisting of seven arches in various styles as well as the
Bao's Family Garden
which is brimmed with thousands of exquisite bonsais and the 200-year-old banyan is the other treasure of the garden.
Your 5-day private Huangshan tour will conclude here. Our guide and driver will take you to the airport or railway station in Huangshan and help you with the boarding procedure. Thank you for taking the Huangshan photography tour. Wish you a nice journey home!
Meals: Western buffet breakfast, Lunch
Destinations
Luxury Hotels
Standard Hotels
Huangshan
Crowne Plaza Huangshan Yucheng
Huangshan International Hotel
Mt. Huangshan
Xihai Hotel

- South Building

Xihai Hotel

- North Building

Hongcun
Pig's Inn in Bishan Village
Pig's Inn in Bishan Village
Huizhou District
Tangmo Gites de France
Tangmo Gites de France
Tour Prices
With Luxury Hotels
2-3 travelers
4-5 travelers
6-9 travelers

$1139

$969

$779
With Standard Hotels
2-3 travelers
4-5 travelers
6-9 travelers

$1099

$919

$739
Prices are per person in US Dollars based on double occupancy.
Any part of the itinerary e.g. tour length, activities & hotels can be tailored to your individual interests.

Price Includes
Hotel accommodation with breakfasts
Lunches as itinerary specifies
Private English-speaking guide
Private driver & air-conditioned vehicle
Entrance fees to tourist sites
Price Excludes
Airfares of arrival and departure
Entry visa fees
Tips or gratuities for guide and driver
Peak season surcharge (public holiday, Lunar New Year, etc.)
Itineraries you may also like: