Huangshan Mountain(Yellow Mountain )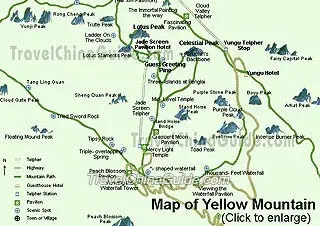 Tourist Map of Yellow Mountain


(Click to enlarge)
Of all the notable mountains in China, the Huangshan Mountain, aka Yellow Mountain, is probably the most famous and can be found in the south of Anhui Province. It is famed for its stunning and peculiar natural sceneries composed of four wonders, namely unique guest-greeting pines, absurd stones, sea of clouds and amazing hot springs, as well as high peaks, strange pines and glacial landforms.

The fairyland-like Huangshan national park occupying an area of 160.6 square kilometers (39,700 acres) boasts not only attractive scenery but also abundant resources and a great variety of zoological species, for which it has been listed as a World Natural and Cultural Heritage Site.

In different seasons around a year the mountain has various and unique beauty, such as the wild spring flowers, specular summer waterfalls, colorful autumn leaves and white winter rime.


See also Best Time to Visit Huangshan Mountain

However, every year, from December to the following March, the West Sea Valley and Heavenly Capital Peak (Tiandu Peak) are closed for winter maintenance. Correspondingly, the West Sea Valley cableway temporarily stops receiving visitors.


See also Huangshan Mountain Travel Tips
| | |
| --- | --- |
| Flying Over Stone | Lotus Peak |
Highlights in Huangshan
Huangshan scenic area mainly consists of six particular areas. Inside the Jade Screen, you can catch sight of lofty mountains, precipitous slopes and antiquated stone carvings. The distinguished Guest-Greeting Pine can be found here, too. From North Sea to Pine Valley, not only the jungle-like steep mountains, but also the lush and verdant pines and cypresses would leave you with a deep impression. The gurgling spring water and imposing waterfalls in Hot Springs and White Cloud will feast your eyes on their distinct beauty and magnificence. With quiet environment and relatively flat paths, the secluded Cloud Valley is suitable for an easier Huangshan hiking.
The famed four wonders are 4 unique views belonging to Mount Huangshan, namely Strange Pines, Absurd Stones, Sea of Clouds and Hot springs respectively.

There are hundreds of rare pine trees in Huangshan. As one of the landmarks of Huangshan, the most famous Guest-Greeting Pine stretches out for about 10 meters (33 feet) from the sheer cliffs, like an usher in a respectful greeting gesture.

The absurd stones can be seen almost on every peak of Huangshan Mountain. From different viewing angles, the stones look like human beings, animals or other objects. Accordingly, they are given different vivid names such as Monkey Stone and Flying over Stone.

Sea of Clouds is known for its beauty, scarcity, marvelousness, and flexibility. You would be lucky to see this rarely seen scenery as it only occurs around 50 days in a year. The whole mountain is as pretty as a huge ink-wash painting when enveloped in the misty clouds. Looking at the floating clouds pouring down from mountaintops will highlight your Huangshan trip.

As one of the four wonders, the Hot springs keep an average temperature of around 42.5℃ (108.5℉) averagely all year round. Taking a bath in hot spring while appreciating the wonderful natural landscapes will not only refresh your body and mind, but also help get away from the fatigue after a tiring Huangshan hiking.
| | |
| --- | --- |
| Sea of Clouds | Sunrise |
Recommended Huangshan Hiking Trails
The Cloud Valley Temple of back Huangshan and Merciful Light Pavilion of front Huangshan are two starting points for a Huangshan hike respectively. In general, for saving physical strength, most tourists like to go up the mountain from its south gate in back part and leave from the north gate in front part.

1-Day Trip to West Sea Valley:
Zhaixi Transfer Center - Cloud Valley Temple - New White Goose Ridge Station - Black Tiger Pine - Harp Pine - Beginning to Believe Peak - Black Tiger Pine - North Sea - Unity Pine - West Sea - Cloud Dispersing Tower - Cloud Dispersing Pavilion - Northern Entrance of West Sea Valley – West Sea Valley Bottom - Sky Sea - Bright Peak Summit - Flying Stone - Bright Peak Summit - Legendary Turtle Peak - 100-step Scaling Ladder - Lotus Pavilion - Guest-Greeting Pine - Merciful Light Pavilion - Zhaixi Transfer Center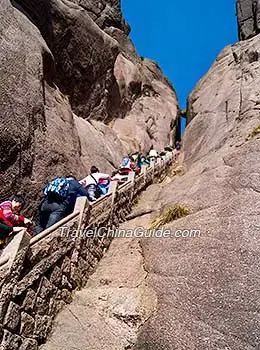 Climbing the Mountain
2-Day Huangshan Trekking Route: (Accommodation: Bei Hai Hotel)
Day 1:
Zhaixi Transfer Center - Cloud Valley Temple - New White Goose Ridge Station - Black Tiger Pine - Harp Pine - Beginning to Believe Peak - Black Tiger Pine - Bei Hai Hotel - Unity Pine - Xi Hai Hotel - Paiyunlou Hotel - Cloud Dispersing Pavilion - Northern Entrance of West Sea Valley - West Sea Valley Bottom - Cloud Dispersing Pavilion - Bei Hai Hotel

Day 2:
Bei Hai Hotel - Refreshing Platform - Monkey Gazing at the Sea - Bei Hai Hotel - Bright Peak Summit - Flying Stone - Bright Peak Summit - Legendary Turtle Peak - 100-step Scaling Ladder - Lotus Pavilion - Guest-Greeting Pine - Heaven Capital Peak - Half Mountain Temple - Merciful Light Pavilion - Zhaixi Transfer Center

How to get to Yellow Mountain
Visitors from Hefei, Nanjing and Anqing can enter the mountain via the north entrance through Taiping. Visitors from Shanghai and Hangzhou can go through Tangkou, the south entrance. As to Huangshan Cable Cars (cable car stations), Taiping Cable Car is close to the north entrance; Yungu and Yuping ropeways are closer to the south entrance.



By Air
If visiting Huangshan by air, from Huangshan Airport, passengers can take bus no. 19 to the city's Passenger Transport Terminal, also called Tunxi Bus Station located at no. 31 Qiyun Avenue. There are regular buses to the Yellow Mountain scenic area and the bus fare is CNY 20/ person. From Huangshan airport, the taxi fee to the scenic area directly is around CNY 200.



By Train
If arriving at Huangshan North Railway Station by bullet train, transfer to a tour bus or taxi in the front square of the station to the transfer center of Mount Huang. The tour buses depart from 08:00 to 20:20. You can also hail a taxi from the railway station to Huangshan, and it would cost around CNY 160.



By Long-distance Bus
There are many regularly direct buses departing from most Chinese cities to Huangshan, so taking the long-distance bus would be one of the available choices to get to Yellow Mountain.
How to get to the Mount Huangshan from Nearby Cities

Click to check the real-time China Train Schedule and Flight Schedule
By Air
By Train
By Bus
How to Travel from Shanghai to Huangshan
One flight at 13:15;
Duration is about 1 hour.
Two bullet trains at 08:42 and 18:07;
Duration is 4 - 4.5 hours.
Two direct buses departing at 10:27 and 14:49 from Shanghai South Bus Station;
It takes about 6.5 hours and the ticket price is CNY 148 per person.
From Nanjing
No direct flight
Overnight trains K8419 (00:07 - 07:11) and K45 (01:32 - 07:32) from Nanjing Railway Station are recommended;
Duration is around 7 hours.
Two buses at 07:00 and 10:50 from Nanjing South Coach Station;
a bus from Nanjing East Coach Station at 14:10;
one bus from Nanjing Coach Station at 14:30;
Ticket fare: around CNY 100.
Duration: about 4.5 hours
From Hangzhou
No direct flight
Two bullet trains at 09:49 and 19:13;
The travel time is about 3 - 3.5 hours.
About 15 direct buses from Hangzhou West Bus Station daily from 06:50 to 18:20;
It takes about 4 hours and costs about CNY 90 per person.
From Hefei
One flight at 14:40;
Duration is about 1 hour
Over 20 bullet trains daily;
The travel time is about 1.5 to 2 hours.
About 15 buses from Hefei Bus from 06:00 to 14:10;
The bus fare is CNY 60 - 100;
It takes around 4 hours.
From Thousand Islets Lake (Qiandao Lake)
No direct flight
About 10 high speed trains daily;
The travel time is 35-47 minutes.
Five buses from Qiandaohu Central Bus Station from 07:10 to 14:30;
Duration: about 3.5 - 5.5h;
Bus fare: CNY 60 – 80.
From Wuhan
No direct flight
One bullet train at 11:17;
The duration is about 4.5 hours.
No direct bus.
| | |
| --- | --- |
| West Sea Valley | West Sea Valley |
Ticket Price
Mar. - Nov.
Dec. - next Feb.
Admission Fee
CNY 190
CNY 150
Cable Car
single trip ticket
Cloud Valley/Taiping
CNY 80
CNY 65
Jade Screen
CNY 90
CNY 75
West Sea Valley
CNY 100
CNY 80
Note: Free for children below 1.2 meters (3.9 feet);
Opening Hours
| | |
| --- | --- |
| Sunday to Friday | 06:30 - 16:30 |
| Saturday | 06:00 - 16:30 |
| Recommended Time for a Visit | Two or three days |
Note: Generally, the ticket is valid for one entry with an unlimited stay length. So if you want to spend more than one day there, you can camp or lodge in a hotel within the scenic area. If you want to exit after the first day's visit and reenter on the next day, you need to register and obtain proof at the ticket office before leaving.

Cable Car Hours
Cable Car
Time
Cloud Valley, Taiping, Jade Screen
Mar 2 - Oct. 31:
06:20 - 17:40 from Monday to Friday; 06:00 - 17:40 on weekends and public holidays

Nov. 1 - March 1:
07:20 - 16:40
West Sea Valley
08:00 - 17:00; closed from December to March annually

Further Reading:
Xidi
,
Hongcun
,
Shexian
- The Town of the residential houses from the Ming and Qing dynasties.

Top 9 Things to Do in Huangshan

Weekend Trips from Shanghai
Recommended Guided Tours:
- Last modified on Nov. 11, 2019 -
Questions & Answers on Yellow Mountain
Asked by Linda from CANADA | Nov. 08, 2019 18:22

Reply
When is West Sea Grand Canyon closed this year?
We will be in Yellow Mountain on Dec 1, will the West Sea Trail still open at that time?
Answers (1)
Answered by Luke from UNITED KINGDOM | Nov. 11, 2019 17:32

0

0

Reply
Generally speaking, all cable cars and rails will stop operating during December and January due to maintenance. But there is no official statement right now, so I'm not sure whether it is still in operation on December 1.
Asked by Emily from CHINA | Oct. 24, 2019 22:19

Reply
My friends and I will take the train from Shanghai
but I'm wondering when would be the slowest time around Spring Festival. The last week of January is the official week but usually the week before or after can also be crowded. To avoid the heavy crowds, would you recommend going during the 3rd or 4th week of January or the 1st or 2nd week of February?
Answers (1)
Answered by James from UNITED KINGDOM | Oct. 28, 2019 01:10

0

0

Reply
January 25 is the first day of Chinese lunar new year. Maybe you can choose the second week of February.
Asked by Adi from SPAIN | Oct. 20, 2019 20:48

Reply
Weekend in the yellow mountains from Ningbo
Hello, my idea is to go during the weekend. The plan would be to stay one night on the top of the mountain and go back the next day.
Do you think is it possible? I see that the fastest way from Ningbo is the bullet train and it arrives around noon to the Huangshan city. We would like to go on the same day to see the sunrise and sleep there. The next day see the sunrise and go back to the train station because the train leaves at 15:40.
What do you think? I tried to find info about bus schedules but I couldn't.
Answers (1)
Answered by Sara from THAILAND | Oct. 23, 2019 18:34

0

0

Reply
It sounds doable. After you arriving HS North Railway station, you can follow the guide to take bus to Tangkou county. It departs from 8:30 to 19:50 with interval of 1 hour. Then you can take tourist bus from there to scenic area.
Asked by Ao from THAILAND | Sep. 28, 2019 00:39

Reply
Cable car of Huangshan maintain plan
I plan to trek around mid Jan 2020, are there any plan to maintain the Yungu cable car or other cable car?
Answers (1)
Answered by Mat from NEW ZEALAND | Sep. 29, 2019 01:25

0

0

Reply
Yungu and other cable cars will be maintained regularly. But we can't know the exact time of maintainence in January 2020 so early.