Yellow Mountain (Huangshan Mountain)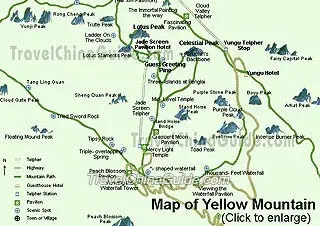 Map of Yellow Mountain


(Click to enlarge)
Of all the notable mountains in China, the Yellow Mountain is probably the most famous to be found in the south of Anhui Province. Originally known as Mt. Yishan it was renamed Mt. Huangshan in 747 AD in recognition of the legendary Huang Di, who was the reputed ancestor of the Chinese people and who made magic pills for immortality here.

Wu yue is the collective name given to China's most important mountains, namely Mt. Taishan in Shandong Province, Mt. Huashan in Shaanxi Province, Mt. Hengshan in Shanxi Province, Mt. Songshan in Henan Province and Mt. Hengshan in Hunan Province. It is said that you won't want to visit any others after seeing wu yue but you won't wish to see even wu yue after returning from Yellow Mountain. This saying may give you some idea of the beauty and uniqueness of it. Together with the Yellow River, the Yangtze River and the Great Wall, it has become one of the great symbols of China.

It can boast not only of its magnificence but also its abundant resources and great variety of zoological species, for which it has been listed as a World Natural and Cultural Heritage Site.



Every year, from December to the next March, the West Sea Valley and Heavenly Capital Peak (Tiandu Peak) are closed for winter maintenance. Correspondingly, the West Sea Valley Telpher temporarily stop receiving visitors.
| | |
| --- | --- |
| Flying Over Stone | Lotus Peak |
Best Time and Locations to See Sunrise
The best east-facing viewing areas on the Yellow Mountain are Dawn Pavilion, Refreshing Platform, Lion Peak, Rosy Clouds Peak, Bright Peak Summit, Jade Screen Peak, Lotus Blossom Peak and Heavenly Capital Peak; best times to view a sunrise:


Spring ---- 05:30-06:00


Summer ---- 04:40-05:10


Fall ---- 04:50-05:20


Winter ---- 05:30-06:00

Best times and viewing areas to see sunglow:
Before and after sunrise is the best time to see sunglow. As with viewing the sunrise, you should be in position early.

Best times and viewing areas to see seas of clouds:
From September to May is the best season for cloud viewing, especially on a clear day after rainy or snowy weather. Seas of clouds are infrequent in summer. To best experience the beauty of seas clouds, tourists should change their viewing locations points according to the height of clouds.
| | |
| --- | --- |
| Sea of Clouds | Sunrise |
How to Get to Yellow Mountain
Visitors from Hefei, Nanjing and Anqing can enter the mountain via the north entrance through Taiping. Visitors from Shanghai, Hangzhou can go through Tangkou, the south entrance. As to Huangshan telphers (cable car stations), Taiping Telpher is close to the north entrance. Yungu and Yuping telphers are in the south entrance.


By Air - Shanghai Hongqiao Airport has a direct flight at 12:45 and arriving in Huangshan Airport at 14:15. Then take no. 19 bus to the city's Passenger Transport Terminal (also called Tunxi Bus Station) located at no. 31 Qiyun Avenue. There are regular buses to the Yellow Mountain scenic area and the bus fare is CNY 20.


By Train - Passengers can take Shanghai-Huangshan Trains running from Shanghai Hongqiao Railway Station to Huangshan North Railway Station. The travel time is 4-4.5 hours and it costs CNY 505.5 for a first class seat and CNY 304 for a second class seat. When arriving, change to a tour bus or taxis in the front square to the resort. The tour buses depart every hour from 09:00 to 19:00.


By Bus - Shanghai South Bus Station has three buses a day departing at 08:00, 10:30 and 14:50 to Tangkou. It takes about 6 hours and the ticket price is CNY 150. The departure time may be adjusted to the notice of the bus station.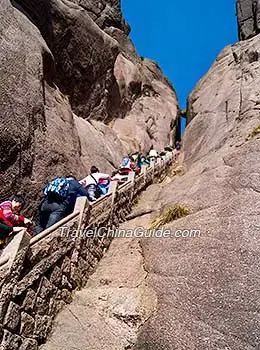 Climbing the Mountain
For the morning buses, visitors had better go to the bus station for ticket one day in advance. There are also buses here to Tunxi, passing Yixian and Shexian counties. The ticket price is a bit cheaper and it takes 5.5-6 hours. Visitors can choose where to go first.
From Hangzhou

By Bus - Hangzhou West Bus Station has about seven direct buses every day, leaving at 08:00, 09:50, 10:50, 12:40, 14:10, 15:10 and 17:45. It takes about 4 hours and costs about CNY 98 or 112 to get to the mountain.

By Train - Take a bullet train from
Hangzhou East Railway Station
to Huangshan North Railway Station. The travel time is about 3.5 hours. A first class seat costs CNY 388.5 and a second class seat costs CNY 231. Upon arrival, take a tour bus from the front square to the resort.

By Bus - Everyday, there are two blue New National Express buses to Qiandao Lake at 06:20 and 13:30 and back to here at 07:00 and 14:30. The bus fare is CNY 80 and 94 respectively. It needs around 4 hours.

By Ferry - Take ferry at Qiandaohu Passenger Transport Center to Shendu Ferry Wharf. Then take bus to Huangshan. It takes hours on the ferry, so it is better to choose bus. To Qiandao Lake, visitors can try the ferry to see the scenery of the lake. No need to take the cruise boat after getting to the lake area. It saves some money.
From Hefei

By Air -
Hefei Xinqiao International Airport
has one direct flight, at 20:45 and arriving at 21:45. Upon arrival, spend a night there. Then take no. 19 bus to reach the passenger transport terminal on Qiyun Avenue and take regular buses to the scenic area from there. Or take a taxi from the airport.

By Bus - there are buses from Hefei East Bus Station to the scenic area, which depart at 06:45, 07:40, 09:20, 10:40, 11:40, 12:50, 13:15, 13:43 and 16:40. The bus fare is CNY 88 or 98. It takes around 4 hours.

By Train - Passengers can easily get to Huangshan North Railway Station by bullet train from Hefei South Railway Station. The travel time is about 1.5 to 2 hours and it costs about CNY 140.5 for a second class seat and CNY 236.5 for a first class seat. Upon arrival, take a tour bus from the front square.
From Nanjing

By Bus - There are two buses depart from Nanjing South Coach Station, at 07:00 and 11:50. It costs CNY 101 and 103 respectively.

By Train - there are six trains from
Nanjing Railway Station
. However, visitors may take K8419 (00:07-07:11) and K45 (01:32-07:32). When they arrive, they still can take minibus to the Yellow Mountain directly.
From Wuhan

By Bus - There are two buses from Fujiapo Long Distance Bus Station, departing at 09:30 and 17:20. It takes around 8 hours. Another two buses leave from Jinjiadun Long Distance Bus Station, at 07:40 and 16:20. The whole bus journey is around 10 hours. The bus fares are CNY 235 and CNY248.
Departing from other cities? Just search how to get there by using our
China Flight
or
China Train
Search Tools.
| | |
| --- | --- |
| West Sea Valley | West Sea Valley |
Ticket Price
Mar. - Nov.
Dec. - next Feb.
Admission Fee
CNY 230
CNY 150
Cable Car
single trip ticket
Cloud Valley/Taiping
CNY 80
CNY 65
Jade Screen
CNY 90
CNY 75
West Sea Valley
CNY 100
CNY 80
Note: Free for children below 1.2 meters (3.9 feet).
Opening Hours
| | |
| --- | --- |
| Sunday to Friday | 06:30 - 16:30 |
| Saturday | 06:00 - 16:30 |
| Recommended Time for a Visit | Two or three days |
Note: Generally, the ticket is valid for one entry with an unlimited stay length. So if you want to spend more than one day there, you can camp or lodge in a hotel within the scenic area. If you want to exit after the first day's visit and reenter on the next day, you need to register and get a proof at the ticket office before leaving.

Cable Car Hours
| Telpher | Time |
| --- | --- |
| Cloud Valley | 07:00 - 16:30 |
| Taiping | 07:30 - 16:30 |
| Jade Screen | 07:30 - 16:30 |
| West Sea Valley | 08:00 - 17:00; closed from December to March annually |

Further Reading:
Yixian
,
Shexian
- The Town of the residential houses from the Ming and Qing dynasties.

Recommended Guided Tours:

3 Days Huangshan Tour from

$399

4 Days Yellow Mountain Hiking Tour from

$549

10 Days Group Tour to Beijing - Xian - Shanghai - Mt. Huangshan from

$1459
More
Huangshan Tours