Shexian County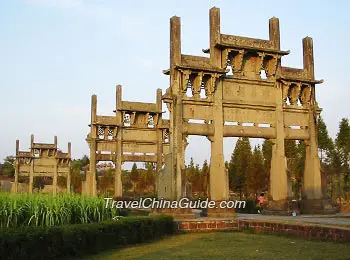 Archway
In the northeast part of Huangshan City, under the foot of the renowned
Huangshan Mountain
(Yellow Mountain), locates a famous historical and cultural city – Shexian County. Surrounded by green mountains and crystal water, it is rich in cultural relics, residences, memorial temples, and memorial arches. It is an art museum of classical architecture.
Strolling in Shexian County, you can see the towers, bridges, lanes and wells in Ming (1368-1644) and Qing (1644-1911) Dynasties styles everywhere. The beautiful scenery and exquisite architecture win it the fame of water town, mountain town and bridge town. The rich county has attracted many men of letters in history to come and praise its beauty. There are three wonders -
Ancestral Temples
,
Ancient Residential Houses
and
Town of Arch
, due to which building experts from China and the rest of the world call it 'A Naturally Formed Classical Architectural Arts Museum'.
The old city of Shexian, known as
Huizhou Ancient City
, is composed of Fu Cheng and Xi'an Cheng. Fu Cheng was originally built in the late Sui Dynasty (581-618), and enlarged in Tang Dynasty (618-907) to the later scale. The existent city wall was built along the mountain ridge which measures about 1,640 yards long. Some places of interest before Song Dynasty (960-1279) are to be found such as Hama (Toad) Well, Yinggong Well and Dagu Well. Some old streets such as Doushan Street, Zhongshan Lane and Dabei Street are basically kept their features of Ming-Qing Dynasties. In Fu Cheng and Xi'an Cheng, there are altogether 16 Ming-Qing arches.
| | |
| --- | --- |
| Hui style architecture | Ancestral Hall of Bao's Family |
Once in history, Shexian was called Huizhou. It is the home where Hui Culture (one of the three regional cultures in China) originated. The beautiful place bears the talents. In this picturesque place, there are many celebrities who skill in different fields of study. For example, Zhu Xi is a famous thinker in Southern Song Dynasty (1127-1279). Bi Sheng is the inventor of movable type writing. Tao Xingzhi is a great educator. Huang Binhong is a well-known modern painter. The Xin'an painting school, Architecture of Hui Style, Drama of Hui School, Xin'an Medicine and Hui Style Dishes all more or less enjoy some fame.
Moreover, Shexian County has many local specialties, such as honey date, various kinds of famous teas including Huangshan Maofeng Tea, Dinggu Dafang Tea and Huangshan Green Peony Tea, which are considered to be the invaluable treasures by local people.
- Last updated on Apr. 15, 2021 -
Questions & Answers on Shexian
Asked by Callie Chee from AUSTRALIA | Nov. 04, 2018 04:40

Reply
I am trying to find this village called Sokdam Village in Shexian, Anhui.
I saw a photo of it. Its high up a hill and overlooks the river and village. I can't seemed to find information how to get there. Can you please advise?
Answers (3)
Answered by Tab from FRANCE | Nov. 06, 2018 18:20

0

0

Reply
You can take the bus at Shexian Bus Station to Xiakeng Town. Then as you arrive at Xiakeng Town, transfer to a local bus to Sokdam Village.
Answered by Callie Chee from AUSTRALIA | Nov. 09, 2018 00:48

0

0

Reply
Thank you very much. How far is it to travel by private taxi from Tunxi or Tangkou to Sokdam Village?
Answered by Tab | Nov. 09, 2018 01:49

0

0

Reply
It is about 62 kilometers. You can take the bus at Shexian Bus Station to Tunxi or Tangkou.