Mount Jiuhua
Mount Jiuhua covers an area of 100 square kilometers (39 square miles) southwest of Qingyang County, Huangshan City, not far from the picturesque
Yellow Mountain
. It boasts 99 peaks and 18 scenic spots in its area. With its marvelous landscape and pleasant climate, it is considered one of the best summer resorts in China. In addition to its popularity as a tourist destination, it is a holy site where Buddhists assemble-- it has been established as one of the four sacred Buddhist shrines, along with
Mount Wutai
in Shanxi,
Mt. Emei
in Sichuan, and
Mount Putuo
in Zhejiang.
According to historical records,
Buddhism
was first introduced to Mount Jiuhua in the year 401. In 719, a Korean monk named Jin Qiaojue arrived and practiced Buddhism here for 75 years. Upon his Nirvana in 794, Jin Qiaojue was respected as the Earth Buddha by the locals, hence it has become the place where religious rituals were held to worship the God of Earth.
Mount Jiuhua

, Anhui

Main Hall of Huacheng Temple
It has always been a place that attracts men of letters throughout the ages. The story goes that Libai (701-762), the famous poet of Tang Dynasty (618 -907), once came to visit Jiuhuashan. The verse slipped out when he was intoxicated with the scene of lotus blooms-like peaks of the Mount Jiuhua, 'From the azure skies above descends a jade-like flow, and nine fascinating lotuses rise out of the hills below'. Later, poet Liu Yuxi (772-784) in Tang Dynasty, litterateur Wang Anshi (1021-1086) in North Song Dynasty (960 - 1127) and many other scholars, politicians and monks also made the journey to Jiuhuashan, and thus it got its fame. Just as a Chinese saying goes 'A mountain is famous not for its height but for its holiness'.
| | |
| --- | --- |
| Zhiyuan Temple | Incarnation Hall |
Visitors to the temples on the Mount Jiuhua are always impressed with the exquisite architecture and grand structure. Now there are no more than 90 temples in existence in it, most of them restored in Ming (1368 - 1644) and Qing (1644 - 1911) Dynasties. Among the most well known are the Incarnation Hall, Huacheng Temple, Zhiyuan Temple, Longevity Hall, Zhantanlin Temple, Ganlu Temple and Tiantai Zhending Temple.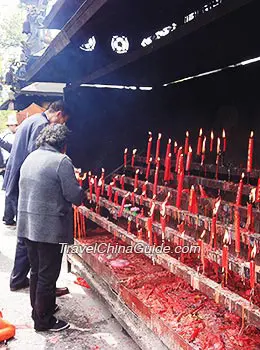 Incarnation Hall
Huacheng Temple is the oldest and holiest temple on Jiuhuashan. It is located in the center of Jiuhua Street. Though it first appears simple and solemn, the structure and decoration of the building are truly artistic. The engravings on lintels, brackets and roofs reinforce the brightness and liveliness of the building. The picture, 'Nine Dragons Playing with Pearls' on a panel in the Main Shrine Hall is a consummate piece of ancient Chinese art.

Precious sutras and other cultural relics in the temples are displayed in the Historical Relics Museum. The most valuable are the Buddhist canonical literature left from the Tang Dynasty, the Tripitaka left from the Ming Dynasty, and Emperor Kang Xi and Emperor Qian Long's handwritings left from the Qing Dynasty.

It is also worth mentioning the Corporeal Body Hall houses the skeleton of Monk Wu Xia that has been well preserved for more than 350 years. Wu Xia once wrote sutras with a mixture of gold powder and his own blood in a cave of the Mount Jiuhua during Ming Dynasty. After hard practice of sutras for a hundred year in it, Wu Xia passed away at the age of 126-- his body found in the cave three years after his death. Monks on Jiuhuashan believed Wu Xia was the reincarnation of Rinpoche. From then on, Buddhist believers have been keen to visit Jiuhuashan to pay homage to the monk.

Additionally, the Temple Fair on it, also named Hid Puja, is held every year regularly since 1983. With a history of over 1,000 years, it has been regarded as national immateriality cultural heritage. The 30th Temple Fair, from September 1st to 30th in 2012, attracted a large number of tourists and pilgrims home and abroad. During the temple fair period, the newly built Dayuan Cultural Garden was put into trial operation. Its remarkable buildings, the 99-meter tall bronze Ksitigarbha Bodhisattva Statue, and 99-meter diameter Buddha's Light Pool, is another sightseeing and Buddha-worship sites on Jiuhuashan.
How to get to Mount Jiuhua
By Bus
1. Nanjing Bus Station has three buses a day to Jiuhuashan at 7:40, 14:00, and 16:00, which take about 3h; one bus fron Nanjing South Bus Station at 11:30 is also available.
2. Hefei Tourism Bus Station (east of Hefei Railway Station) and Hefei South Bus Station provide regular buses to this mountain. The journey takes about 3 hours.
3. Huangshan Bus Station has only one bus at 13:30.
4. Many buses are avaiable from Chizhou Bus Station to the mountain and it takes about 30mins.

By Train
Take train to Chizhou first. After get out of Chizhou Railway Station, you will see Chizhou Bus Station. There are buses to the mountain and it takes about 30mins.

By Air
Visitors can take a flight to Chizhou Jiuhuashan Airport and then take a taxi to the mountain area.
Entrance Fee

Jan. 16 - Nov. 14: CNY 160
Nov. 15 - Jan. 15: CNY 140

Free for children under 1.2m (3.9 ft).

Cable Car

Bai Sui Gong Cableway
Jan. 16 - Nov. 14:
CNY 100 (round-trip); CNY 55 (single-trip).

Nov. 15 - Jan. 15:
CNY 80 (round-trip); CNY 45 (single-trip).
Tiantai Cableway
Jan. 16 - Nov. 14:
CNY 160 (round-trip); CNY 85 (single-trip).

Nov. 15 - Jan. 15:
CNY 120 (round-trip); CNY 65 (single-trip).
Huatai Cableway
Mar. - Nov.:
CNY 160 (round-trip); CNY 90 (single-trip).

Dec. - Feb.:
CNY 120 (round-trip); CNY 70 (single-trip).

Opening Hours

07:00 - 17:00

Recommended Time for a Visit

1-2 days
- Last modified on Aug. 20, 2019 -
Questions & Answers on Mount Jiuhua
Asked by Emily from AUSTRALIA | Jul. 14, 2019 23:57

Reply
Does the bus from Chizhou Railway go all the way to Jiuhua Mountain Scenic?
We are hoping to drop our bags off at the accommodation (preferably close to the Mountain) before we head in!
Answers (2)
Answered by Randal from USA | Jul. 17, 2019 01:47

0

0

Reply
Generally speaking, it will park outside the scenic area because you can enter it after you buy the ticket.
Answered by Joys from CHINA | Aug. 20, 2019 05:36

0

0

Reply
Yes, Chizhou Railway Station has buses to MT.Jiuhua,There are many hotels down the mountain.Enjoy your holiday.
Asked by sant leelavilas from THAILAND | Jul. 07, 2019 23:26

Reply
How to get to Jiuhuashan Dayuan Cultural Park from Chizhou Railway Station by public buses.
How about the buses numbers, frequencies and duration. Thank you
Answers (1)
Answered by Jessica from USA | Jul. 08, 2019 19:30

0

0

Reply
You can take direct bus from Chizhou General Coach Station, which is near Chizhou Railway Station. The first bus departs at 11:00 with CNY12 and 40 minutes on the way.
Asked by Bob | Apr. 27, 2019 21:10

Reply
Suggestion for the best route to the Jiuhuashan peak
I want to know the best route/track to the top with nice views and moderate difficulty in hiking. Thank you
Answers (2)
Answered by Emma from USA | Apr. 28, 2019 02:36

0

0

Reply
You can walk as follow: Jiuhua Street - Baisui Palace - Phoenix pine - Tiantai Temple - Huatai - Xiamin Garden - Tiger Cave.
Answered by Bob | Apr. 28, 2019 23:09

0

0

Reply
Thanks
Asked by Romain from FRANCE | Mar. 17, 2019 18:20

Reply
Is there any hotel around Jiuhua mountain at a cheap price ?
Do you advice some places to go?
Answers (1)
Answered by Isabella from CANADA | Mar. 24, 2019 19:28

0

0

Reply
Yes, as I know, there are many cheap hotels nearby the scenic area.
For example, you can go to Jiuhuashan Bell Tower Hotel. It is located at No.28, Furong Road. The price is CNY300 to 350 per night. You can find clean environment and warm service there.
Asked by Charlotte from FRANCE | Sep. 30, 2018 12:31

Reply
How to come from Suzhou to Mt.Jinhua?
Are there buses? If yes, do you know where we can book tickets in advance?
Many thanks
Answers (1)
Answered by Ivey from USA | Oct. 08, 2018 00:22

0

0

Reply
Yes, there is only one direct bus at 07:40 every day to Jinhua Mountain and you are advised to go to the bus station early to buy tickets. Because the online ticket booking page only has Chinese version.