Mt. Jiuhua
Mt. Jinhua covers an area of 100 square kilometers southwest of Qingyang County, Huangshan City, not far from the picturesque
Yellow Mountain
. It boasts 99 peaks and 18 scenic spots in its area. With its marvelous landscape and pleasant climate, it is considered one of the best summer resorts in China. In addition to its popularity as a tourist destination, it is a holy site where Buddhists assemble-- it has been established as one of the four sacred Buddhist shrines, along with
Mt.Wutai
in Shanxi,
Mt.Emei
in Sichuan, and
Mt.Putuoshan
in Zhejiang.
According to historical records,
Buddhism
was first introduced to this mountain in the year 401. In 719, a Korean monk named Jin Qiaojue arrived and practiced Buddhism here for 75 years. Upon his Nirvana in 794, Jin Qiaojue was respected as the Earth Buddha by the locals, hence it has become the place where religious rituals were held to worship the God of Earth.
| | |
| --- | --- |
| Mt. Jiuhua, Anhui | Main Hall of Huacheng Temple |
It has always been a place that attracts men of letters throughout the ages. The story goes that Libai(701-762), the famous poet of Tang Dynasty, once came to visit Jiuhuashan. The verse slipped out when he was intoxicated with the scene of lotus blooms-like peaks of the mountain, 'From the azure skies above descends a jade-like flow, and nine fascinating lotuses rise out of the hills below'. Later, poet Liu Yuxi (772-784) in Tang Dynasty, litterateur Wang Anshi (1021-1086) in North Song Dynasty and many other scholars, politicians and monks also made the journey to Jiuhuashan, and thus it got its fame. Just as a Chinese saying goes 'A mountain is famous not for its height but for its holiness'.
| | |
| --- | --- |
| Zhiyuan Temple | Incarnation Hall |
Visitors to the temples on the mountain are always impressed with the exquisite architecture and grand structure. Now there are no more than 90 temples in existence in it, most of them restored in Ming and Qing Dynasties. Among the most well known are the Incarnation Hall, Huacheng Temple, Zhiyuan Temple, Longevity Hall, Zhantanlin Temple, Ganlu Temple and Tiantai Zhending Temple.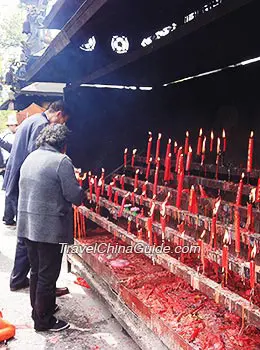 Incarnation Hall
Huacheng Temple is the oldest and holiest temple on Jiuhuashan. It is located in the center of Jiuhua Street. Though it first appears simple and solemn, the structure and decoration of the building are truly artistic. The engravings on lintels, brackets and roofs reinforce the brightness and liveliness of the building. The picture, 'Nine Dragons Playing with Pearls' on a panel in the Main Shrine Hall is a consummate piece of ancient Chinese art.

Precious sutras and other cultural relics in the temples are displayed in the Historical Relics Museum. The most valuable are the Buddhist canonical literature left from the Tang Dynasty, the Tripitaka left from the Ming Dynasty, and Emperor Kang Xi and Emperor Qian Long's handwritings left from the Qing Dynasty.

It is also worth mentioning the Corporeal Body Hall houses the skeleton of Monk Wu Xia that has been well preserved for more than 350 years. Wu Xia once wrote sutras with a mixture of gold powder and his own blood in a cave of the mountain during Ming Dynasty. After hard practice of sutras for a hundred year in it, Wu Xia passed away at the age of 126-- his body found in the cave three years after his death. Monks on Jiuhuashan believed Wu Xia was the reincarnation of Rinpoche. From then on, Buddhist believers have been keen to visit Jiuhuashan to pay homage to the monk.

Additionally, the Temple Fair on it, also named Hid Puja, is held every year regularly since 1983. With a history of over 1,000 years, it has been regarded as national immateriality cultural heritage. The 30th Temple Fair, from September 1st to 30th in 2012, attracted a large number of tourists and pilgrims home and abroad. During the temple fair period, the newly built Dayuan Cultural Garden was put into trial operation. Its remarkable buildings, the 99-meter tall bronze Ksitigarbha Bodhisattva Statue, and 99-meter diameter Buddha's Light Pool, is another sightseeing and Buddha-worship sites on Jiuhuashan.

For detailed information on Dynasties, please refer to History of China.
Admission Fee:

CNY 190 (Jan.16 - Nov.14); CNY 140 (Nov.14 - Jan.15)

Cable Car:

Bai Sui Gong Cable
Way: CNY 55 (one way), CNY 100 (round trip);


Tiantai Cable Way:
CNY 75 (one way), CNY 140 (round trip);

Huatai Cable Way:
CNY 85 (one way), CNY 160 (round trip) from Jan.16 - Nov.14
CNY 65 (one way), CNY 120 (round trip) from Nov.14 - Jan.15

Opening Hours:

08:00 - 17:30

Recommended Time for a Visit:

stay one or two nights

How to Get There:

By Bus:
1. Nanjing Zhongyangmen Bus Station has four buses a day to Jiuhuashan at 7:40, 14:00, 14:50, 16:20, taking 4-4.5 hours.
2. Hefei Tourism Bus Station (east of Hefei Railway Station) has regular buses to this mountain hourly from 10:00-15:00. The journey takes about 3 hours. Hefei New South Bus Station also has regular buses to here hourly from 6:40-16:30.
3. Huangshan Scenic Area (Tangkou) has only two buses to here at 6:30 and 13:30. Tunxi Bus Station also has few buses. The journey is about 2-3 hours.
By Train:
Take train to Chizhou first. After get out of Chizhou Railway Station, you will see Chizhou Bus Station. There are buses to here every a few minutes and reach there about one hour later.
By Air:
It expects to have its own airport in 2013. Now, visitors can fly to Hefei, Nanjing, Wuhu, Huangshan airport first and then take bus to here.