Anhui Travel Guide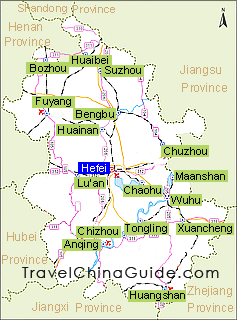 Anhui Facts
Chinese Name: 安徽 (ān huī)
Abbreviation: Wan
Population: 70,829,000
Area: 140,100 square kilometers (54,479 square miles)
Location: in the east of China
Administrative Division: 16 cities (Hefei, Huaibei, Bozhou, Suzhou, Bengbu, Fuyang, Huainan, Chuzhou, Lu'an, Maanshan, Wuhu, Xuancheng, Tongling, Chizhou, Anqing, Huangshan); 8 county-level cities; 5 counties, 44 districts
GDP (2018): CNY 300.068 billion (USD 45.348 billion)

Anhui, with Heifei as the capital, is an inland province in eastern China. It stretches over the Yangtze River and Huai River, and is adjacent to six provinces of Jiangsu, Zhejiang, Jiangxi, Hubei, Henan and Shandong. Anhui has cultivated its unique Hui Culture and embraces beautiful mountains. Known as the hometown of Chinese opera, Anhui has developed more than 30 kinds of local operas, among which Huangmei Opera is one of the five major Chinese operas. In addition, Hui style architecture featuring unified layout and style is essential to Hui Culture. Bricks, wood and stone are the main materials and carved with delicate patterns, showing a high level of decorative art. The Xidi Ancient Village and Hongcun Ancient Village preserve a complex of Hui style buildings. Anhui is also famous for splendid mountains and Mount Huangshan, Mount Jiuhua, and Mount Tianzhu are the most representative.

What to See
Covering an area of 130,000 square kilometers (50,200 square miles), it boasts of abundant tourism resources, and is a top tourist attraction among many in the Southeast, such as: the amazing Mount Huangshan, famous for its towering pines, precipitous stones, wonderland cloud-sea and hot springs; Mount Jiuhua, one of the four famous Buddhist Mountains in China; Mount Tianzhu, also a well-known scenic spot. The magnificence of these peaks is simply stupendous. Standing on top of any one of these peaks would overwhelm most trekkers with a sight to behold.

In addition to the beautiful mountain scenery, the well-preserved ancient villages in the southern part are derived from the Ming and Qing Dynasties (1368 - 1911). The most impressive ones are in Xidi and Hongcun Ancient Villages in Yixian County near Mount Huangshan. It is really a sight worth seeing and a must for visitors who are keen to learn more about life during those years. Shexian County, reputed as Town of Arches, is also a must for each visitor who wants to experience fine examples of residential architecture from the Ming and Qing Dynasties and the unique Tangyue Memorial Archway.
| | | |
| --- | --- | --- |
| Ancient Memorial Archway | Mt. Huangshan | Hongcun Village, Anhui |
When to Go
It intrigues and astonishes tourists with its marvelous scenery and centuries-old cultural relics. Annual average temperature is between 14

C and 17

C. The best time to visit these scenic areas is in autumn (September, October, and November) and spring (April, May and June). However, the snow scenery of Huangshan is absolutely fascinating so if you enjoy the snow, it's best to come during the winter.
It is also well known for its various craftworks, such as rice paper, ink stone and Chinese ink. Together, they form the precious Chinese four treasures of literary pursuits.

Cities in Anhui
Recommended Guided Anhui Tours:
- Last updated on Mar. 24, 2023 -
Questions & Answers on Anhui Travel
Asked by Rosita from INDONESIA | Oct. 12, 2019 23:44

Reply
What is the best way from Indonesia to go to Anhui ?
Hi.. I'm from Jakarta , Indonesia . I am planning to go to Anhui next year, what is the best way to get there ? Should I go to Shanghai or Xia men International airport first ?
Answers (1)
Answered by Rita from USA | Oct. 15, 2019 18:45

0

0

Reply
There is no direct route between them. You need to transfer in Guangzhou, Shanghai or Xiamen.
Asked by RACHELLE from PHILIPPINES | Sep. 02, 2017 00:14

Reply
How do I travel from Manila Philippines to Wuhu in Anhui?
What city do I fly to from Manila? And do I take a train or another flight to get to Wuhu?
Answers (1)
Answered by J from USA | Sep. 03, 2017 23:03

1

0

Reply
Well, you can fly to Shanghai Pudong Airport first; after that, take Shuttle Bus line 5 to Shanghai Station, from where you can take bullet train to Wuhu. The train takes about 2h 30 minutes and CNY279 for a first class seat, CNY 174.5 for a second one.
Asked by Salim from INDIA | Jul. 25, 2017 11:42

Reply
I'm visiting Bali Indonesia from Mumbai,is it cheaper to visit anhui from Bali or from Mumbai?
Answers (1)
Answered by Nigel from SINGAPORE | Jul. 26, 2017 00:54

0

0

Reply
Well, there is no direct flight from Bali or from Mumbai to Hefei (the capital city of Anhui). You need to transfer to the flight at Bangkok. Mumbai would be a better choice because more flights depature from there.
In addition, if you wanna know the ticket fare, you are advised to provide the date of departure. Then I can find the price for you. :)
Asked by Vince Nicola from CANADA | Apr. 18, 2016 19:47

Reply
I am currently in Xi'an. What is the best way to get to Hefei?
Answers (1)
Answered by Mona from CANADA | Apr. 18, 2016 20:29

0

0

Reply
Hey, it is best to fly there directy from Xianyang Airport within 2h.