Anhui Travel Guide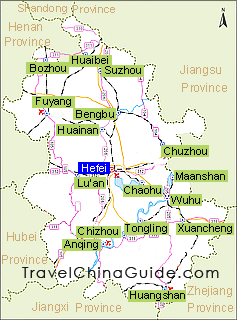 Anhui, with a population of over 59 million, is an inland province in Southeast China. It stretches over the Yangtze River and Huai River, and is adjacent to six provinces of Jiangsu, Zhejiang, Jiangxi, Hubei, Henan and Shandong. Hefei City, the capital of Anhui Province, has many attractions as a result of its 2,000 years of history.
What to See
Covering an area of 130,000 square kilometers (50,200 square miles), it boasts of abundant tourism resources, and is a top tourist attraction among many in the Southeast, such as: the amazing Mount Huangshan, famous for its towering pines, precipitous stones, wonderland cloud-sea and hot springs; Mount Jiuhua, one of the four famous Buddhist Mountains in China; Mount Tianzhu, also a well-known scenic spot. The magnificence of these peaks is simply stupendous. Standing on top of any one of these peaks would overwhelm most trekkers with a sight to behold.

In addition to the beautiful mountain scenery, the well-preserved ancient villages in the southern part are derived from the Ming and Qing Dynasties (1368 - 1911). The most impressive ones are in Xidi and Hongcun Ancient Villages in Yixian County near Mount Huangshan. It is really a sight worth seeing and a must for visitors who are keen to learn more about life during those years. Shexian County, reputed as Town of Arches, is also a must for each visitor who wants to experience fine examples of residential architecture from the Ming and Qing Dynasties and the unique Tangyue Memorial Archway.
| | | |
| --- | --- | --- |
| Ancient Memorial Archway | Mt. Huangshan | Hongcun Village, Anhui |
When to Go
It intrigues and astonishes tourists with its marvelous scenery and centuries-old cultural relics. Annual average temperature is between 14

C and 17

C. The best time to visit these scenic areas is in autumn (September, October, and November) and spring (April, May and June). However, the snow scenery of Huangshan is absolutely fascinating so if you enjoy the snow, it's best to come during the winter.
It is also well known for its various craftworks, such as rice paper, ink stone and Chinese ink. Together, they form the precious Chinese four treasures of literary pursuits.
Cities in Anhui

Recommended Anhui Itineraries:


3 Days Huangshan Tour from $369


11 Days Private Tour of Shanghai - Suzhou - Hangzhou - Huangshan - Beijing from $1629
More China Tour Packages
- Last modified on May. 16, 2018 -
Questions & Answers on Anhui Travel
Asked by RACHELLE from PHILIPPINES | Sep. 02, 2017 00:14

Reply
How do I travel from Manila Philippines to Wuhu in Anhui?
What city do I fly to from Manila? And do I take a train or another flight to get to Wuhu?
Answers (1)
Answered by J from USA | Sep. 03, 2017 23:03

1

0

Reply
Well, you can fly to Shanghai Pudong Airport first; after that, take Shuttle Bus line 5 to Shanghai Station, from where you can take bullet train to Wuhu. The train takes about 2h 30 minutes and CNY279 for a first class seat, CNY 174.5 for a second one.
Asked by Salim from INDIA | Jul. 25, 2017 11:42

Reply
I'm visiting Bali Indonesia from Mumbai,is it cheaper to visit anhui from Bali or from Mumbai?
Answers (1)
Answered by Nigel from SINGAPORE | Jul. 26, 2017 00:54

0

0

Reply
Well, there is no direct flight from Bali or from Mumbai to Hefei (the capital city of Anhui). You need to transfer to the flight at Bangkok. Mumbai would be a better choice because more flights depature from there.
In addition, if you wanna know the ticket fare, you are advised to provide the date of departure. Then I can find the price for you. :)
Asked by Vince Nicola from CANADA | Apr. 18, 2016 19:47

Reply
I am currently in Xi'an. What is the best way to get to Hefei?
Answers (1)
Answered by Mona from CANADA | Apr. 18, 2016 20:29

0

0

Reply
Hey, it is best to fly there directy from Xianyang Airport within 2h.
Asked by JIMNGARY | Mar. 07, 2016 22:36

Reply
I am currently in Shexian and want to visit Xidi, Hongcun etc
What is the best transport for this area? Is a pedicab ok for these long distances or should I get a car? How much is it for either? Where can I organise the transport?
Answers (2)
Answered by Jack from USA | Mar. 08, 2016 19:54

0

0

Reply
The distance is about 50 miles (80km). A pedicab is not suitable for such a long distance. If by taxi, the fare may be around CNY 200-300. By public transport, you may take a bus to Tunxi from Shexian Bus Station. Upon arrival, take a bus to Hongcun. Please note that the bus stops at Xidi, and reaches Hongcun finally. :)
Answered by JIMNGARY | Mar. 09, 2016 05:08

0

1

Reply
Thanks Jack,
We decided on the Taxi, which we had for the day...from 9.30am to 6.30pm.
We visited Tanyue/Bao Garden, Tangmo, Chengkan, Hongcun and Tunxi.
The cost of the Taxi was 500 Y....and the driver was excellent. He went out of his way to make the day a great day.
There is no way that we could have had this adventure, in one day on public transport.
I would suggest to other travellers, who wish to stay in this area, that they stay in Tunxi....rather than Shexian. Tunxi's 'old street' is very lively at night.
Again thanks for your response.
JIMnGARY
Asked by Gronier from FRANCE | Jan. 15, 2016 05:28

Reply
Hello can you provide me with informations on Tianzhu mountain near Anqing ??
What to do there ? What to see ?? Etc.

Answers (1)
Answered by David | Jan. 15, 2016 23:51

1

0

Reply
Its natural scenery is very beautiful, including strange rocks, green pines, waterfalls and clear lakes. You can also climb the mountain for body exercising.