Hefei Travel Guide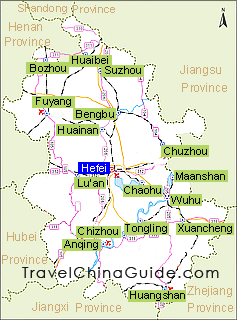 Hefei Facts
Chinese Name: 合肥市 (hé féi shì)
Population: 8,087,000
Area: 11445.1 square kilometers (4,419 square miles)
Location: in the center of Anhui, eastern China
Administrative Division: 4 districts (Shushan, Yaohai, Luyang, Baohe); 4 counties (Changfeng, Feidong, Feixi, Lujiang); 1 county-level city (Chaohu)
Area Code: 0551
Zip Code: 230000
GDP (2018): CNY 782.29 billion (USD 118.22 billion)

Lying between the Yangtze River and Huaihe River, Hefei is the capital city of Anhui Province and the best place to know about the brilliant Anhui culture. Hefei is the political, economic and cultural center of Anhui Province and has played an important role in commercial transactions since ancient times. It is a scientific and educational city and boasts of many talents both in the past and present, such as the famous upright officer Bao Zheng in the Northern Song (960-1127) along with the Nobel Prize for Physics winner, Yang Zhenning. It is a beautiful city with good surroundings - the Huaihe River flows to its north, to its south is Yangtze River, and to its south- east lies the Chaohu Lake with its expansive blue waters.
Due to its good surroundings and long history, many natural and cultural places of interests such as Chaohu Lake, Memorial Temple of Lord Bao and Sanhe Ancient Town can be found here.
| | |
| --- | --- |
| The statue of Lord Bao | The Lord Bao's Tomb |

See more about
Top 8 Things to Do in Hefei
It exemplifies the good climate to be found in the area having a mild climate with clearly defined seasons and moderate rainfall. The average annual temperature is 15.7

C (60.26

F).
| | |
| --- | --- |
| Ancient Sanhe Village | |

Hefei Tour Information:
Hiking Tours
: Information about hiking in the city for your reference
- Last modified on Apr. 15, 2021 -