Sanhe Ancient Town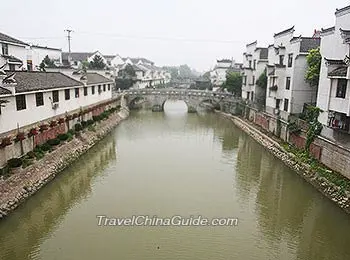 Sanhe Ancient Town
Located 32 kilometers (20 miles) from Hefei City, Sanhe Ancient Town with a history of 2,500 years is a typical water town in the lower reaches of the
Yangtze River
. "Sanhe" means three rivers. It is named so because Fengle, Hangfu and Xiaonan are three rivers that right run through it. Occupying an area of 2.9 square kilometers (717 acres), the town is full of buildings built in Ming and Qing styles. The white walls, gray roofs, red pillars, and the streets paved with smooth bluestones unveil a beautiful painting for all visitors. The major attractions inside the town include:
Tongxinglong Shop of Liu Brothers
Sanhe Ancient Town was the biggest wharf in the region making it a very prosperous business place during ancient times. The town had many large shops and Tongxinglong Shop of Liu Brothers was one of them. It was managed by two brothers of the Liu Family engaging in the trade of rice, cloth and salt. The three words "Tong Xing Long" mean that business will be prosperous because of family harmony. There are 32 rooms consisting of 5 courtyards and 8 wings. The first courtyard has a two-storey wooden house; the second one is mainly a typical southern China building; the third one is the hall where hosts entertain guests; the fourth one is the incense house where the owners worship their ancestors; the fifth one is the living house that occupies 700 square meters (837 square yards).
Dafu Mansion
Dafu Mansion is a private house belonging to civil service officials in the Ming and Qing Dynasties. "Da Fu" is a high official position in ancient times. The mansion mainly displays traditional Chinese furniture and decorations including a plaque written by Zhu Feng, a high official cherry wood table, padauk round-backed armchair, rosewood round-backed mchair, machilus cabinet, phoebe Babu bed and old style Chinese portrayals of early
Qing Dynasty
(1644 - 1911 AD).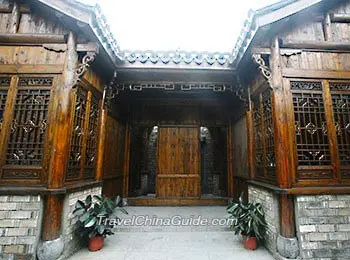 Former Residence of Chen-Ning Yang
Former Residence of Chen-Ning Yang
Chen-Ning Yang is a very famous scientist in China and a Nobel Prize Winner for Physics in 1957. Chen-Ning Yang's mother was born in Sanhe Ancient Town and she came back here with Chen-Ning Yang to escape war in 1937. Chen-Ning Yang sought knowledge here. Nowadays some valuable pictures and literature materials are displayed in the Former Residence of Chen-Ning Yang.
Crane Cottage
Crane Cottage is former residence of Liu Bingzhang, a famous general in the late Qing Dynasty. He had hundreds of houses in Sanhe Town, but Crane Cottage is only one still preserved today.
Xiangu Hall
Shi Daosheng, one of the owners of a famous food company, believed in "good people will be rewarded", so he was honest and always helped others. He and his families worshiped Buddha. Influenced by Shi Daosheng, a rich businessman who was a good friend of Shi, called on other businessmen and donated money to build Xiangu Hall. Xi'an Gu is a female immortal. It is said that a rich man felt disappointed because he did not have daughter; he and his families prayed to Xiangu and his wish finally came true. Therefore, Xiangu Hall attracts a lot of people to visit.
Peach Blossom Island
Peach Blossom Island located at the confluence of the Hangfu River and Lefeng River is a very beautiful land occupying 0.2 square kilometers (50 acres). The shape of the island is triangular and there are peach gardens and vineyards. When spring comes, Peach Blossom Island becomes a sea of peach blossoms making it feel like a fairyland.
Wangyue Pagoda
Wangyue Pagoda in Sanhe Ancient Town is an ancient seven-storey pagoda that is 37 meters (120 feet) high. "Wang Yue" means looking at moon, expressing the feelings of missing one's hometown. The first floor of Wangyue Pagoda displays valuable folk art treasures; the second one shows tablets of different dynasties; the third one shows some ancient furniture from the Qing Dynasty; the forth one shows some stone-carvings; the fifth one displays tablets endowed by the government; the sixth one shows living goods of ancient times; the seventh floor shows Buddha statues of different dynasties. By the side of Wangyue Pagoda, there is a bridge called "Wangyue Bridge".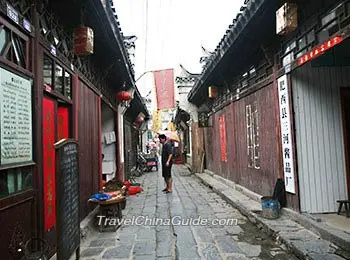 A Street in the Ancient Town
Dong Yinchu Bibliography Exhibition Center
Dong Yinchu was born in Sanhe and he is a famous Chinese statesman and social activist. Dong Yinchu Bibliography Exhibition Center can be divided into six exhibitions. The first exhibition shows Sanhe Ancient Town---rich land fostering more talents; the second one displays the origin of the Dong Family; the third one displays outstanding Dong families; the forth one shows calling on people to save the nation; the fifth one is running businesses to save the nation; the sixth one shows generations' of leadership.
Former Residence of Sun Liren
Sun Liren was born in Sanhe Ancient Town and is a famous general of the Kuomintang. The former Residence of Sun Liren is a house in typical Huizhou style and has two courtyards. The first courtyard shows some pictures about Sun Liren's life story; the second one is a two-storey house and its first floor is the reception room.
In addition, there are some other small attractions worth visit, such as Ancient Amusement Hall and Root-carving Exhibition.
How to get to Sanhe Ancient Town
The town is about 40 kilometers (25 miles) away from Hefei. There are two ways for visitors to get there from the downtown area:
1. Take a bus from Hefei South Bus Station or Central Bus Station to Sanhe directly. The fare is around CNY15.
2. Take bus 31, 32, or 33 to Yili Jixie Station, then change to bus 699 to get to the town directly.
Entrance Fee
Tongxinglong Shop of Liu Brothers-----CNY20
Dong Yinchu Bibliography Exhibition Center----CNY20
Dafu Mansion----CNY30
Former Residence of Chen -Ning Yang---CNY30
Former Residence of Sun Liren---CNY10
Crane Cottage---CNY10
Wangyue Pagoda---CNY30
Root Carving Art Hall---CNY20
Memorial Hall of Dong Yinchu---CNY20
Guyu House---CNY15
Memorial Hall of Sanhe War---CNY30
Xiangu Hall and Peach Blossom Island are free of charge.
Children below 1.2 meters (3.9feet) are free of charge.
Opening Hours
The ancient town is open all day long and the scenic spots inside may open:
Apr. - Oct.: 8:00 - 18:00
Nov. - Mar.: 8:00 - 17:30

You may like:
Top 8 Things to Do in Hefei
- Last updated on Jan. 12, 2021 -