Private Itineraries
Unique Services
How to Book?
Inquiry
Get a quote
Free changes
Payment
Confirmation
Endorsed by
New York Times
The New York Times Travel Supplement has named our company as being in their opinion a large and reliable Chinese travel agency. Details...
China Tour Packages
Recommended China Group and Private Tours: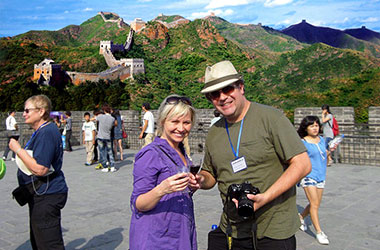 China City Packages
Beijing Tours

44 Itineraries

Beijing, symbolizing the great country, is the best place that can not be missed when planning your China tour packages.

Xian Tours

37 Itineraries

Xian, the home of the world renowned Terracotta Warriors and Horses, becomes one of the best China tour destinations for travelers.

Shanghai Tours

39 Itineraries

Shanghai, "Paris of the Orient", is the largest metropolis city. You can experience a perfect combination of ancient and modern here.

Guilin Tours

16 Itineraries

Guilin, a city with the best scenery under heaven, presents to you its elegant mountains and waters like the fairy Li River.

Chengdu

12 Itineraries

A private China travel package in Chengdu, the hometown of the giant pandas, will endow you with the chance of a close contact to these cutest creatures.

12 Itineraries

Visit Kunming and Lijiang, covering the highlights of the Stone Forest, Tiger Leaping Gorge and the ethnic minorities.

Hong Kong

29 Itineraries

Hong Kong is an international metropolis featured with world-class architecture, a quick pace of life and modern entertainment style.

Lhasa

5 Itineraries

Lhasa is the political and spiritual center of Tibet. It has numerous heritage sites telling history, culture & art of this region.

Chongqing

8 Itineraries

Featured with Dazu Grottos, Zoo with pandas, Chongqing is the starting port of the Yangtze River Cruise.

Dunhuang

1 Itinerary

Go to Dunhuang, a city encircled by desert to visit the Mogao Grottoes and experience the camel riding.

Guangzhou

4 Itineraries

Guangzhou offers marvelous scenes and entertainment paradise, as Pearl River and Chimelong Resort.

Haikou

4 Itineraries

With beautiful sunshine, coastal water, coconut trees and soft sand, Haikou abounds in natural seaside beauty.

Hangzhou

5 Itineraries

Hangzhou is called the world's most beautiful and splendid city by Marco Polo. It deserves its reputation as "the heaven on the earth."

Harbin

5 Itineraries

Harbin, a city in northern region, is renowned as the "Ice City." It provides spectacular views of the ice lanterns and snow sculpture.

Hohhot

3 Itineraries

Hohhot is full of ethnic flavor. Enjoy the local minority's singing and dancing on the vast grassland and stay at Mongolian tents here.

Huangshan

4 Itineraries

Featured with the elegant Mt. Huangshan and picturesque Hongcun and Xidi Villages, Huangshan is an appealing destination.

Jinan

2 Itineraries

A "City of Springs," Jinan is one of the birthplaces of Chinese civilization. 72 springs are scattered throughout the city.

Lanzhou

3 Itineraries

As a city along the ancient Silk Road through which the Yellow River passes, Lanzhou boasts historic relics and a brilliant culture.

Luoyang

2 Itineraries

Luoyang is proud of its long history and ancient culture with the famous Longmen Caves and Shaolin Temple here.

Pingyao

1 Itinerary

As a world cultural heritage site, Pingyao is a typical example of Chinese ancient cities in the Ming and Qing Dynasties.

Suzhou

1 Itinerary

Suzhou becomes visitors' new lover for holiday featuring by its elegant gardens, nearby water towns and the brilliant embroideries.

Qingdao

2 Itineraries

Surrounded with red tiles, verdant trees, and architecture of different countries, Qingdao is an appealing seaside city for relaxing.

Shenzhen

3 Itineraries

Due to its unique location, Shenzhen is regarded as the back garden of Hong Kong.

Urumqi

4 Itineraries

Urumqi is a treasure land in the northwest. The hospitable ethnic people usually welcome guests with dancing and singing.

Taiwan

4 Itineraries

Taiwan is advancing rapidly, but it never loses its traditional culture. Join our private Taiwan tours to experience all the diversity of the region.

Independent Travelers

23 Itineraries

For travelers with adventure spirits, we design the independent China travel routes for them to explore more hidden treasures at their own pace.

As most of the direct international flights from USA, Canada, UK, Australia, New Zealand, Germany, France, India, Malaysia, Singapore and many other countries will land in Beijing and Shanghai, we'll be glad to arrange your transfer to where you'd like to take a private city package.
The above routes do not meet your requirements? Please click
Tailor My Trip
International Flights to China