Wonders of China
S-102: 10 Days Private Tour of Beijing - Xi'an - Guilin - Yangshuo - Guilin - Shanghai
Tour Type:
Private Tour, any part of the itinerary can be customized
Guide & Driver:
English-speaking guide, experienced driver with an air-conditioned vehicle
Highlights:
Must-see sights in China - Mutianyu Great Wall, Forbidden City, Terracotta Army
Take a Li River cruise down to Yangshuo & admire the essence of Guilin landscape
Take in the impressive skylines of Shanghai as you walk along the Bund
Enjoy a la carte meals & taste authentic Chinese cuisines at superb restaurants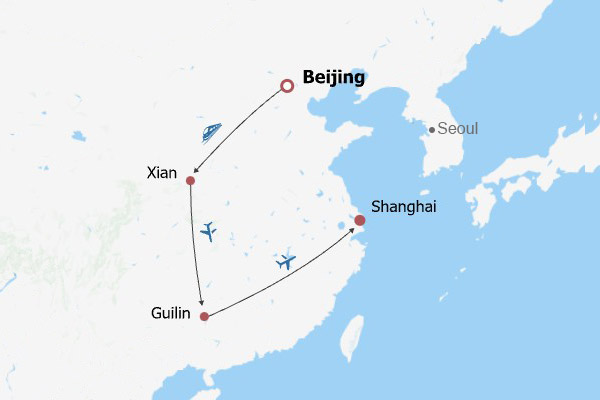 Our guide will welcome you outside the arrival hall of the airport after you retrieve your luggage and clear Customs, and then arrange a private drive to the hotel in the downtown area. Check into the hotel with the guide's assistance. The rest of the day is on your own to recover and relax.

With a history of over 3,000 years, Beijing is well known for its abundant historical and cultural relics. Four days are definitely not enough for you to explore it all, but could cover the highlights. If you arrive earlier in the day and are still energetic, you could take a taxi to the newly renovated Qianmen Street, where you will see Qing Dynasty-style buildings, taste traditional local foods, explore antique stores and maybe even see a cultural performance. Many old brands like Quanjude roast duck, Guanghe theatre and tea inns can be found there. It is a good place to experience the traditional culture of this capital city.


Temple of Heaven
Your first day's private sightseeing tours of this 10 days China itinerary cover the grand
Tiananmen Square
, the majestic
Forbidden City
and the sacred
Temple of Heaven
.
All of them are the symbolic tourist attractions of this city. The Tiananmen Square is regarded as the heart of the great nation which records the indomitable revolutionary spirit and the undaunted heroic spirit of the nation. Displaying incomparable ancient buildings in front of you, the subsequent exploration in the Forbidden City will enable you to have a deep insight into China's profound history. It is the largest ancient palace complex in the world and also the place that 24 emperors of the Ming and Qing dynasties lived in. It is a great heritage for all humans and full of mystery. Your luxurious
a la carte lunch
(valued at CNY150.00 per person and included in our price) will be specially served at a noted restaurant with tasty food, which will be quite a different experience during the journey.
► Was the imperial food in the Forbidden City delicious?
Many people think that the food for the emperor in Forbidden City was the best throughout the country. That was true. However, why did the emperor aspire to the dishes outside the palace in tales? In consideration of health, light food was always served, insipid after a period of time. The emperor never had a try of spicy or other stimulating food like Sichuan cuisine inside the palace. Also, the emperor was never permitted to eat gluttonously, to prevent being poisoned in what he liked. Over time, the emperor got bored with the feast, and looked forward to taste the folk dishes in various flavors. It's said that, Emperor Qianlong (1711 – 1799 AD) liked to enjoy a meal when going out the Forbidden City.
Meals: Western buffet breakfast, A la carte lunch
Great Wall of China
After breakfast, you will be driven to the suburb for around 1.5 hours to visit the astonishing
Mutianyu Great Wall
. No visitor can help feeling the excitement of witnessing the majesty and grandeur of the undulating walls. To avoid 500 mountain steps, we have included a round-way cable car for you, while, if you are interested in taking a chairlift up and a toboggan down, we will adjust accordingly.
Lunch is not included today, but your guide will offer suggestions on restaurants nearby. Return to the city in the afternoon. En route, we will drive by the
Bird's Nest
, the 2008 Beijing Olympic venue, and stop over there for you to take photos of this significant building. Afterwards, we proceed to a featured local market to explore and relax.
Meals: Western buffet breakfast
Day 4
Beijing to Xi'an by High Speed Train
Your private 10 days China tour package in Beijing will come to an end after visiting the well-preserved
Summer Palace
and taking a
Hutong rickshaw tour
in the morning.
The Summer Palace is the largest and best preserved royal garden in the world. The whole garden mainly consists of the Longevity Hill and the Kunming Lake, ingeniously linked by the Long Corridor, seven hundred twenty-eight meters (796.2 yards) in length. While walking along the corridor, you might appreciate the exquisite paintings on the beams and enjoy the melodious music.
Afterwards, we will drive you to the railway station, where you will experience a high speed train to Xi'an. Usually the train journey takes around 5 hours, you can take breaks and enjoy the countryside scenery along the way. On arriving, you will be picked up by the guide in Xi'an and transferred to the hotel.
Meals: Western buffet breakfast
Terracotta Army
Your Xi'an tour starts from the world-famous
Terracotta Warriors and Horses Museum
. It was discovered by the local farmers while digging a well in 1974. This accidental discovery made the eighth wonder worldwide famous. Nearly eight thousand pieces of soldiers have been renovated to date. The excavations include warriors, horses, chariot, bronze, swords, spears, halberts and many others. You will have lunch on your own today. Our guide will show you some restaurants around the site and assist you with the menu.
In the afternoon, visit the
Provincial History Museum
and the
Small Wild Goose Pagoda
, which was listed as the national major cultural relic preservation site by State Council in 1961. This Tang Dynasty Pagoda always leaves visitors with a sense of pretty, exquisite and graceful.
Meals: Western buffet breakfast
Day 6
Xi'an to Guilin by Flight
Xi'an City Wall Park
This morning, our guide will firstly escort you to the
City Wall Park
, where you will see many local people, especially the elderly, doing exercise and various activities. Tai Chi is a traditional Chinese boxing with the core ideas of dialectical concepts of Yin and Yang in the traditional Chinese Confucianism and Taoism philosophy. In the park, you will learn from a local professional about the gestures and motion of Tai Chi and how to coordinate the breath and every movement. After practicing for around an hour here, you will have learned all the gestures. If you want, you can continue to practice when you get back, which is good for your health. Then we will come to the well-preserved ancient
City Wall
. If you are able to ride a bicycle, we suggest you rent one to ride around on the wall. It is surely a memorable and exciting experience. Afterwards, the guide will take you to visit
the time-honored
Great Mosque
. Then extend your journey to the lively
Muslim Street
, where you can take a leisurely walk or purchase some fancy gifts for your families or friends. More than that, you can taste various local foods there, such as the Crumbled Unleavened Bread in Mutton Stew, a Chinese hamburger (pancake with beef), and the roast beef or mutton. Even if you are a vegetarian, you can find something to try. It is a good place for your lunch.
After that, you will take a flight to Guilin. Upon your arrival, our local guide in Guilin will collect you at the airport and escort you to the hotel.
Meals: Western buffet breakfast
Day 7
Guilin - Yangshuo - Guilin
Rural people's life
Enduring memories are created today as you cruise down the
Li River
to Yangshuo. The 83 kilometers river course to Yangshuo is like a green ribbon flanked by numerous verdant hills. The odd peaks standing along the river course reflect on the crystal-clear water, creating a splendid landscape painting.
The cruise lasts around 4 hours and reaches terminal Yangshuo at about 14:00. Upon your arrival, we will transfer you to the countryside area to enjoy the pastoral scenery of Yangshuo. After fully appreciating the beauty of nature here, we will head to feel the local conditions and customs through a visit to a local villager's home. You will have a special experience to fetch water from the well, sharpen a dull knife with a whetstone, as well as ground the grain to pulp by a stone mill. Finally, we will transfer you back to Guilin.
Tips: The lunch served on the cruise today is a simple Chinese box lunch. It is below the serving standard of TravelChinaGuide, so we kindly suggest you have a hearty breakfast at the hotel this morning.
Meals: Western buffet breakfast, Lunch
Day 8
Guilin to Shanghai by Flight
Fantastic Li River cruise, Guilin
Your included sightseeing today is to visit the brilliant
Reed Flute Cave
- the Palace of Natural Arts. This cave contains a large number of exquisitely carved stalagmites and stalactites, just like a magnificent underground palace. Then, proceed to visit the
Seven Star Park
and the
Elephant Trunk Hill
.
In the afternoon, you will take a flight to Shanghai. Our private guide and driver will meet you at the airport and take you to the hotel.
Meals: Western buffet breakfast
Yu Garden
In the morning, you will visit the
Shanghai Museum
and the
Yu Garden
. An
a la carte lunch
(valued at CNY150.00 per person and included in our price) will be arranged for you at a well-known local restaurant, which serves veritable Shanghai and Cantonese cuisines.
After enjoying a terrific lunch, you will take a short
cruise trip
on the Huangpu River, the mother river of Shanghai. Along two sides of the river, you will witness the city's past through many European buildings on the west and marvel at the city's modernity and rapid development on the east. Then you will have some free time to explore
the Bund
area. Located by the Huangpu River, the Bund is about 1.5 kilometers long and is a symbolic attraction of Shanghai. Lastly, you will visit the
Tianzifang
cultural street. Have some free time and take a leisurely walk there.
Meals: Western buffet breakfast, A la carte lunch
Day 10
Departure from Shanghai
We will see you off at the airport today. We wish you a pleasant journey home and thank you for having chosen our 10 days China tour.

Meals: Western buffet breakfast
B-- Breakfast
L-- Lunch
D-- Dinner
Special Deal
10% off
- book 60 days before,
5% off
- book 30 days before
Tour Prices with Luxury Hotels
2-3 travelers
4-5 travelers

$2759

$2483

$2499

$2249
Tour Prices with Standard Hotels
2-3 travelers
4-5 travelers

$2469

$2222

$2209

$1988
Prices are per person in US Dollars based on double occupancy.
The prices in red reflect 10% discount.
Any part of the itinerary e.g. tour length, activities & hotels can be tailored to your individual interests.
Price Includes
Domestic airfares
Hotel accommodation with breakfasts
A la carte lunches as itinerary specifies
Private English-speaking guides
Private drivers & air-conditioned vehicles
Entrance fees to tourist sites
Price Excludes
International airfares
Entry Visa fees
Personal expenses
Tips or gratuities for guides and drivers
Comparison with Our Competitors
How Do We Reach Lowest Price?
Based in China, we have been committed to cultivating inbound tours, aiming to directly purchase airline tickets, hotel bookings and cruises etc. Unlike other agencies who seek profits of 50%, our profits are as low as 6%. So many of our competitors' itinerary quotations are twice as high when compared with ours, and many of their 4-star hotels itinerary prices exceed ours with 5-star international brand hotels. You will be shocked and we are shocked as well.
No Annoying Shopping Stops
Shopping tours will not only take your time from sightseeing, but also waste your money on overpriced items. Our no shopping promise will enable you to thoroughly enjoy the trip without facing aggressive selling. All our guides are well-paid so they will concentrate on delivering the holiday experience you expect.
Some companies claim they have "No Obligatory Shopping", please be cautious as they just give their shopping tours a happy gloss. Some do not mention any shopping in itineraries, which doesn't mean they are shopping-free tours. You are advised to ask the operators directly before booking.
People to People Connected
We will make your trip more than just sightseeing. In addition to the popular attractions that every agency will arrange, you will be deeply involved in the lives of local residents in our tours.
•
Take a rickshaw through the Hutongs and visit a quadrangle courtyard for an up-close look at the old Beijing house and the people's life there. Several generations of a family may live together in such a courtyard. What is the layout of the house? And how do they live together? Your guide will take you to find the answer.
•
Pay a visit to a local villager's home in Yangshuo and learn about the most primitive way of life in the Chinese countryside. In the yard, you will see the pumping well, millstone and sometimes bacon hanging from a clothes line. You will have a special experience to pump water from the well and turn the millstone to grind grains. In the house, you will learn the layout of the rooms and see a very old kitchen, which will give you an idea of how they live and cook. We believe these scenes you may not have seen before will definitely bring you different feelings and interesting experiences. In the whole process, you can ask the host any questions you are curious about.
Pumping water from the well
A villager's home
Eat Like a Local Traveling with Us
Why are the Chinese so proud of their food? You will get to know that during this trip. Unlike some travel agencies who provide set-menu food in tourist restaurants, we will offer you a la carte menus at local restaurants where you will order what you like and taste the most authentic Chinese cuisines.
What's more, each city also has their own local specialties, like Rougamo, the best Chinese burger, and Hot Oil Noodles in Xi'an, the Steamed Buns and Chinese Wontons in Shanghai. You will not only have a chance to try these, but also see them freshly made through a glass window.
Optional Tours Are Tourist Traps
Optional tours mean you will spend much more than you originally booked. Some agencies advertise low-cost tours, but you then find you have to pay high pieces for optional tours of the must-see sites. Our tours are all-inclusive with transparent itineraries.
Tailor-make Your Itinerary for Free
Our guests enjoy the freedom to choose a different travel style. 99% of our valued guests enjoy tailor-making their travel itineraries. We will make a quick reply within 24 hours.
No Change Fee
Should any changes made prior to the start of the tour or even during the trip, there will be no extra charge for our services. You only need to be responsible for the cost of variations incurred with airlines and hotels.
Other levels available for this itinerary:
Customer Reviews

Questions & Answers
Below are some comments about our trip:

Our trip to China was 10 days to Beijing – Xian – Guilin & Yangshuo - Shanghai. We love Chinese food, they were to our tastes. Our guides took us to wonderful restaurants with excellent food and service. Our guides possessed a perfect working attitude and very conscientious towards our family. They had excellent knowledge of all the places we visited. The

drivers did not speak English, but that was never a problem. Our guides told elegant, interesting stories that kept us all entertained. The drivers were excellent and patient. They waited for us several times while we took some time to shop or to find a bathroom for the kids. The van was clean, with beautiful dust free windows! (Everything was dusty in Beijing but not our van!) It was the perfect vehicle for our family. Here I want to give a special mention to our Shanghai guide Christine who became like a sister to us in the few short days of our trip. She treated us like her family. We cried when she sent us off at the airport. China was our second stop in 2 week trip around the world and it was also our most favorite destination thanks to Christine. She has an excellent knowledge of everything that we saw. She kept us moving and even helped out with our kids. It is evident that Christine loves what she does! We highly recommend Christine and the other guides to anyone visiting China, especially families with children. Our hotels were superior! We rarely stay in a place so nice even here in the US. The restaurants were incredible! The staff bent over backwards to make sure our connecting rooms were perfect. There was not one disappointing minute during our trip! Thank you for the most unforgettable memories of beautiful China!

...

More

In the first place I am satisfied with the tour.

My comment:

Guide: The guides are very good. Our Guilin guide Jennifer's English is exceptional good. It is always a surprise to find your guide on the airport. Using the name plate is a good system. They did help with the check in at the hotel. That makes it very easy. The appointment in the morning next day was perfect in time. Our guides did

tell about the history and fact of the sites. Here it is always to find the right balance between enough information and too much information. I think they all did do this very well. We were very lucky to have very nice and sunny days. The meals were all arranged in respectable restaurants. My only comment is lunch. I prefer to have the lunch together with the guide and the driver. I don't have any problem to pay the lunch for them. It is a pity that there was not a program in Guilin in the evening. Something like in Beijing with the Chinese Kung Fu show. But maybe is Guilin too small for these things. The guides were on time in the hotel and organised the check out for me. At the airport they did the check in for me. That is very easy. After that we say goodbye.

Driver: The drivers were very correct, especially the one in Beijing. He had a pleasant way to drive. Completely different from the drivers I know from Shanghai. He was always in time. No comment at all.

Hotel: The hotels are good standard hotels. The rooms are nice and clean. My only comment is that there is no one who speaks English in the hotel in Guilin. I don't have a problem with it, because I use my Global Translating App on my phone. But it is more easy when somebody speaks the language.

...

More

Posted on January 31, 2020

I'd like to comment on my ten day tour to China.

My private trip with travelguide China started in Beijing when the representative Kelly delivered my visa and tickets. She was on-time, friendly and gave good advice about various aspects of the trip, setting my mind at ease.

In each city, my friendly guides greeted me at the airports and Xi'an railway station, and took me on a quick city visit,

before settling me into my hotel. The hotels I stayed in were comfortable and had many facilities, as well as very delicious Chinese & western buffet breakfast.

Each morning, my guides would greet me in the lobby, then take me around on day trips, to show me the highlights of each city. Actually, my guides were the highlights, since they treated me warmly and told me many interesting things about Chinese culture. By the end of the trip, I treated them as friends.

My overall impression is that China is a very colorful and interesting country, with warm and friendly people. Among the 4 cites I went, I love Guilin mostly which is surrounded by beautiful and green countryside. I would say that taking your holiday to China is a trip of a lifetime, except that I enjoyed it so much and therefore intend to take some more trips with travelchinagudie.com in the future. I really recommend this travel company.

...

More